Lack of money did not stop Barb and Dave Rees from RVing across Canada!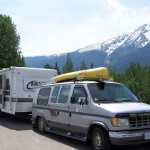 They had a dream and made it come true. Traveling across Canada with an almost empty bank account, an old motorhome loaded down with driftwood and blackberry sauce, Barb and Dave Rees's destination was the Atlantic Ocean at the far eastern coast of Canada. The result was the book RV Canada on a Dime and Dream written by Barb describing the daily challenges they faced trying to make money selling driftwood and blackberry jam at flea markets or farmers markets to pay their travel expenses.  Some nights they didn't know how they would get the money needed to put gas in the tank to carry on the next leg of their journey but somehow it worked out, but definitely not without a few ups and downs along the way. 
Having a dream to travel throughout Canada, Dave and Barb started out on that first trip with only $300 in their pocket.  read more…
Happy travels,
PS: If you are looking for some inexpensive ways you too can travel – try boondocking. Here's an excellent source of information that will show you how. Click here to visit Frugal Shunpikers Guides to RV Boondocking.
PPS: Another great source for RVing information is Click here to visit Pine Country Publishing.