Full-time RVing!  Here we come.
We have a "New to Us" fifth wheel and are really excited about getting back on the road and full-time RVing. Our house is sold, most of our furnishings are also sold, we've had a very productive yard sale, finishing up our employment commitments and are in the middle of moving our things into the fifth wheel.  Very excited. We were full-timers before but decided to try living in a house one more time but could not wait to get back into an RV.  Being in one spot is not for us.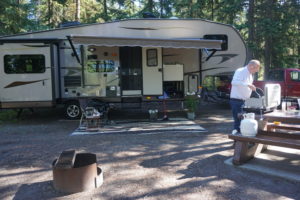 Full-time RVing and living in an RV is much different than having a rig for vacations or weekend getaways.  This is our home so we want to be comfortable – within reason of course.  We were looking for a smaller and older fifth wheel we could tow with our 2001 F250 but were getting very frustrated with the weights of them and lack of space.  Even though they were smaller the weight was a concern and the 5'9″ bedroom ceiling on one was especially concerning.  I could picture Barry getting very frustrated every time he hit his head. Here's some more information on buying a used RV.
We had a really good conversation with Jennifer, a sales person at Fraserway RV in Abbotsford who suggested we should look at a bit newer fifth wheels because they were much lighter.  Wow! Was she right.  We ended up getting our 2013 28 foot Rockwood which is so much lighter than the 26′ older unit we had been considering.  Not only that but we got a couple of slides, a fireplace, more room to live in and the bedroom ceiling is high enough Barry won't hit his head.  That's good news.
Our first adventure and "test drive" was to Lac la Jeune – about 20 miles away and we spent the time getting familiar with everything and just love it.  Our camp site was across the road from the lake so we could park Barry's 12 foot fishing boat right below us, making it handy. That is if the motor hadn't died and didn't  have days of lightening and thunder.  Oh well, it's all about the camping right?  We did have some friends come and visit us for a bonfire and dinner night.
We do 99% of our cooking outside – even if it's raining.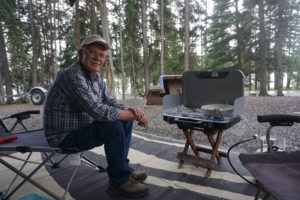 We will be in the fifth wheel full-time officially on September 15th.
Carol Ann
PS: It's September 16th and yes we have moved into our fifth-wheel! Oh dear it's been a challenge – stay tuned, there will be more to come as soon as I can catch my breath.