Campground Jobs in Canada & US
Employers
Did you know RVers make excellent seasonal employees?  If you operate a campground or are in need of seasonal workers and are interested in hiring RVers please contact me carolann@roamingrv.com and I will post your open positions.
Workers
If you are searching for seasonal positions please return often – this page will be updated regularly.  Please do your due-diligence and research any positions you're interested in.

Open Positions in Canada
 
TRAVEL THE SEASONS WITH KOA
With over 485 KOA locations, possibilities abound. Every year our KOA Work Kamper program offers hundreds of job opportunities across our network of KOA campgrounds. For those who love the RV camping life, it's simply a win/win opportunity.  Learn more…
British Columbia
Campground Attendant Couple preferred
Cheam Fishing Village – Agassiz BC
$3,000 a month – Temporary
Start Immediately – October 15
RIVERSIDE CAMPING
The campground at the Cheam Fishing Village offers 45 campsites by the majestic Fraser River.
We are seeking a retired couple to fill summer positions as campground hosts.This is a full-time summer seasonal position. Campground hosts live in the campground, in their own RV. A campsite is provided in the campground free of charge, with 30am power, water hookups, picnic table and fire pit.  Learn more…..
We're looking for a host couple to assist us. Paradise Valley Campground in beautiful Squamish, BC Canada
A host site for a couple is provided with full hook ups along with a competitive wage in exchange for 40 hours of work per person with shared/alternating morning and afternoon shifts. You must bring your own self-contained RV unit.      Learn more…
BC Parks Volunteer Opportunities
BC Parks works with thousands of volunteers every year – please go to www.bcparksvolunteers.ca for more information.
Park Host Program
The Park Host Program is an important hospitality service available to visitors in some park locations. The role of a park host is to enhance visitor services, greeting park visitors and providing them with information about things to do in the park and surrounding area.
BC Parks – Park Host Opportunities
BC Parks is currently seeking volunteers to deliver the Park Host Program in the following parks. For more information on these specific Park Host opportunities and how to apply with BC Parks, select the park listed below.  Learn More…
Campground Operator
Campground Operators manage all aspects of private or public campgrounds in a safe and professional manner. The duties of a Campground Operator are diverse, requiring both people and mechanical skills. Much of the work is outdoors and the seasonal nature of most campgrounds generally allows for different opportunities during the off season. Some operators take the winter off, some have a different winter career, and still others continue to operate their campgrounds throughout the winter season.  Learn more…
Alberta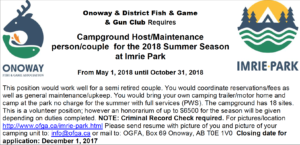 Bow Valley Resort:  Summer workers
Bow Valley Park Campgrounds operates in Kananaskis Country, under contract with the Alberta Government, seven campgrounds with over 600 campsites, associated day use facilities and seven group camps and a campground store in the Bow Valley Provincial Park. We are seeking highly motivated, outgoing friendly and hard working individuals to fill summer staffing positions in the areas of maintenance, compliance and retail operations. These positions are expected to run from May through September and involve a non-typical workweek. (i.e., shift work).  Learn more here…
Each summer we hire Customer Service Representatives, Groundskeepers and Cleaners to be part of the the Eagle Lake RV Resort Team. ​We offer more than a paycheque.
There are opportunities for advancement and on-site training, oh and fun with free mini-golf, boat rentals and more! Most team member positions start at $14. hour plus raises, perqs and a completion bonus up to $500.  Learn more here…
Campground Jobs in the US
The Amazon CamperForce program brings together a community of enthusiastic RV'ers who help make the holidays bright for the customers of the world's largest online retailer, Amazon.com.
Camperforce has forged partnerships with campgrounds across the United States. You'll find our partner campgrounds in:
Alabama
Alaska
Arizona
California
Colorado
Florida
Georgia
Illinois
Indiana
Iowa
Kansas
Maine
Massachusetts
Michigan
Missouri
Montana
New Hampshire
New Jersey
New York
North Carolina
Ohio
Oklahoma
Pennsylvania
Tennessee
Texas
Virginia
Wisconsin
Riverview Park – Vidalia, Louisiana
We are looking for Maintenance, Housekeeping and Reception workampers. 20 hours a week in exchange for a FHU site with Wifi & free laundry. Needed immediately. If interested please send resume and pictures of self & rig to dorafay@riverviewrvpark.com. Learn more…
TRAVEL THE SEASONS WITH KOA
With over 485 KOA locations, possibilities abound. Every year our KOA Work Kamper program offers hundreds of job opportunities across our network of KOA campgrounds. For those who love the RV camping life, it's simply a win/win opportunity.  Learn more…