RV LIBRARY – Book Suggestions
This is a brand new book with really good reviews if you are interested in learning more about the RV lifestyle.

Mike and Terri Church and the experts on Mexico and I have absolutely no problem recommending their books.   They are considered the bible's to camping in Mexico.  This link is for the USAmazon. If you are Canadian please go to the Store for Canada and search for it.  Thanks.
RV Repair & Maintenance Manual:
Click on the book photo this to get more information on this book. RV Repair and Maintenance Manual is the most popular resource for owners who prefer to work on their own RVs. The book features step-by-step procedures for maintaining and repairing RVs, presented in easy-to-understand layman's terms and simple-to-follow instructions. From trouble-shooting guidelines to quick diagnoses and repairs, this manual will keep you rolling down the highway and not in the repair shop. Packed with valuable information, checklists, photos, and charts, the RV Repair and Maintenance Manual includes topics on electrical systems, LP-gas systems, water systems, sanitation systems, AC generators, heating systems, air-conditioning systems, refrigerators, trailer brakes, trailer suspensions, dinghy towing, hitches, drivetrain systems, solar power systems, ovens and ranges, microwaves and ice makers, exterior and interior care, and accessories.


Link on this photo which will take you to the revised book but look for the older one shown above if your RV is older.

The Complete Idiot's Guide to RVing, 3e (Idiot's Guides)
Idiots guide® to RVing, Second Edition, includes the following: Basic facts about the different types of RVs-camper, van, motor home, bus, or tow rig-and the advantages of each; Advice on buying your RV, from dealer negotiations to acquiring the proper insurance; Driving tips for piloting your RV; Information on how to choose a campground with an eye for water, electricity, propane, wastewater dump, hookups, phone, cable, and campground rules.
Best RV Tips from RVTipOfTheDay.com
These Best RV Tips come from fellow RVers, weekenders to life-timers, who have "been there, done that." and happily share their experiences so you don't have to learn the hard way. No matter if you use your RV just a few weekends and holidays a year or make it your full time home, you will find tips that will make your RV travels easier, safer and more enjoyable. You'll find tips that will save you time and money. You will find tips on getting your mail while traveling, internet access, boondocking, and work camping. You'll learn how to save money on camping fees just by choosing where to stay and staying longer. You will get tips on how you can customize your RV to make your home.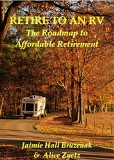 Retire to an RV has all the information you will need when deciding if full-time living in an RV is for you. Retire to an RV: The Roadmap to Affordable Retirement won first place in the "at-large" contest in the National Federation of Press Women. Jamie Hall-Bruzenak and Alice Zyetz from RV Lifestyles have many years of experience and their books are extremely well done. Click here to view more details. Available in Print and an eBook.

Support Your RV Lifestyle is another winner! Support Your RV Lifetstyle! An Insider's Guide to Working on the Road, 3rd ed.Updated. Called the "bible" of Workamping, it is a must-have if you are planning to work or volunteer on the road.   Click here to view more details plus the two other options to make this even more useful.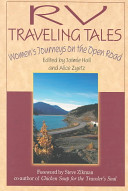 RV Traveling Tales.  52 women answer the question: What is it like to be a female nomad on the open road. In this anthology women share their journeys on the open road in search of people, places, and life.  I was fortunate to have my own story "Wrong Turns" accepted and was included in this book. Click here to view more details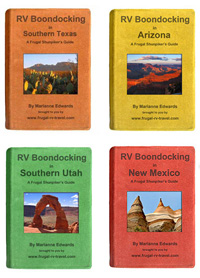 RV Boondocking Guides What If One RV Travel Guide Could Save You Hundreds Of Dollars On Your Next Trip? Click here to visit Frugal Shunpikers Guides to RV Boondocking. If this RV travel guide saved you $500 for every month that you travel, would you travel sooner? Longer? Farther? More often? Or, perhaps, put your savings towards purchasing a newer RV?Click here to visit Frugal Shunpikers Guides to RV Boondocking.
CANADIANS! USE AMAZON.CA AND TAKE ADVANTAGE OF THEIR SPECIAL OFFERS FOR CANADIANS. CLICK AMAZON BELOW!
"Disclosure: You should assume that any links on this blog are affiliate links and that I earn a commission if you make a purchase. This does not affect my objectivity and I will only recommend products that meet my high standards and that I would recommend to family and friends. Click here to read the full disclosure statement."