Volunteering as a Camp Host brings benefits to RVers
If you are considering volunteering with BC Parks or Parks Canada the following article may help you decide.  I published this first with RVwest in my column RV Living in March 2014.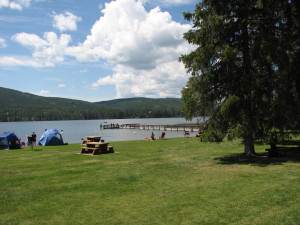 The snow is melting and the snowbirds are making their way home in anticipation of seeing friends and family they have missed while traveling south. Now is the time to apply for a volunteer Park Host position with BC Parks, become an Ecological Reserve Warden or look at what's available through Parks Canada.

What is a Park Host?
The Park Host's role is to create a warm and welcoming atmosphere and greet the park visitors while providing information on things to do in the park and surrounding area. They work closely with the Park Facility Operators and their staff and quite often develop strong friendships with the regular campers.  If you enjoy being part of a team providing guest services and can communicate well you probably qualify and have the necessary skills.
Although Park Hosts do not receive paid remuneration they are provided with a complimentary campsite for the time they are hosting. Most require their host volunteers to stay a minimum of two weeks and each has a maximum time allowance depending on which park you are volunteering for. Not all have hook-ups and some are more rustic than others. 
What are some of the duties of a Park Host?
The duties will vary depending on the size of the park and the number of other staff available. A Park Host may be expected to:
Be on site and available between the hours of 4:00 and 8:00 pm
Provide direction to campsites and park facilities
Provide information on the local area
Provide information on park rules and regulations
Provide information on extra services available within the park such as firewood sales, canoe rentals, or the boat launch
Assist with opening and closing campground gates in the morning and evening
Help keep day use areas tidy
Volunteering as an Ecological Reserve Warden
If interested in making a significant contribution to the protected areas system and the parks then joining the team of Ecological Reserve (ER) Wardens may be for you. There are a variety of services that may be performed that include manual invasive plant control, taking inventory of flora and fauna, and possibly trespass monitoring. The ER Wardens are invaluable in the long-term protection of the ecological reserves.
Parks Canada volunteer opportunities
Once again, these are not paid positions but there are many opportunities for getting involved in many aspects of the Canadian Parks. Each park has different needs and if interested its recommended that volunteers research where they would like to be and what's available. It's a wonderful opportunity to get involved, learn new skills and make life-time friends.
There are many opportunities for volunteering and they don't have to involve campgrounds. Every city or community has the need for help with animal shelters, youth programs, senior assist programs, or special events. There's always a call for fundraising help, administration assistance, drivers, mentors or instructors.   

RVers who enjoy meeting people will appreciate having the opportunity of being a Park Host in one of the many parks throughout the province. By volunteering with BC Parks it's possible to host at a variety of parks throughout the season by careful planning and applying in advance.
Resources
BC Parks:  http://www.env.gov.bc.ca/bcparks/volunteers/
Volunteer Partners:  http://www.env.gov.bc.ca/bcparks/volunteers/network/
Ecological Reserve Wardens:  http://www.env.gov.bc.ca/bcparks/volunteers/about/programs/er-wardens.html
Parks Canada:  http://www.pc.gc.ca/eng/agen/vol-ben/index.aspx
Happy travels,
Carol Ann