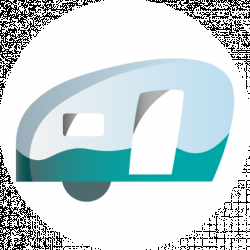 Latest posts by Roaming RV Team
(see all)
24
As far as food choices go, camping calls for easy meals, but there is a wide variety of food to consider.  Stocking coolers with sandwiches, fruit, and drinks may be your idea of the perfect camping experience.  Or, you may want to have the makings ready so you can throw together a nice meal.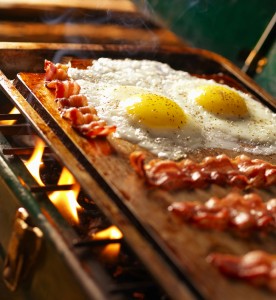 Your decision may depend on the equipment and cooking setup you have available. If you are using a camp stove, you can make just about anything you want as long as it can be cooked in a pot or skillet.  Of course, the size of the stove and the amount of propane will limit your menu, but just be creative.  You can make everything from soup to fried potatoes to hamburgers and steak on a camp stove, so long as you bring the necessary pots and pans.
Then there are the campfires and grills.  If you are fortunate enough to have a campsite with either, or both, your cooking experience could include a whole repertoire of goodies.  It will all depend on how much time you want to spend cooking, and the availability of food.  Planning ahead is the key to success.
Cleaning up may not be easy, so that may help determine the types of meals you make.  To avoid a mess, try making all-in-one meals in heavy duty foil for the grill.  A foil bundle hot off the grill filled with potatoes, ham, and onions is a nice treat after a busy day hiking or boating.  Kids always enjoy hotdogs over a campfire.  Plan each meal in advance and you won't go wrong.
And, don't forget dessert!  Marshmallows roasted over an open fire are a delight for all ages, and they are extremely cheap. Expand on that theme with something as simple as graham crackers and chocolate bars and you have the perfect camping dessert – S'mores. Who needs a fancy dessert cart?
Check out what's on Sale at Camping World! Hundreds of Items – Huge Savings. Click here to shop!
Happy camping,

Most RVers started out as campers – here's how you can start your camping experience inexpensively.  Read this.