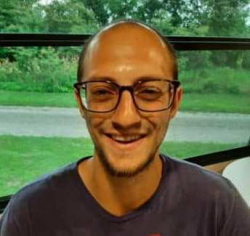 Latest posts by Jalin Coblentz
(see all)
86
For decades, Airstream has been the gold standard when it comes to travel trailers. Their simplistic design and sleek appearance are the perfect balance of lightweight, practical, and timeless. However, thanks to innovations in RV engineering, a number of competitors have risen to the top. Many of these competitors use pieces of the Airstream design but put their own unique spin on them.
Many RVers love the look and feel of Airstream campers but don't want to pay the hefty price tag attached to them. Some of the top alternatives include The Living Trailer, Browlus Trailers, The Oliver Travel Trailer, Dub Box, and Happier Camper Trailers. Each of these campers has pieces and components similar to Airstreams, but with subtle differences.
If you fall into the large category of campers that wants the look and feel of Airstream Recreational Vehicles but to be different, you've come to the right place. Airstream is one of the most popular camper brands, but there are plenty of options out there if you don't want to be part of the Airstream team. We'll look at a few of those popular alternatives with our top Airstream alternatives guide.
What Does It Take to be an Airstream Alternative?

Because of how unique Airstream RVs are, it takes a lot to be considered a viable alternative. Here are five things that any camper you're considering in the place of an Airstream should have.
Appearance
The second you see an Airstream camper going down the road, you know exactly what it is. Airstream has one of the most timeless and unique appearances of any RV out there. Airstreams always have a silver, shiny color that seems to shine in and reflect the sun like a beam.
Airstream RVs also have a unique shape with a rounded front end, making them very aerodynamic. While it isn't a requirement to have these features to be an Airstream alternative, the body and appearance are half the reason that people love them.
Weight
Another reason Airstream RVs are so aerodynamic is their light weight. The materials used to make Airstreams combined with their minimalism, make them very lightweight. Because of how little they weigh, people can pull Airstream RVs with smaller vehicles and don't have to invest in a big diesel truck. Granted, some of the larger Airstream campers weigh more than average, but even those are lighter than campers of a similar size.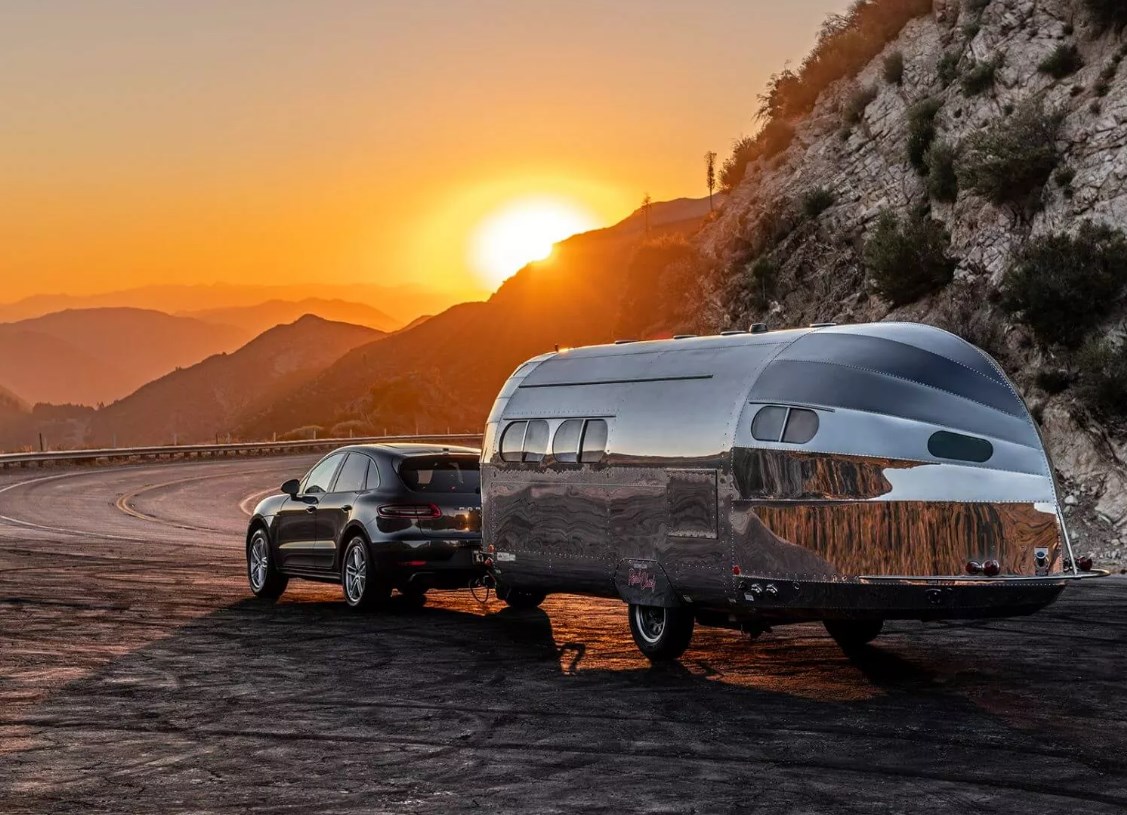 Amenities
While Airstream RVs have a minimalistic design on the outside, they aren't lacking any amenities on the inside. Airstreams are unique because they don't have slideouts, which you would think would be a disadvantage. However, because of their unique interior design, they're able to pack all the amenities you would have in a larger camper in a smaller space.
These amenities include the potential to install solar panels for off-grid living, full bathrooms and a kitchen packed with modern appliances, plenty of sleeping space, propane, and water storage tanks. In addition to looking similar to an Airstream RV, any alternative should also have the necessary amenities.
Feel
Airstream is more than just an RV. It's a brand that is associated with luxury camping in a sleek camper. A big reason for that brand association is because of the feel and aura that Airstream RVs possess. They make non-campers look forward to the great outdoors because they know they'll be safe and comfortable in their travel trailer. In order to be a viable Airstream alternative, campers must afford the same feeling of comfort, luxury, and safety.
Top Airstream Alternatives
Now that you know what it takes to be an Airstream alternative let's look at the few camper brands that have managed to pull it off.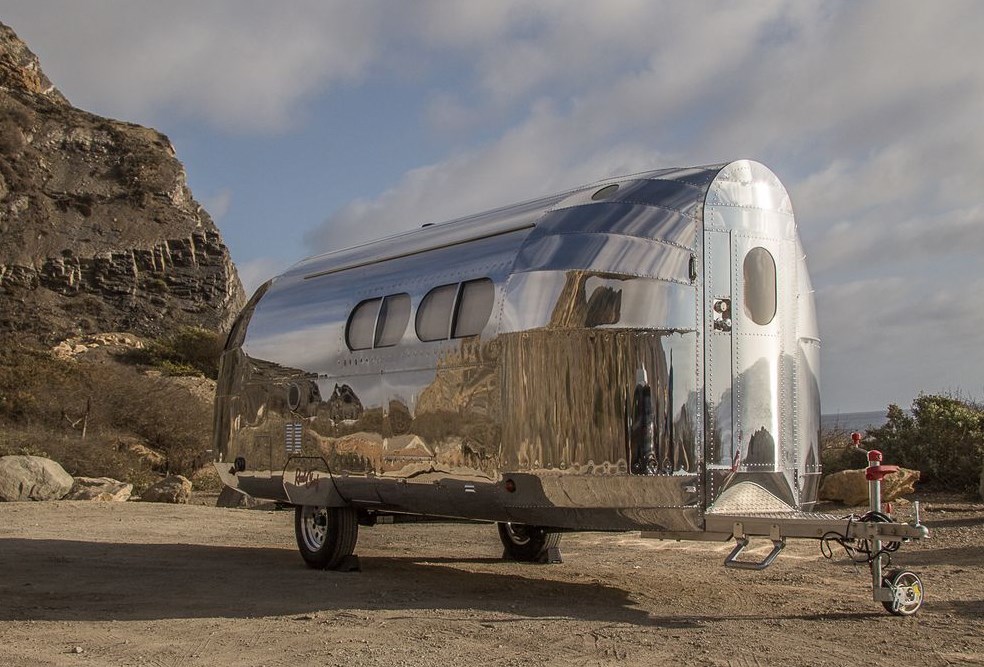 Bowlus is one of the fastest-growing camper brands in the world. They do an even better job of oozing luxury and comfort with their appearance and design. The nice thing about Bowlus is that their campers are even more lightweight and compact than Airstreams, which means that nearly any type of vehicle can pull them. Simply put, the Bowlus is the Tesla of travel trailers.
Bowlus travel trailers look very similar to Airstream RVs. They have the same shiny silver color and a similar shape and are the same size as some of the smaller to mid-size Airstream RVs. The main difference between the two, in their outer appearance, is that Bowlus campers are slightly more V-shaped in the front, making them more aerodynamic. Bowlus campers are also slightly smaller than Airstreams, making them more lightweight.
On the inside, Bowlus RVs are very different from Airstreams. Where Airstreams have everything you need but are minimalistic, Bowlus is very deliberate with its interior design. They have a modern feel and similar minimalistic design, but they're built for off-grid living if that's your desire. The other main difference between Bowlus and Airstream is the fact that Bowlus campers cost between $137,000 and $180,000.
Bowlus certainly isn't cheaper than an Airstream, but it's a modern and lightweight alternative if that's what you're looking for.
Pros
Very lightweight and aerodynamic
Prepped and ready for off-grid living
The most luxurious travel trailer available
Large water and waste tanks
Packed with amenities
Cons
On the small side of travel trailers
Very pricy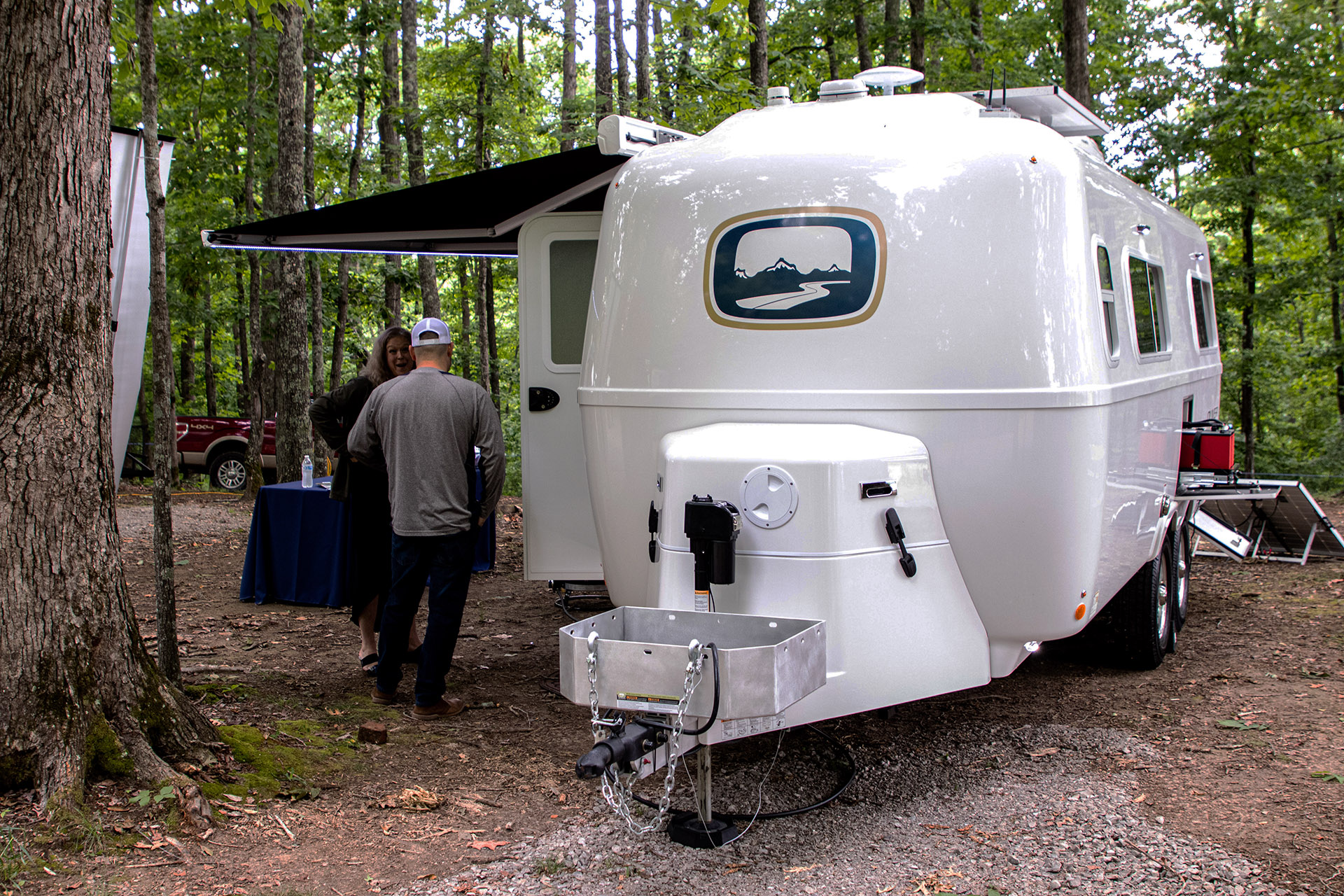 Oliver Travel Trailers are kind of like a cross between an Airstream and a Scamp Trailer. They have the same shape as an Airstream but don't have a sleek, silver exterior. Instead, Oliver Travel Trailers often have white exteriors, but they have that same sleek look and shape as that of Airstreams.
As with Airstream trailers, Oliver Travel Trailers are small and compact and don't have slideouts. However, they do an excellent job of maximizing the available space and packing everything you need within it for comfortable living. These campers are also completely customizable from the interior to the exterior, and they offer you the opportunity to get creative. Oliver Travel Trailers are also more affordable than most other options on this list, with a starting price of around $50,000.
One of the nicest features of Oliver Travel Trailers is their sleek bathroom with a molded vanity. They also have functional, minimalistic kitchens and multiple floor plans to choose from. Oliver Travel Trailers are also very lightweight and aerodynamic and can get towed by most SUVs and trucks.
Pros
A cute, vintage look
Lightweight and aerodynamic
Relatively affordable compared to the competition
Very durable despite having inexpensive materials
Readily available across the country
Cons
Not very spacious if you have a large family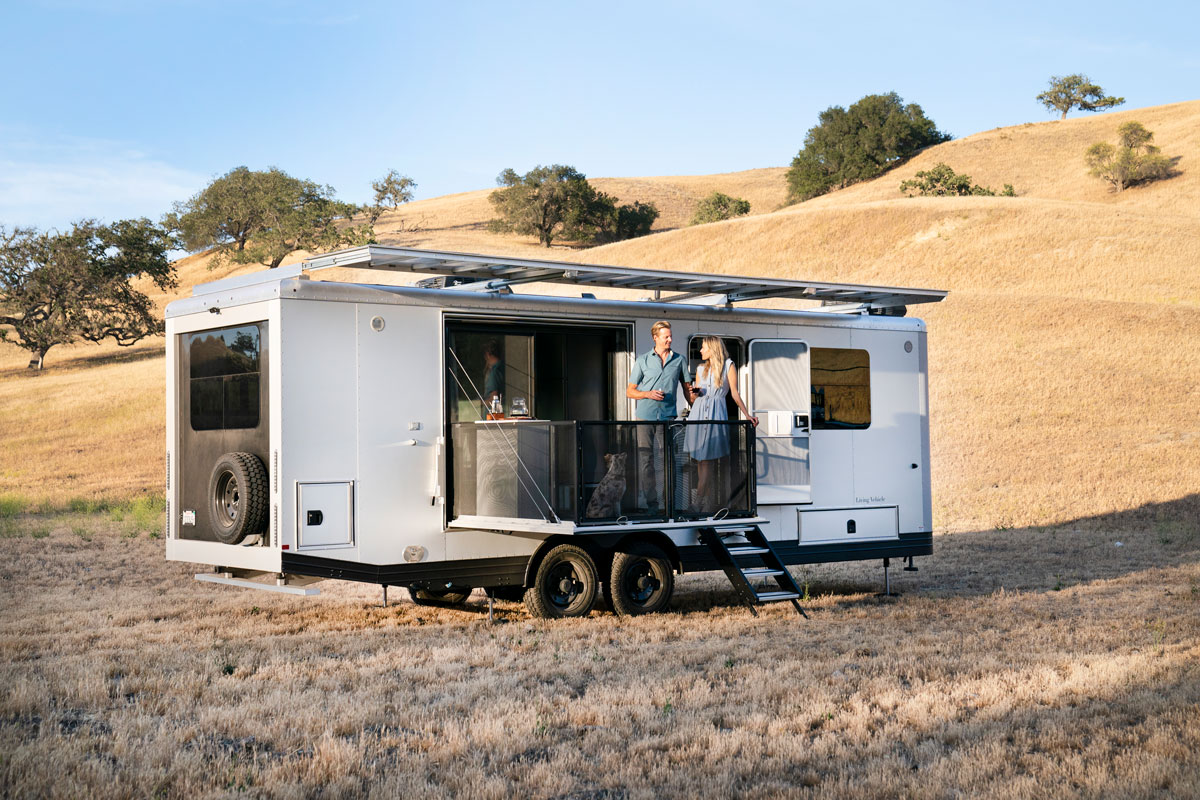 Living Vehicles Trailers are worth a look if you want to go camping in a travel trailer meant to make you feel like you're in an upscale apartment. Living Vehicles Trailers have the same sleek, silver, shiny exterior as Airstreams, but with a twist. Where Airstream and many of our other alternatives have a rounded front, Living Travel Trailers have more of a square front. While this makes them less aerodynamic, you're not going to buy one of these trailers if gas mileage is your biggest concern.
Living Vehicle Trailers are arguably the most luxurious travel trailer brand in the country and give Bowlus a run for its money. These travel trailers are designed for long-term, off-grid, and luxury living. They feature beautiful, modern kitchens, stylish bathrooms, and an all-around upscale interior. While sharing similarities with Airstream, the exterior looks more like a fancy, shiny utility trailer than a camper.
As a bonus, Living Vehicle Trailers offer the option of a side, pull-down porch and are also available as travel trailers because the back wall of the trailer drops down like a ramp. Everything about Living Vehicle Trailers oozes luxury, but you'll end up paying a hefty price. However, in part because of the steep price tag, you have the option to customize your Living Trailer to your liking.
Pros
Extremely luxurious
Ample interior living space
Sleek, modern design
Packed with amenities
Features a side porch and a travel trailer ramp
Perfect for long-term or off-grid living
Cons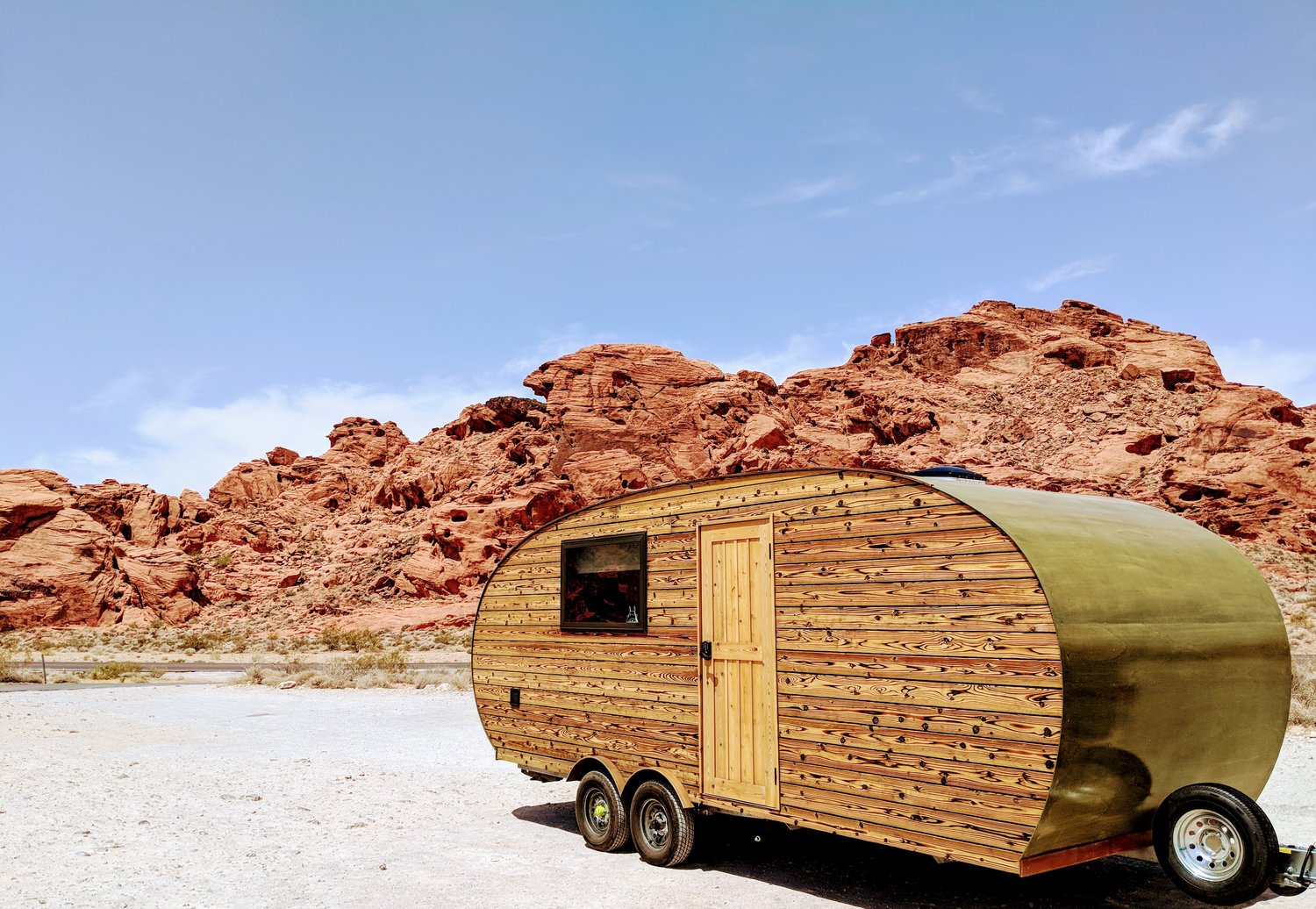 In the same way that Airstream campers have a distinct appearance, so do Homegrown Trailers. Unlike the classic silver shine of an Airstream, Homegrown Trailers feature wooden exteriors, making them appear like cute, vintage cabins on wheels. Before you get images in your head of a tacky wooden exterior, check out some photos, and you'll understand what I'm talking about. The wooden siding on Homegrown trailers makes them look luxurious, unique, and outdoorsy.
While they don't have the same shiny appearance as an Airstream, they have a similar shape and size. They're also rated as one of the most eco-friendly travel trailers on the market. You can pull them with almost anything, and they have little effect on your vehicle's gas mileage. They're also made of sustainable materials, and their makers do everything they can to protect the environment.
In addition to being unique and eco-friendly, Homegrown Trailers are very durable, and their materials are meant to last a lifetime. You can fit up to six people in some of their models, despite their small, compact size. These trailers are also prepped for off-grid living and come complete with the option to add solar panels at any point. They also have decently large fresh and waste water tanks.
Pros
Lightweight and aerodynamic
Very durable
Extremely eco-friendly
Multiple size options
Unique and classy design
Cons
Their wooden exterior requires some maintenance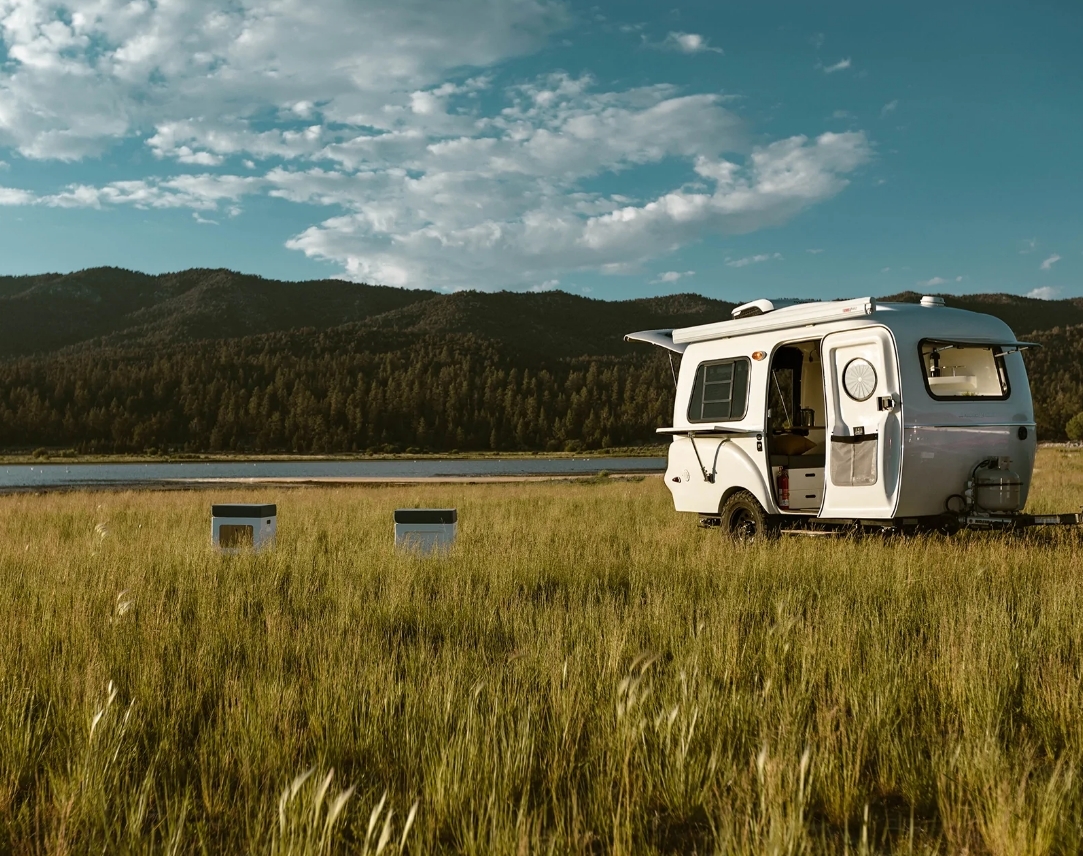 It's tough not to be a happy camper when you're rolling around in a Happier Camper Trailer. Not only does the name give off a feeling of joy and carefree adventures, but the appearance of the camper also does the same. Happier Camper Trailers feature a retro look and design on the outside, but they're all business on the inside. Exterior color options include purple, yellow, turquoise, and other funky colors from the seventies and eighties.
Few campers, if any, do a better job of packing everything you need into such a tiny space. Happier Camper Trailers aren't big, long, or wide, but they come with all the commodities of home, just in a smaller package. You can choose from several size options, but they typically range from 10 to 20 feet in length.
Because of its small size, you can pull this trailer with almost any vehicle. Trucks and SUVs won't have a problem, but you can also tow it with smaller cars and cross-over vehicles such as Subaru Outbacks and CRVs. Despite being small and lightweight, these little trailers are made of durable materials that are meant to last.
Pros
Cool retro exterior design
Very lightweight and easy to tow
Very affordable
Includes their Aptiv system
Cons
Definitely on the small side and not great for groups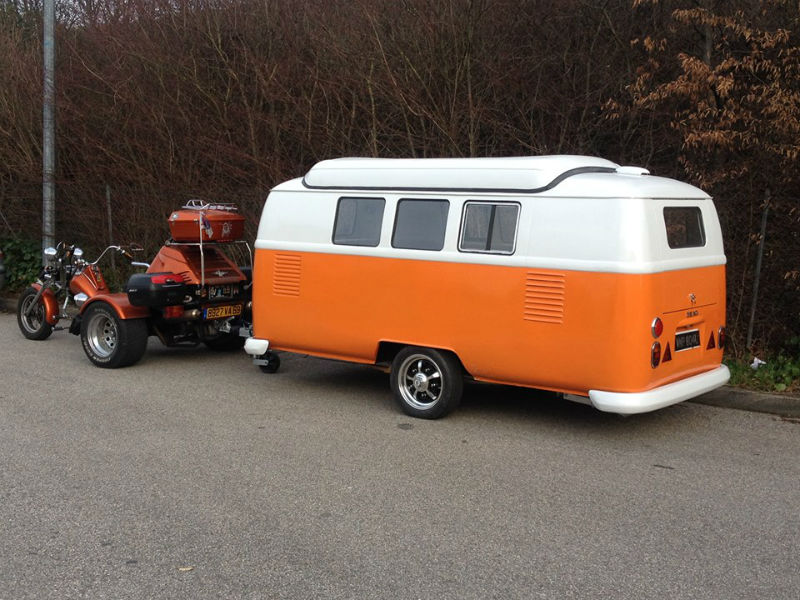 Seeing a Dub Box Trailer will conjure up images and memories of retro food trucks and roadside flower trailers. As with the Happier Camper Trailers listed above, Dub Box Trailers have a unique and retro design and feel. They look like they're straight out of the 70s, but only on the outside. The inside is clean and updated and features everything you need to live life on the road.
Thanks to its lightweight, fiberglass construction, these trailers are also easy to tow, and you can do it with most vehicles. They don't have the shiny, silver look of an Airstream RV, but they have a similar shape, size, and design. These rigs are also designed to maximize efficiency and pack as many things as possible in a small space without overwhelming you. Dub Box Trailers are also one of the most affordable options on this list, with a starting price of just $27,000.
Pros
One of the most affordable Airstream alternatives
Compact but spacious interior
Very efficient design
Awesome retro design
Very lightweight and aerodynamic
Cons
Not big enough to accommodate large groups
How to Choose the Right Airstream Alternative

While you would do well to choose any of the Airstream alternatives on this list, it's essential to choose the right one for your needs. Here are the three main things to consider when selecting your Airstream alternative.
Budget
As with all things in life, your budget will play a significant role in your final decision. Purchasing a new travel trailer is a big investment and one that you shouldn't take lightly. While some of the RV options on this list are cheaper than Airstreams, others are more expensive.
For instance, Bowlus and Living Vehicle Trailers cost nearly two to three times as much as an Airstream. However, they offer certain advantages, features, and amenities that Airstreams don't. On the other hand, Oliver Travel Trailers and Homegrown Trailers tend to be more affordable than Airstreams, but they might not have all the benefits it affords.
At the end of the day, the RV of your choice must fit your budget and have a price worthy of the features it provides.
Size
If you're traveling alone or with one other person, the size of the RV doesn't matter very much. However, if you're traveling with your family or with another couple, you're going to need an RV that's big enough for all of you to live in. The nice part about Airstream RVs is that they offer a number of size options that can accommodate groups of all sizes.
If you want an Airstream alternative, however, not all of the options on this list can comfortably hold more than two to four people. Happier Camper Trailers and Dub Box Trailers, for instance, are made for one or two people rather than a large group. Bowlus, Oliver Travel Trailers, and Living Vehicle Trailers, on the other hand, are big enough to handle groups of up to six people. It's a good idea to know how many people plan to use the travel trailer at a time before making your purchase.
Needs
If a travel trailer doesn't meet your needs, then there's no point in purchasing it. While most of the options on this list are compatible with most needs, some are certainly better than others. If you're looking for luxury and an RV that's prepped for off-grid living, Bowlus and Living Travel Trailers are the way to go. If you're looking for a trailer that will turn heads because of its unique design, Homegrown Trailers is tough to beat.
Features
Finally, you should pre-determine what features you're looking for in an RV before making your final decision. Are you looking for luxury? Do you want an RV with a retro look? Do you need a rig that comes with a full kitchen and bathroom and that's livable for long periods of time? You should also consider the individual amenities included with your travel trailer.
You should ensure your camper comes with a refrigerator, multiple beds, a living space, a stove, solar panels, propane, a heating and cooling system, and anything else that's important to you.
Frequently Asked Questions
Question: Which Airstream alternative is the most luxurious RV?
Answer: If luxury is at the top of your list in terms of what you're looking for, you'll be hard-pressed to find a more luxurious RV than those built by Bowlus and Living Vehicle Trailers. They're the only options on this list with more features and amenities than Airstream.
Question: Which Airstream alternative looks the most like an Airstream?
Answer: Bowlus RVs look so much like Airstreams that they often get mistaken for one another. So, if you want an Airstream alternative that looks the most like Airstream, Bowlus is the way to go.
Question: What is the most durable and reliable Airstream alternative?
Answer: Each of the options on this list is durable and reliable. However, Homegrown Trailers and Oliver Travel Trailers are as durable, if not more so, than Airstream travel trailers.
Final Thoughts
Airstream RVs are about as timeless as they come when it comes to camping. You can instantly spot one heading down the highway and instantly know that it's an Airstream. However, whether you don't want to pay the hefty price of an Airstream or simply want to take the road less traveled, choosing one of the Airstream alternatives in this article is a great idea. Each of these Airstream alternatives has many of the great features afforded by Airstream but are also unique in their own way.
By using our buying guide and selecting one of the options on this list, you're sure to have a travel trailer that meets your needs and lasts for years to come.
Read also: