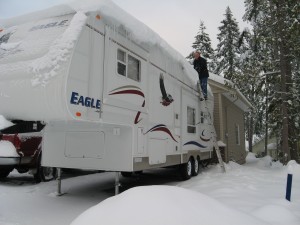 Where did the summer go? I can't believe it's over and the discussion amongst fellow RVers is about winter storage for their RVs. I would like to think it's not necessary and the beautiful warm days of summer will continue forever but I've been told that's not going to happen. I am definitely not an expert on winterizing an RV but I do know some of the things that must be done to ensure an RV is safe and secure from the strong elements of winter weather.




Protect the plumbing
One of the most important things to consider is whether your pipes and tanks are safe from freezing. It wouldn't be nice to open up your rig next spring and find that all of your pipes have burst because you left water in them and the expansion of freezing water caused them to crack.
Drain your hot water tank and I have been told the drain valve should then be closed. The pipes all need to be drained—open all faucets and step on the toilet pedal
Drain all of the tanks. Flush out your gray and black tanks and drain the freshwater tank. Make sure they are all as empty as possible.
How to protect your plumbing
Of course there are usually discussions as to what is the best way of protecting the tanks and plumbing after they are clear of moisture. Do you use an antifreeze type product or do you use air pressure to blow out the lines? The general consensus is that antifreeze is best but you must ensure it is safe – you don't want to put a toxic chemical in your fresh water tank and not be able to flush it out next spring. There is specially designed RV antifreeze products you can use so visit your local RV dealer and ask for their recommendations. We use a combination of blowing out the lines and using anti-freeze and haven't had any problems.
Tip: Disconnect your water filter cartridge under the sink and if possible bypass your hot water tank when using antifreeze.
What's next?
Did you empty the fridge? Empty the refrigerator completely and leave the door partially open. We always go through our RV and remove anything that might freeze, such as canned goods and all of the cleaning supplies. Don't forget shampoos or liquid soaps. The general rule we use is if it's a liquid it comes out.
The slides need to be brought in and we wipe down the tops of the slides to remove any moisture or a possible bug that may attempt to stow away. Leave your cupboard doors open to allow ventilation and to prevent moisture build up. If possible partially open a window or vent to create air flow—but make sure it isn't one that rain or snow can get through.
There are products available to help remove moisture in the air and you should talk to your local RV dealer. It will depend on whether you are in a damp climate or not but why take a chance and have mould grow in the corners of your closets when it could have been prevented quite easily?
Batteries & tires
If you can't plug in your unit over the winter then it is recommended that you remove the batteries so they don't freeze and your tires should be at maximum pressure and if necessary put a cover over them to protect them from the nasty weather.
Snowbirds
You may be heading south this winter but depending upon when you leave you should consider whether your unit is going to be exposed to winter weather before you leave or when travelling through nasty weather to your destination. It may be prudent to completely winterize your unit until you enter warmer weather.




As I mentioned before I am not an expert on how to winterize your RV but I do know it is important to take precautions that will prevent damage. After all, next spring we want to be able to clear out the antifreeze, plug in the batteries, restock the cupboards and head out again for a summer of fun. Happy travels everyone.
Carol Ann