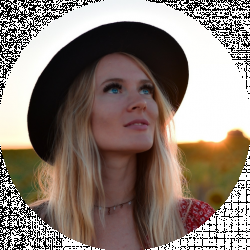 Latest posts by Haley Parker
(see all)
84
I have been living in an RV on and off for nearly five years now, and one of the things I researched most at first was how to get mail. I was super creative initially with general delivery(we'll go over that later) and using my family for the first six months. Still, there are much better ways to do it.
I want to share with you all those better ways by giving you everything you need to know, from the types of mail service options to the best full time RV mail service options.
The Best Up Front
I have a UPS mailbox, which is the best option for those that stay in one general area for an extended amount of time. These mailboxes can be used as a domicile, and they don't have any caps on how long they'll hold your packages. For those full-timer RVers that are constantly traveling, Escapee is my favorite mail forwarding service for their budget-friendly prices and the number of services they offer.
Types of Mail Services for Full-Time RVers

The first thing you should know about receiving mail while living in an RV is that you have multiple options. Each type of service has its advantages and is best for different types of full-time RVers. Below are a few of the choices you have.
Mail Forwarding Services
Using a service that stores and forwards your mail for you is one of the most popular options for those living in an RV that actively travel. These services work by making their address your primary address where all of your mail goes. Then they hold your packages for you until you are ready to receive your mail. Once you are ready to accept your mail, you can let them know the address to forward everything.
Permanent Mail Boxes
A permanent mailbox is also known as a PO box, which I'm sure you've heard of. This is the option I chose because I always come back to one central location from traveling around. Some mailbox services may even forward your mail to you or scan it. Still, they're usually more expensive and only used occasionally.
Mail Scanning Services
Mail scanning is a service that has recently been becoming popular. I'm not sure how I feel about it, but the business basically opens and scans your mail for you to read online. They can then shred the original document on request or forward it to you. Packages are also scanned to let you know when they arrive.
3 Ways to Receive Your Mail
If you decide to use a forwarding or scanning service, there are a few ways you can receive your packages while on the road. There is also the option to ship your packages directly to these places. You need to ensure that you stay in one spot for a time because delivery times will vary. If you're not there for pick up, it will get returned to the sender.
USPS General Delivery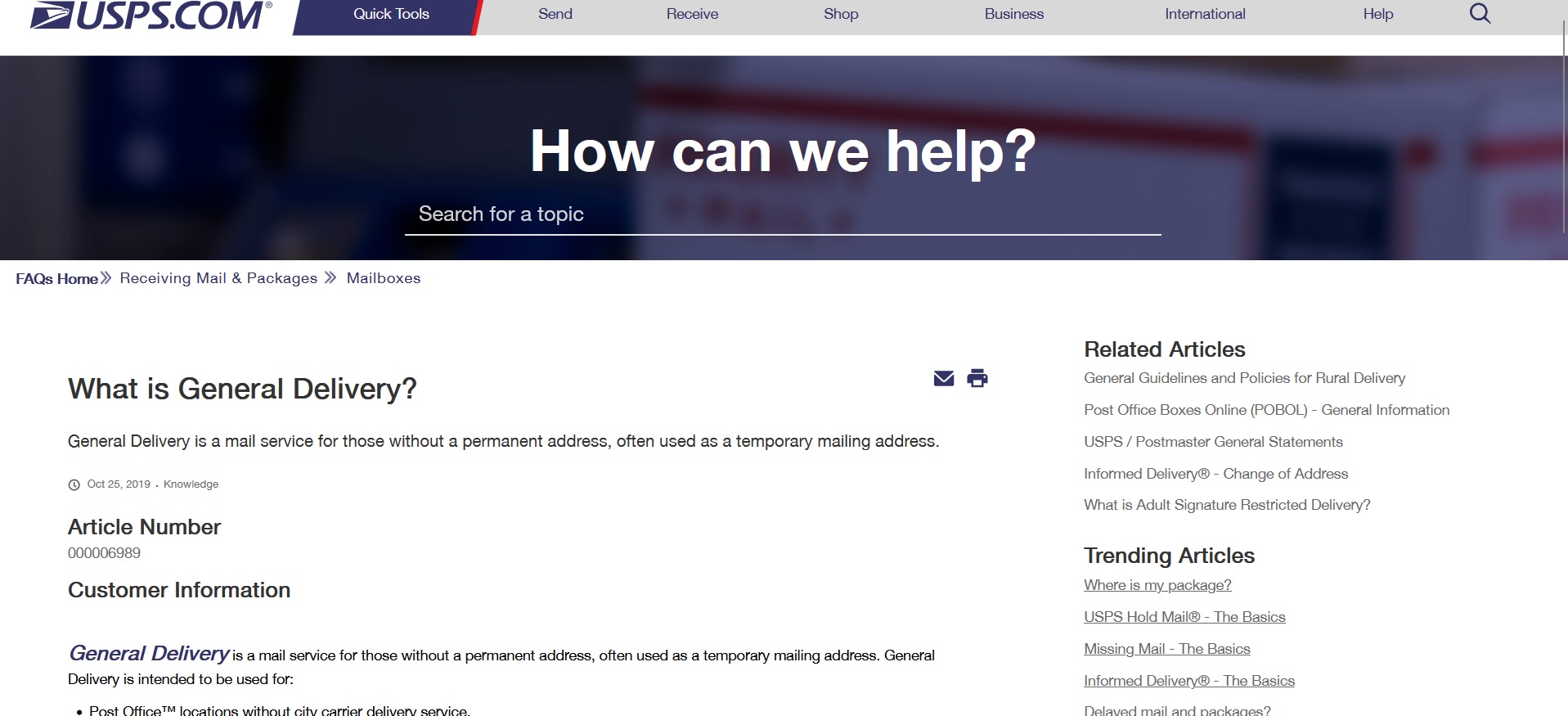 In my first six months of living in an RV, I made my primary address my family's and received all of my packages this way. You simply give them the address of a United States Post Office that you want to pick up from with the term "General Deliver" at the end of the address. The post office will hold your package for you to pick up within 14 days of delivery.
Pro tip: If you're delivering to a post office in a large city, make sure to call first and ask if they accept general delivery. I once shipped a package to a post office in Austin, and they told me they didn't take general delivery. A different post office across town is the only one in Austin that does. My package got lost somewhere, and I never saw that cute dog leash I ordered for my pup.
At Your Campground
Not all, but some campground and RV resorts will accept mail for you. You can find out by asking when you make your reservation. The mail forwarding service can then send all of your mail to that campground for the duration of your stay.
Suppose you live on a campground long term (6 months or more). In that case, you may even be able to skip the mail forwarding service altogether and do a temporary change of address through the United States Postal Service to that campground. Do not do this without asking your campground if it is ok first.
Shipping Lockers
When you make purchases online, many places will ship to self-serve lockers that will hold your packages until you come to pick them up. Amazon is the most known online store that does this, but some package delivery stores do it, like UPS, Fed Ex, and USPS. This eliminates the risk of your package being tampered with or taken.
With Amazon, it's simple. You choose "Amazon Locker" as your delivery method at check out and choose from the available locker locations. To use one of the package delivery stores' lockers, you must sign up through the store you want a package delivered.
Things to Look for in Mail Services
Does the Service Fit Your Needs?
The best mail service options for you will vary depending on your needs. The best choice for a full-timer constantly on the go will be different from the full-timer that stays in one spot for an extended time. There is a mail service option for every type of full-time RVer here.
How Long the Service Will Hold Your Mail
When you're on the road, you aren't always sure when you will be able to stop for a minute to collect mail. There have been times when I went over a month without being able to collect my mail. Certain mail services put caps on how long they will hold your mail before returning it to the sender, and you want to ensure that the cap is long enough for you.
Can It Be Used as a Domicile?
One of the most common problems in the full-time RV world is getting a permanent address for IDs, taxes, and other things that require you to have an address. Some mail services do not let you use them as a domicile, which can add extra hassle to something that should be simple. You can find out more about getting a permanent address here.
The Costs That Come With It
The costs of different mailing services vary greatly, but they all charge a monthly or yearly fee. Mail forwarding services will cost much more than a stationary mailbox, and there are even some free ways to get your mail. It all depends on what you need and what you have available.
Best Full-Time RV Mail Service Options
#01 USPS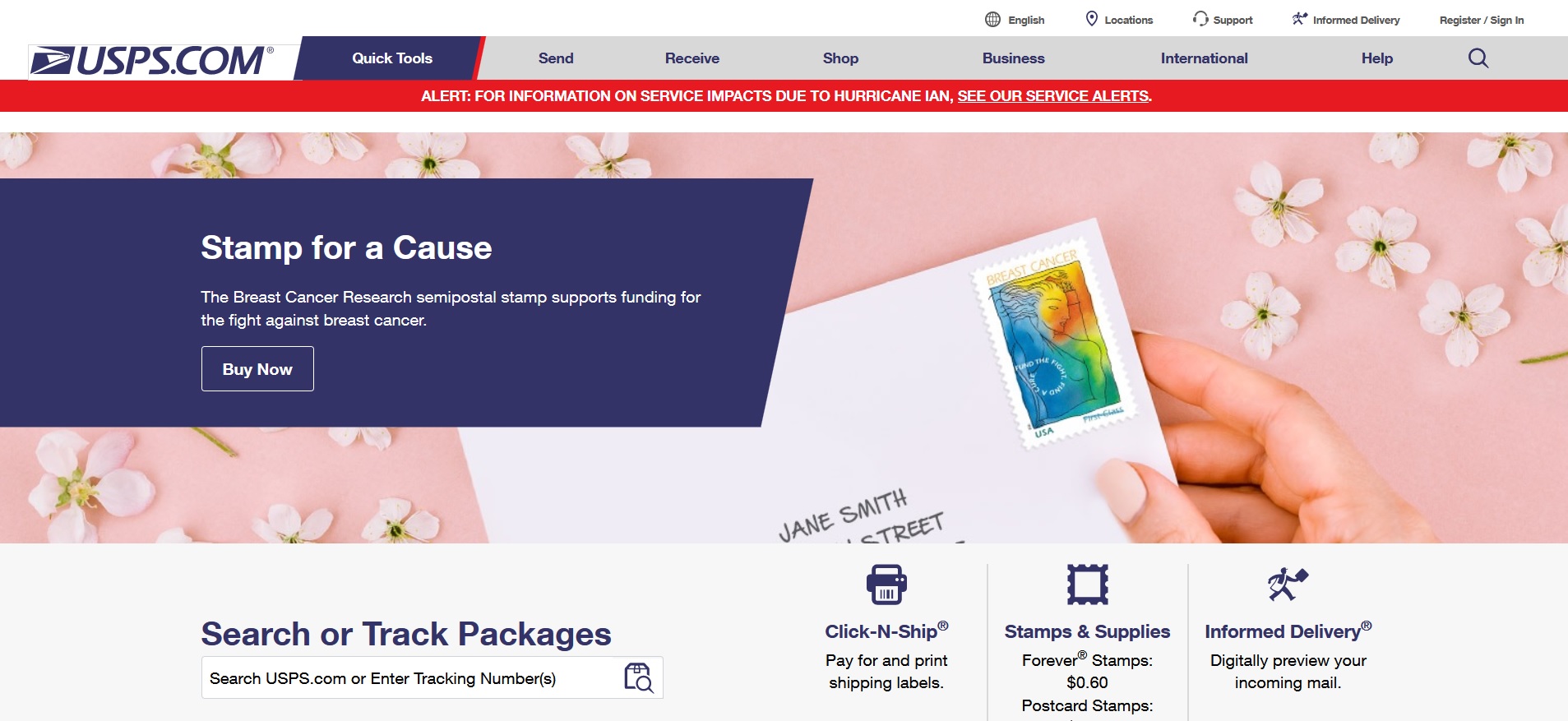 This is the best option for RVers who live in one area most of the time and travel elsewhere for a part of the year, such as snowbirds. It is the cheapest and most basic option that gives you a place to pick up your mail and packages.
You can do a temporary change of address that lasts six months to a year, where they will forward all of your mail from your PO box to another address or PO box. You need to be in one general location for this, though, because they will only hold packages for you for 14 days before sending them back to the sender. You also need to sign up for street addressing to receive packages from private carriers, like UPS, Amazon, and Fed Ex.
Pros:
The budget-friendly option

Can temporarily forward your mail to a new address for six months to a year

You can access your PO box 24/7

You can sign up to have them send you a photo of the exterior of your mail and notify you when it arrives

You can still get packages from private carriers with street addressing

They will hold packages for you that don't fit in your PO box for up to 14 days
Cons:
It can't be used as a domicile

They will return your packages to the sender if they are there longer than 14 days

You have to pay extra to receive packages from carriers other than USPS.
#02 UPS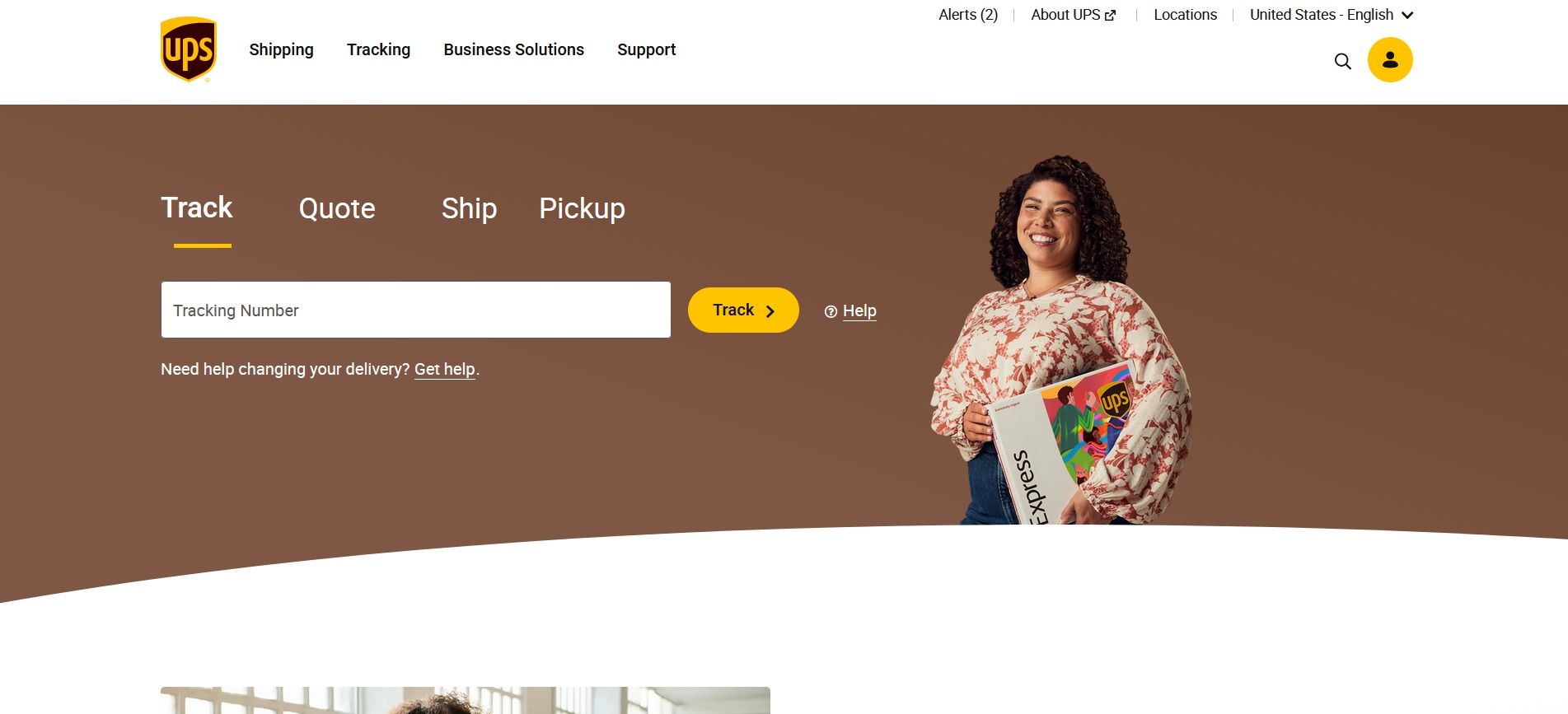 This is the option I chose because I have one central location that I come back to after traveling around. I am usually not gone for more than a month, so this option works great for me because they will hold my packages for as long as I need. They also forward mail and packages to you wherever you are if you need them immediately. Still, it can be costly, so I only do this if it's super important.
Another great thing about this permanent mailbox is you can use it as a domicile for you or any businesses you own. This saves a lot of hassle when it comes to taxes and identification. The only downside to UPS is that you can only pick up your packages when the stores are open unless you use a locker, which is not available at many locations.
Pros:
It can be used as your physical address or business address

Notifies you when you get packages

There's no cap on how long they will hold packages for you

Accepts packages and mail from any carrier

Some locations have locker services where you can pick up packages 24/7

You can request your mail to be forwarded to another address at any time at an extra cost
Cons:
Mail forwarding costs a bit

You can only pick up your packages when the store is open without a locker
#03 Brendan's Isle Mail Forwarding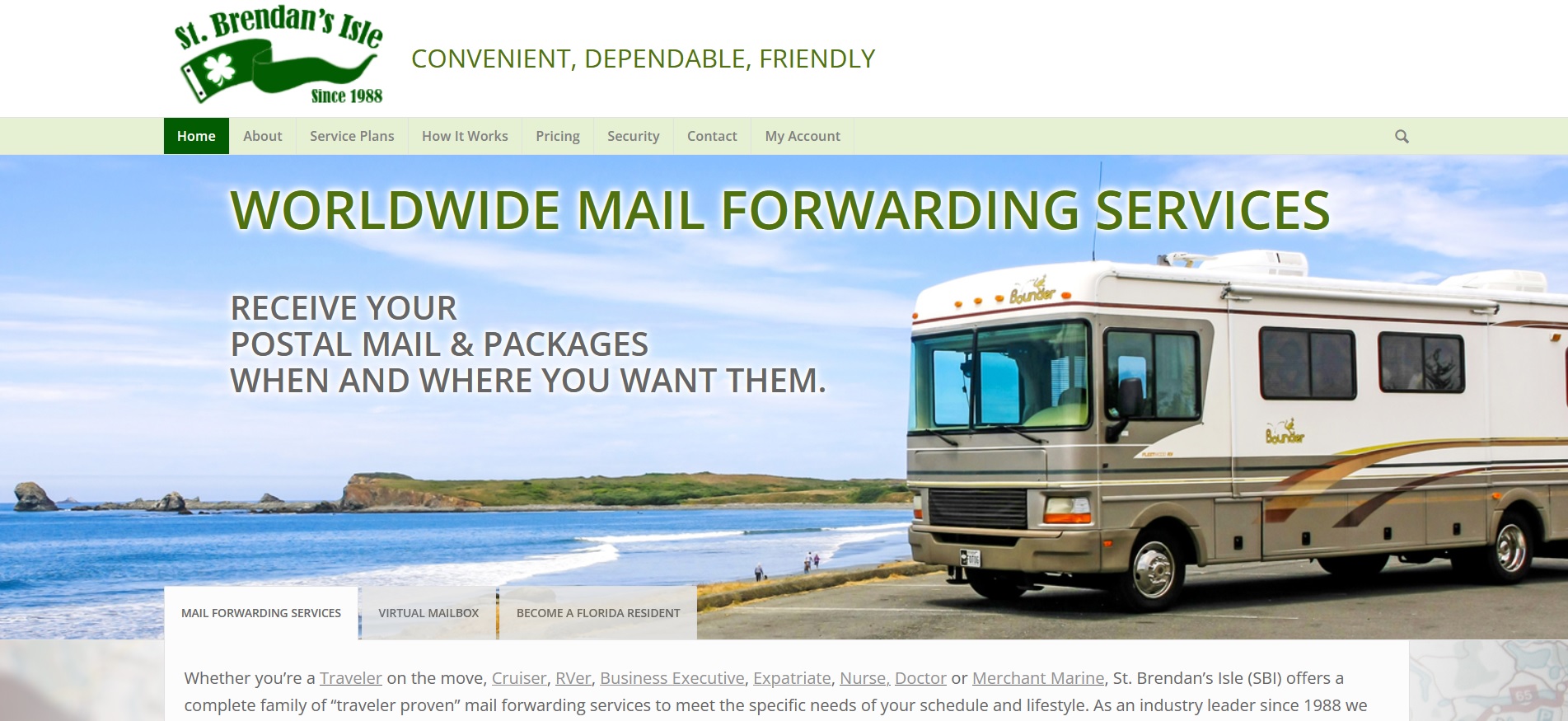 St. Brenda's is all about customer service. They not only give you a permanent address in Florida, but they help you gain residency in Florida, get you registered to vote, help you register your vehicle, and get a driver's license. They will also sort your junk mail for you and shred it upon request.
They also have specific services for different travelers, so you might find that you fit better under the service for a traveling nurse or a business traveler. If you don't travel year-round, you can go into inactive status until you are ready to have your mail forwarded again. You aren't charged those months when you don't need the service.
Pros:
Different services for different types of travelers (i.e., RVers, traveling nurses, expatriates)

Services the US and Canada

Accepts packages and mail from all carriers

They will help you gain residency in Florida for voting, vehicle registration, and identification

Can have inactive status if you only need mail forwarding for part of the year

They will sort and shred junk mail
Cons:
Only based out of Florida, so you don't have a lot of options for your residency

Extra charges for storage and a handling fee for each forward
#04 Escapees Mail Forwarding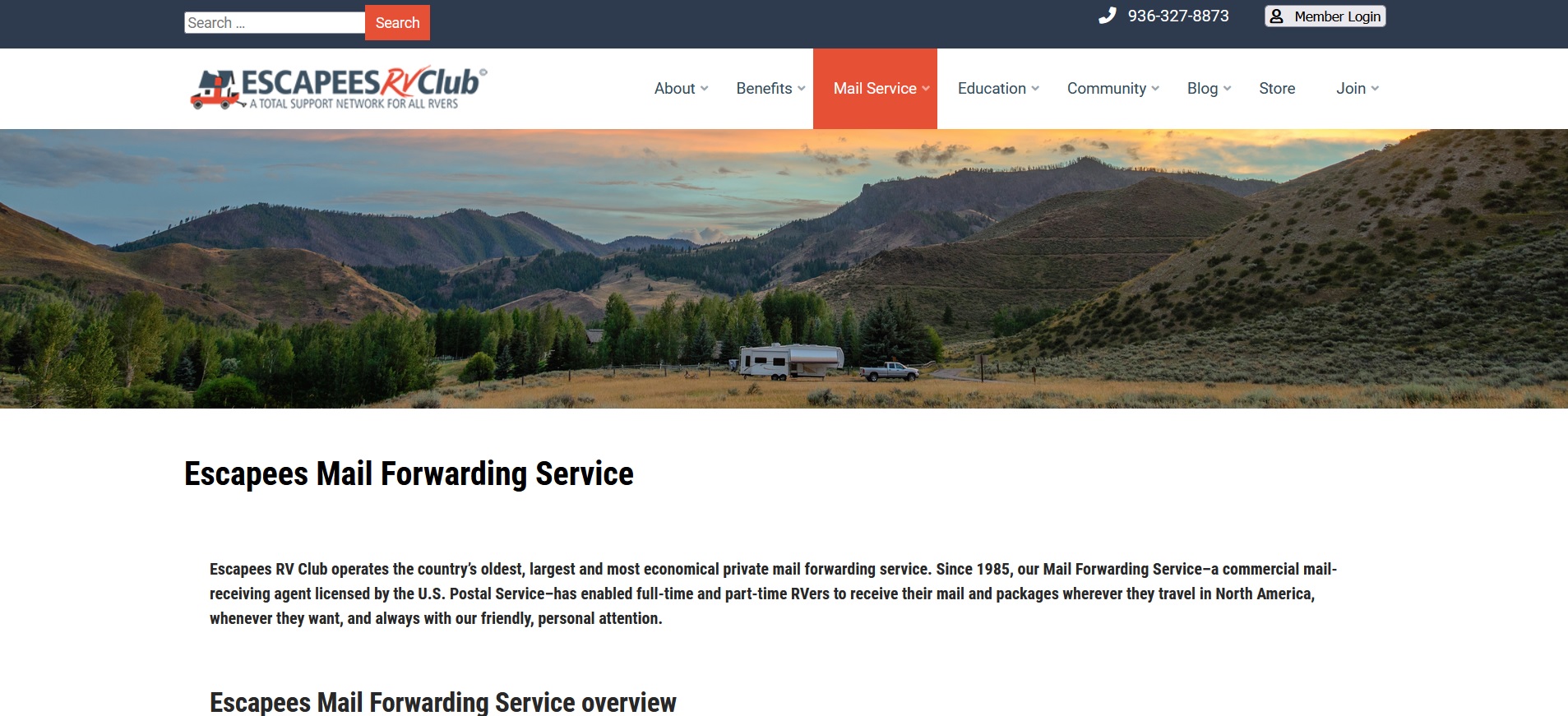 Escapees is one of the oldest and largest membership programs for RVers in the United States. Their mail forwarding locations are in three of the most popular states for full-time RVers to base themselves, Florida, South Dakota, and Texas. You can choose which state you want your domicile to be.
There are three categories that you can choose from for your mail forwarding service. The lowest tier, category A, is highly affordable and sends you your mail on request or a schedule. The higher categories include mail sorting, letting you decide what you want to be sent. You can also add mail scanning, where they will upload your opened mail to the app for you to read and decide if you want to be shredded or sent.
Pros:
You can choose an address in Texas, South Dakota, or Florida as your domicile

Three categories to choose from

Charges yearly, making it cost less in the long run

Have mail forwarded on request or a schedule

Mail scanning services are available at a monthly cost

They will sort your mail based on your specifications
Cons:
Charges an initial enrollment fee and cancelation fee

It will send you all mail and packages instead of what you request unless in an ungraded category
#05 Good Sam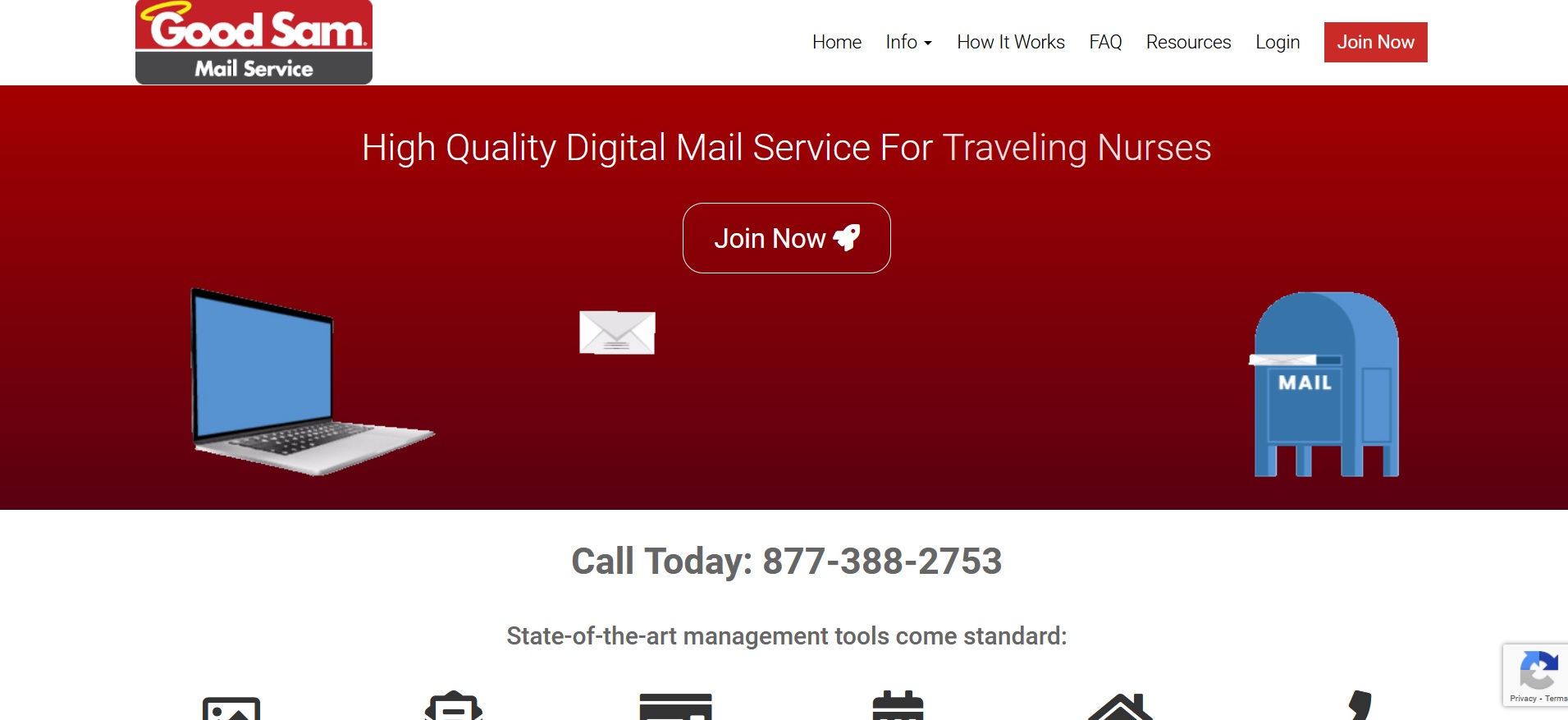 If you have had an RV for any time, I'm sure you have heard of Good Sam. They are a membership for RVers that provides tons of different services and discounts to help you out. The same goes for their mail forwarding service. Anything you could need is done with Good Sam mail forwarding, like mail scanning, a physical address, check deposits, and reviewing your mail over the phone.
You can also upgrade to the business plan that adds a phone and fax system, call forwarding, a voicemail with a greeting, and bundled scans. This is one of the more expensive mail forwarding services, but if you run a business from your RV, I think it is worth it with all the extras they provide. Plus, you can pay yearly instead of monthly to save a little.
Pros:
They also provide business services, such as a phone and fax system and call forwarding

Everything you could need is included

They will make an electronic check deposit for you

Free mail scanning

They send you photos of your packages and mail

You can pay monthly or annually to save money
Cons:
Their only address is in Florida, so that's where your domicile has to be

More expensive than any other mail service
#06 Traveling Mailbox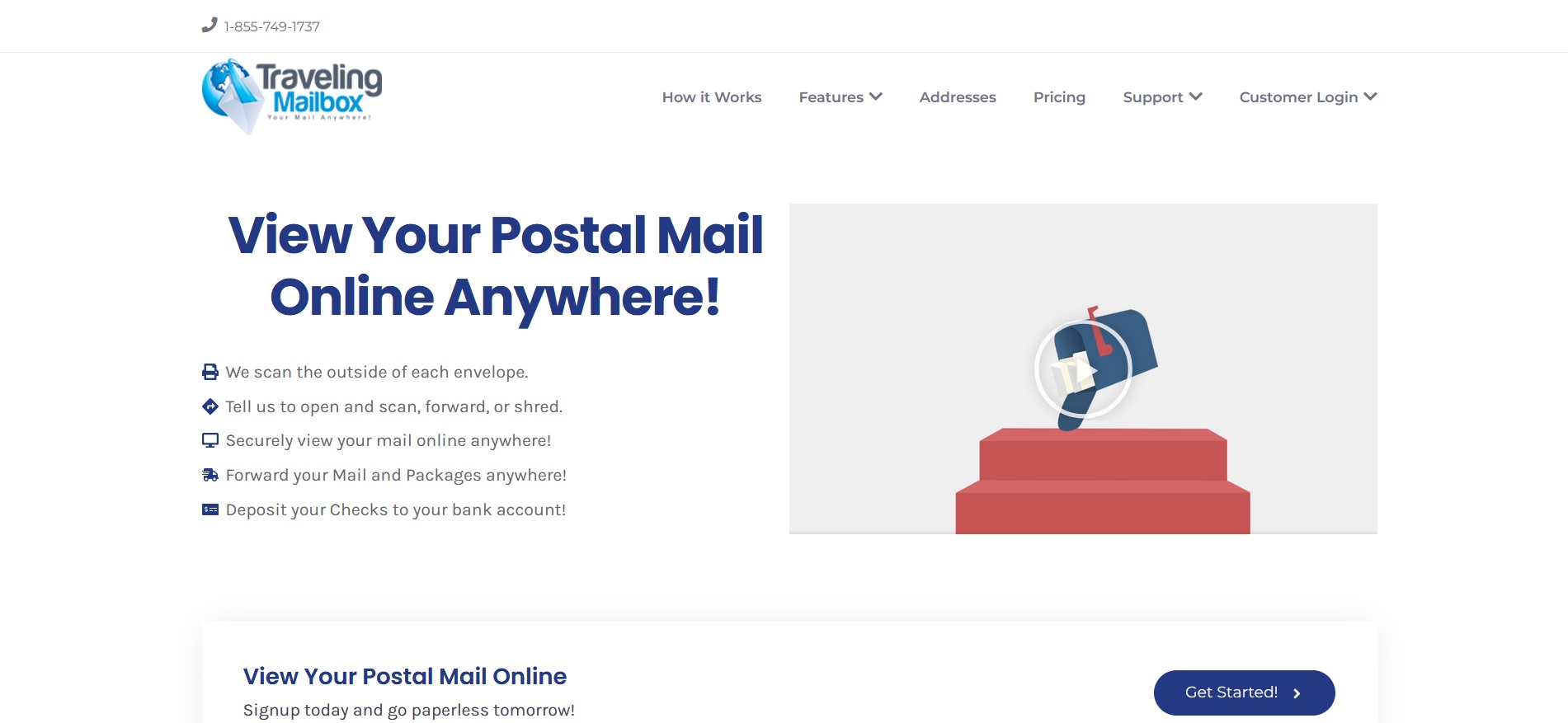 The Traveling Mailbox is a virtual mailbox that primarily focuses on scanning your opened mail and uploading it to an app where you can instantly view it from wherever you are. They will deliver packages and your mail to you if you choose to. Still, I would address any packages I'm sending to where I'm staying initially and cut out the middleman if I had this.
This is exceptionally convenient if you still get paper mail frequently. I don't know many people who do, and you can't use your street address as a domicile. The one scenario that I think this service would be helpful for is businesses. They'll deposit checks for you, and the address they give you looks more professional than some other mail services.
Pros:
You can use it as an address for your business

Accepts mail from all carriers

Will forward packages and deposit checks as well

You can choose to have it scanned, forwarded, or shredded

Unlimited cloud storage for your scanned mail

Sends you a notification when you get mail
Cons:
It can't be used as a domicile

You have a limited amount of received mail and scans per month
#07 A Friend or Family Members' Address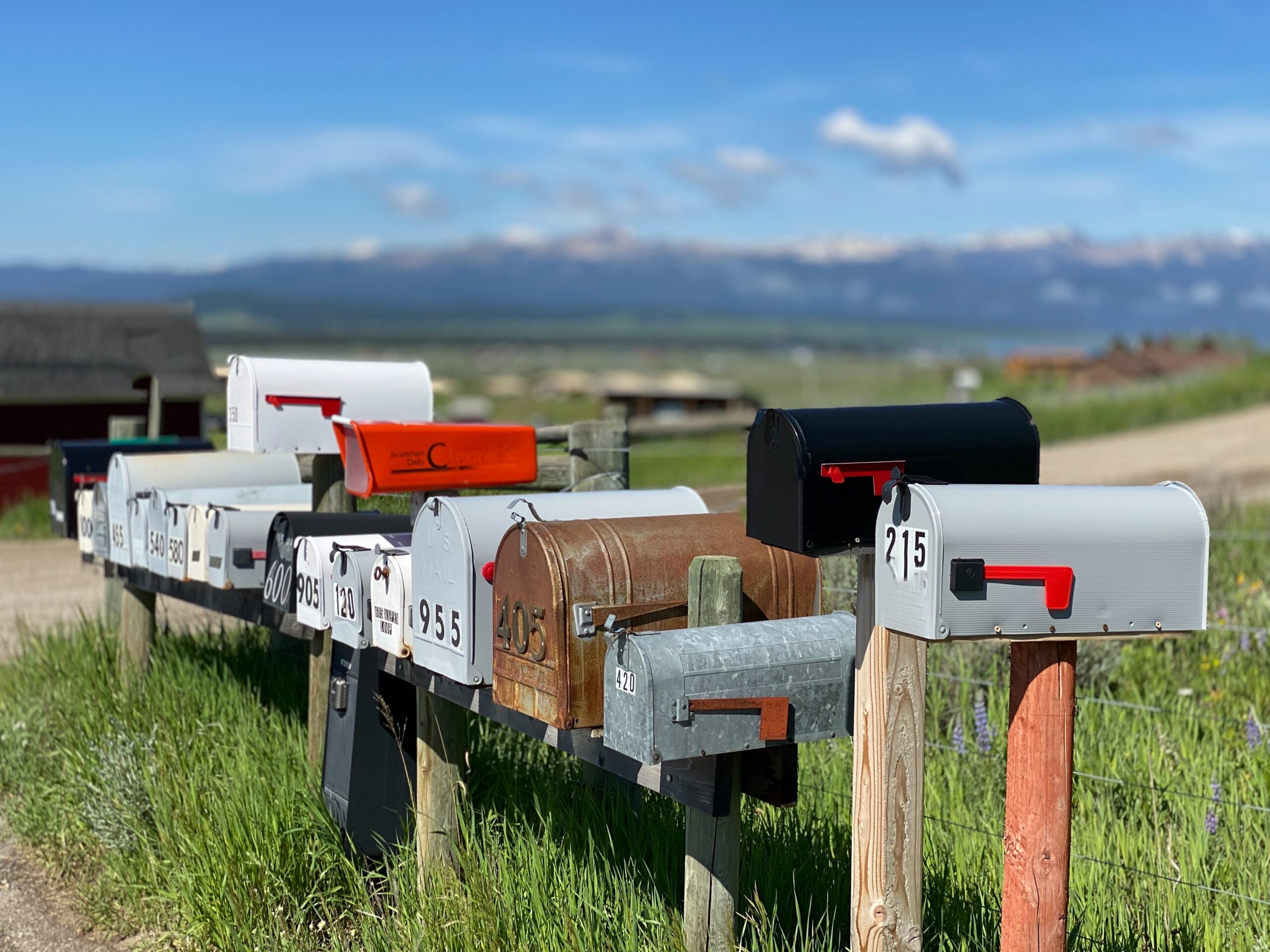 This is the only free option on this list, and that's only if your friends or family really love you. I did this for my first six months of living in an RV, and it worked out fine for the most part, but it was not the best way to do it. If you want anything forwarded to you that gets mailed to their house, it will most likely take much longer than paying for a service, and they will know all of your business. You can learn a lot about a person through their mail.
You will also need proof that you live with your friend or family member to use their address as a domicile. You can get proof by having a bill sent to their house or draw up a "leasing agreement" to "rent" a room. You can also have them open your mail and send you pictures of it if you trust them. There are even apps that will turn the photo into a PDF, so it's like scanning.
Pros:
Free if your friends or family are willing

You'll need to have some sort of proof that you live there for a domicile

You can ask them to open your mail and send photos, like scanning

It's an actual address, so you get mail from any carrier

No fees for forwarding or storage unless they want to charge a fee
Cons:
You need to trust your friends or family to be organized

You're friends and family will know all your business
FAQ's
Question: How do I get an address if I live in an RV?
Answer: You will have to use a friend's or family member's address (with their permission) or a mail service. Almost all mail forwarding services give you an address you can use for a domicile. UPS mailboxes also give you an address you can use for residency or businesses.
Question: What state is best for full-time RVers?
Answer: Florida, Texas, and South Dakota are some of the most popular states to have your domicile for full-time RVers. This is because of their relaxed tax laws and the ease of gaining residency. Montana is another good option and the state I chose because they have no sales or property tax. I have my domicile through a UPS store, with which I can register my LLC for the Montana residency.
Question: How do RV parks handle mail?
Answer: RV parks will sometimes receive mail and packages for you, but you must ask when you register to stay. The person at the front office where you register will take your mail and hold it for you until you come to pick it up. Some RV parks will give you a time limit to come to pick it up before they return it to the sender.
Final Thoughts
Finding the best mailing service entirely depends on what your individual needs are. Even though all of us full-timers are part of the same close-knit community, we all have our own lives. For anyone who generally stays in the same area for most of the year, I love using UPS mailboxes because they are cheap, have all of the services I need, and can use them for a domicile.
If you are a full-time RVer constantly on the go, I would use Escapees mail forwarding service. The fact that you can choose between three different states for your domicile is a huge bonus, and they offer the best value for their service. I also love all the options they provide for different types of travelers.