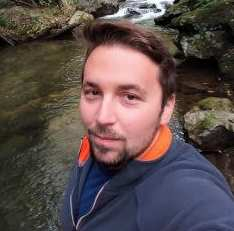 Latest posts by Coty Perry
(see all)
89
After visiting multiple RV parks in Texas, it's become very clear what travelers want as they pass through this beautiful state. Many visit to experience its breathtaking views, historic attractions, and culture. The best RV parks in Texas include great amenities, beautiful scenery, and family-friendly activities.
Before choosing an RV park in Texas, consider what each of these parks has to offer before making a decision.
My Top Picks Up Front
Listed below are my top recommendations for the best RV parks in Texas.
How I Chose These RV Parks
Coming to a decision of which RV parks are the best was simple, based on these factors.
Location
A big aspect of choosing the best RV park is the location. Finding a park that is near great sights and has wonderful views is a must. Waking up in the morning to a beautiful sunrise over the mountain or watching the sunset will make the experience even better.
The RV parks should also be conveniently located to nearby attractions that are easily accessible to you and your friends or family, including restaurants and malls. RV parks being located close to lakes, pools, beaches, or picnic areas will allow you to have options when it comes to planning out your day.
Amenities
You should be aware of the amenities that an RV park offers before choosing to stay there. While not all of these RV parks offer the same amenities, most of them are offered at each park.
These amenities include full hookups, showers, cell phone reception, pavilions, grills, Wi-FI, back-in/pull-through sites, a laundry room, and available discounts. Their amenities should also include daily, weekly, or monthly rates.
Pet and Child Friendliness
A lot of the time, children and pets are along for the stay at an RV park. A park that does not allow pets or is inconvenient for children would not make my picks for the best RV parks in Texas.
This includes offering playgrounds for children to have fun, and enough space for your pets to feel comfortable.
Cleanliness
If an RV park is not cleaned or maintained properly, you will likely not want to stay there. Staying in a clean park is a top priority when choosing some of the best RV parks in the area. It is important for the showers, restrooms, and laundry area to be clean for you and your family during your stay.
Price
Choosing an affordable RV park is possibly the most important factor on this list. An affordable RV park should still have access to amenities, clean restrooms, and ample space. The prices of these RV parks do vary but are still affordable to most.
Best RV Parks in Texas: Top 10
Here are the top 10 choices for the best RV parks in Texas.
1. Splashway Waterpark & Campground
Staying at the Splashway Waterpark & Campground in Sheridan is a unique experience. It is the perfect place for families to stay, as it offers many family-friendly amenities like basketball, paddleboarding, laser tag, and a huge waterpark. This location is centered around families.
There are movie nights, s'mores, arts and crafts, live music, and so many more kid-friendly activities. This is one of those places that you will never be able to forget, and neither will your children.
It is clean and well maintained, has a large fenced-in dog park, two playgrounds, several picnic areas, outdoor games, private restrooms with showers, and laundry facilities. If you are wondering how you will get to all of these amenities, you will ride in a golf cart. The golf cart seats up to six people at a time and is available to rent as an easy means of getting around.
The best part is the waterpark, of course. It offers tons of fun rides, a lazy river, a wave pool, swimming pool, and several places to order food. There are many lounge chairs and picnic tables available for you to relax at, and you can even use a cabana with wait service. Pricing here is reasonable, considering all it has to offer.
2.  Grand Texas RV Resort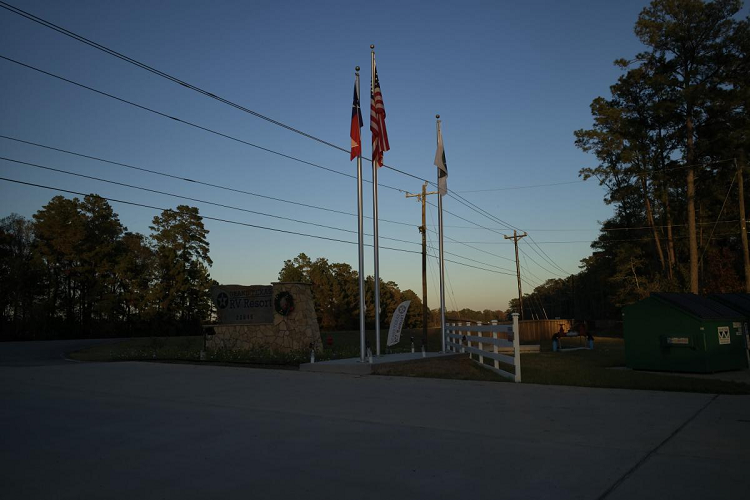 This campground is definitely one of the best. There is a pool (that is rather new) and a hot tub jacuzzi, both of which are always kept clean. Their Wi-Fi is super fast, compared to other RV parks. This is perfect if you just want to scroll through your phone, or if you are remotely working and need steady Wi-Fi.
If you have children, they will have so much fat at their playground, while your animals will have fun in the fenced-in area for dogs. You and your family might enjoy that it is located right across the street from Big Rivers Waterpark and Adventures, located in New Carney.
We love that this RV park offers some of the best amenities, like new showers, free garbage pick-up, and full hookup RV sites.
3. Dellanera RV Park
The Dellanera Rv park is newly renovated, affordable, clean, and convenient. It offers beachfront camping sites with amazing views of the sandy beaches. This is a great location to stay at if you plan on exploring the town of Galveston or the gulf coast.
The sounds of the ocean make this spot so peaceful, especially when waking up early and starting your day. You and your family can even enjoy picnics by the beach because of the picnic table and barbeque pit that is provided at each camping site. The barbeque pit is great for cooking some burgers, chicken, or lobster tails to enjoy with your family.
When you are done enjoying your day in the sand, you can take advantage of the clean shower and restrooms. While there is not a pool or a hot tub, you can still get your water fixed by going into the ocean. There is good Wi-Fi, cell phone reception, and land for your dogs to explore.
4. Morrison Creek Cabins
Morrison Creek Cabins is an excellent choice for those who are looking to stay in a quiet community. This park is surrounded by woods and is located inside of a gated community. The owners of this property live here, so they are available to help if you have any concerns.
The fact that it is located in a gated community adds extra safety and comfort. There are only 5 sites on this property, which attributes to the quiet and peacefulness you might be seeking when staying here. Since there are so few sites, you will not need to worry about it being overly crowded and you can enjoy all this property has to offer.
There are full hookups, excellent Wi-FI, space for your dogs to play, an on-site laundry room, and a private and clean outdoor shower space. There is not a playground, but it is very spacious and welcoming for children of all ages.
Located in College Station, it is only a short distance away from Aggieland Safari, Ronin Farm, Carnegie Center of Brazos Valley History, and The Children's Museum of the Brazos Valley.
5. Garner State Park
Garner State Park is such a beautiful piece of land. Here, you can enjoy gorgeous scenery and the ability to swim or take a paddle-boat out on the water. The Frio River is shallow enough for you to take your children and dogs out for a swim, or you can even do some fishing. There are paddle boats, kayaks, canoes, and inner tubes available for rent.
Also, you can make use of their locker area if you want somewhere safe to keep your valuable items when you are in the water. This park will give you and your family an amazing opportunity to learn more about the wildlife in Texas. This park is home to many creatures, like white-tailed deer, Rio Grande Turkeys, and eastern bluebirds. Whether you are a serious camper, or just camp occasionally, you will love all this park has to offer.
There are 16 hiking trails to explore so you can experience the views while also observing nature. The restroom and showers are conveniently clean and close by. Also, you can put their outdoor picnic area to good use by using their grills and fire ring. Consider visiting some of the local restaurants during your stay, like Hippie Chic's River Shack LLC, Sweet Summer Spot, or Neal's Dining Room.
6. Yogi Bear's Jellystone Park Guadalupe River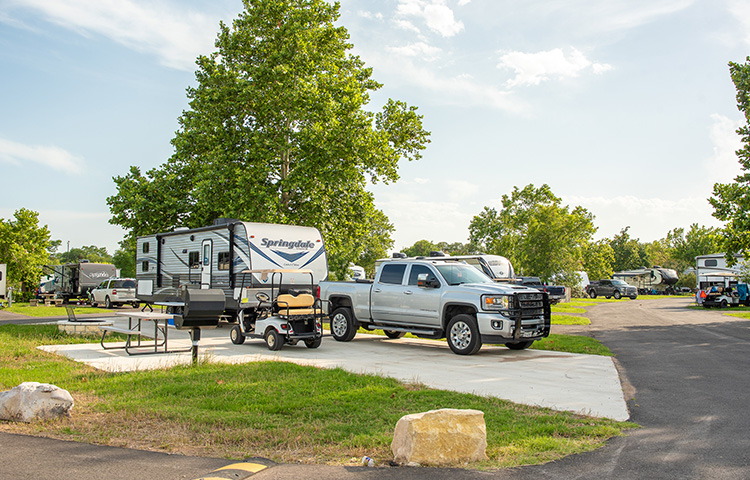 This RV park is located about two miles from downtown Kerrville. It is peaceful, well maintained, clean, and is located along the banks of the Guadalupe River.
There are a wide variety of campsites and cabins, many amenities, and the staff is super helpful and friendly. This park is family-friendly and is the perfect place for a getaway. There are over 300 yards of river frontage, so you can have easy access to the river to enjoy activities like paddling, fishing, or wading.
If you just feel like relaxing outside of the water, you can hang out on a swing that faces the river underneath an oak tree. This RV park is affordable, but depending on which campsite you choose, it can be expensive.
Each campsite offers basic amenities, but there are greater amenities for the more expensive sites. The Most expensive option includes 30/50 amp electricity, a stone fire pit, water hookup, and a concrete pad.
The most affordable option includes 30/50 amp electricity, a fire ring, a picnic table, and an asphalt pad. They both are very similar but slightly different. You will have access to these amenities no matter which site you choose – a large camp store to get groceries, The Cartoon Cafe for meals, two coin-operated laundry facilities, a fitness center, a wood-fired pizza oven, and free Wi-Fi.
Your kids will love the Yogi Bear Water Zone, which includes four giant water slides, fountains, and water cannons. There are outdoor and indoor pools for your enjoyment, a rec room for movies, ping pong, two playgrounds, an arcade, and a full sand volleyball court.
7. Fredericksburg RV Park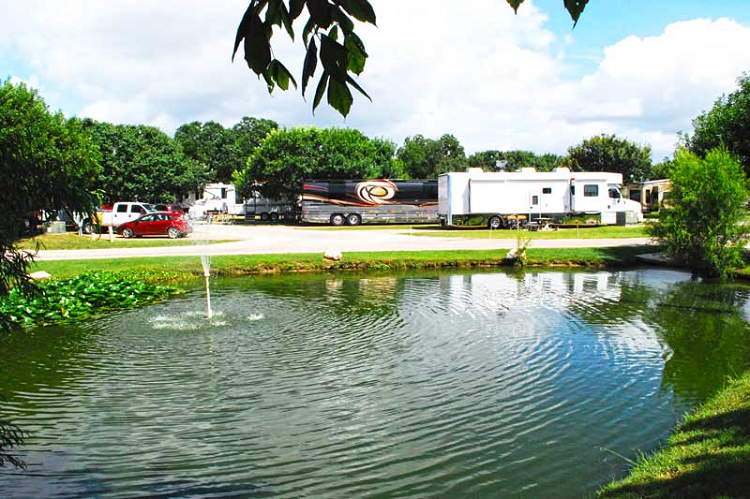 The Fredericksburg RV park is located in one of the most beautiful sections of Texas, Texas Hill Country. It is close to many nearby attractions and includes good amenities to keep their guests feeling comfortable. There are even free hot showers, which is a huge perk.
This affordable RV park is close to some great farms, like Wildseed Farms, Wildflower Ridge Alpaca Ranch, and Warm WInds Trail Rides. It is also close to some great historical sites, such as the National Museum of the Pacific War.
You and your family can enjoy multiple outdoor activities here, like taking a hike on a scenic nearby walking trail. It is close to Main Street but far enough away to feel like you are in your own oasis. Your dogs can enjoy running around freely in the large and fenced-in are specifically for them. There is no pool or hot tub, but you won't even notice when you get to better explore the area.
8. Colonia Del Rey
Colonia Del Rey is a great RV park to stay at in Texas. Its owners, Ernie and Wanda Sims work hard at keeping it clean and making improvements when needed. They have owned this park for over 40 years and are the reason it is one of the best RV parks in the state.
They offer great Wi-Fi, cable TV, clean and private restrooms and showers, an updated laundry room, a post office, a recently updated pool, a fenced-in pet area, and a recreation hall. Besides these amenities, they offer multiple events for you and your family, such as pot lucks, bowling outings, golf outings, and dances.
As for the adults, there are poker tournaments held almost every week. Colonia Del Rey is near many beaches and restaurants in the Corpus Christi area. It is even a short distance away from the Texas State Aquarium if you are looking for something different to do. This RV park is super affordable, especially because there are so many fun activities and amenities to enjoy.
9.  Pedernales Falls State Park
You will love the environment at Pedernales Falls State Park in Johnson City. This RV park is open by reservation only but has some of the best swimming spots your whole family will enjoy. There are hiking trails that offer scenic views, biking trails,  many picnic facilities, swimming, wading, and tubing. Their campsites are rather basic, as you can have a fire, 30 amp of electricity, and water.
There are clean restrooms and showers, but there is not a pool or laundry facility. However, there is plenty of room for your dog to get some exercise in the park. The sites might be basic, but the river is not. The views of the river make up for what you are missing, and the pricing is extremely reasonable.
In addition to the river, you can ride horses, bird watch, fish, and check out the beautiful bird blind and butterfly garden. This park is close to Lyndon B. Johnson National Historic Park if you are looking for a fun and educational activity with the family.
10. Spring Creek Park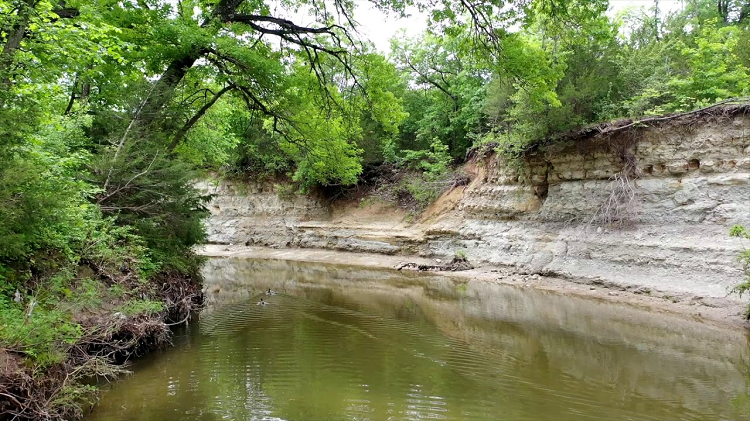 Spring Creek Park is located in Tomball, is a quiet 114-acre park surrounded by soothing sounds of nature. This park was originally a cannon powder mill for the Confederate Army but has been transformed into something completely different. Here, you can camp for up to seven nights for free every month.
To stay longer than seven nights, the price is reasonable. This is a great place to create memories with your family. There is a playground, a volleyball court, and there is archery. The restroom and shower pavilion is clean and well maintained.
There are several hiking trails available for your enjoyment, and you can enjoy some fishing. There is no Wi-FI available, but there is excellent cell phone reception if you need to access the internet. This is a great place for families and pets to enjoy all nature has to offer.
FAQs
Here are some frequently asked questions regarding the best RV parks in Texas.
Question: How Much do RV Parks Cost in Texas?
Typically, the daily rates of RV parks in Texas are about $30 to $40. Weekly rates are usually somewhere between $140 and $170. Monthly rates can cost between $450 to $530, including the cost of electricity usage.
Question: What Makes a Good RV park?
The perfect RV park includes a spacious, shaded, private, and level park with full hookups available and access to ADA campsites. The site should be spacious enough for a large RV and any awnings or pop-outs to extend.
Question: What is the Average Size of an RV Park?
Most parking spaces in RV parks are a minimum of 20 feet wide and 40 feet long. Regular parking lots have parking spaces that are 9 feet by 18 feet long. Some RVs can fill a regular-sized space, but most will take up ample space.
Conclusion
Now that you know the best RV parks in Texas, you can start planning a trip. I recommend trying out the Splashway Waterpark & Campground first, especially if you have children. This park offers many amenities, ample amounts of space, and so many fun activities.