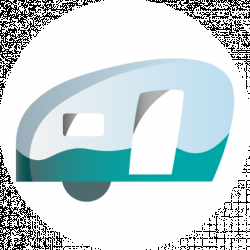 Latest posts by Roaming RV Team
(see all)
73
The History of BC Forestry is very well displayed at the BC Forest Discovery Centre on Vancouver Island
BC Forestry has been a huge part of my family's life in the past from my grandfather, his brothers, my uncles, my father and the next generations including many of my cousins and their children. Unfortunately the forest industry is not what it was in the past but places like the BC Forest Discovery Centre on Vancouver Island ensure the memories and history of the industry that helped shape our province is available for everyone to view.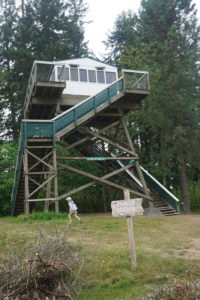 I recently took my three oldest grandchildren to Duncan so they could explore and discover the steam locomotives, logging equipment, old buildings and exhibits related to logging. We even climbed the steep stairs of the Forest Fire Lookout Tower from which in days past a forest ranger may have had to live alone while keeping his eyes open for the sign of forest fires
The steam railway was an intricate part of the forestry's history which may have carried products to and from pulp and papers mills, or residents from the communities where the workers lived to bigger centres. My grandchildren were thrilled to grab a seat in one of the passenger cars while it carried us throughout the 100 acres and over a trestle bridge cross the wetlands.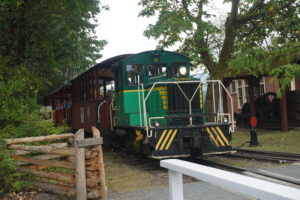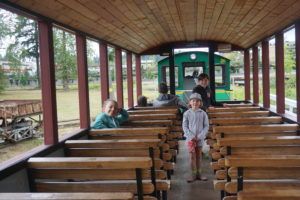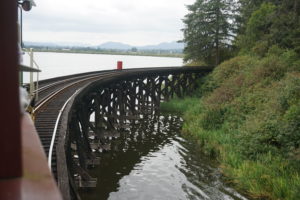 They found the sawmill fascinating but unfortunately we weren't there for the sawmill demonstrations but it's reassuring to know that it is still in use. The sawmill is used to cut timber that are difficult to purchase for the Discovery Centre such as rail switch ties or boardwalk planks.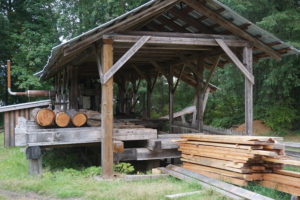 There's waterwheels, antique vehicles (all operational), farm equipment,a blacksmith shop, a Ranger Station, a log loading exhibit, looking camp bunkhouses, a post office and a chainsaw exhibit which enthralled my grandson.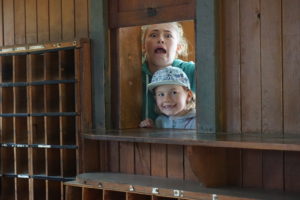 How to find the BC Forest Discover Centre
The BC Forest Discovery Centre is located off the #1 highway in Duncan, B.C., Canada. The museum is one hour North of Victoria, B.C. on Vancouver Island, and 35 minutes South of Nanaimo.
BC Forest Discovery Centre
2892 Drinkwater Rd, Duncan, BC V9L 6C2, Canada
The Hayes HDX off road logging trucks were used on Vancouver Island and are unique and historic in their own right. Below is a long time driver of the Hayes HDX H17 – throwing the wrappers – something not done today. Please take the time to watch.
I hope you enjoyed the photos and a bit of information on the BC Forest industry that was an important part of the development of British Columbia. If visiting Vancouver Island don't miss this very important Discovery Centre.
Happy travels,
Carol Ann