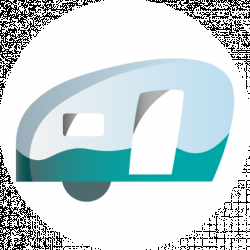 Latest posts by Roaming RV Team
(see all)
RV Park Reviews – Kamloops and Surrey, BC
After spending a month and a half in Kamloops at the Kamloops RV Park we are now at Pacific Border RV Park near the Canada/US Border in Surrey, British Columbia.  It feels like we are visiting old friends – since we stayed here for almost a year a few years ago and really like it.  To be fair in my RV Park Review first of all I want to talk about the Kamloops RV Park that we left behind.
Kamloops RV Park Review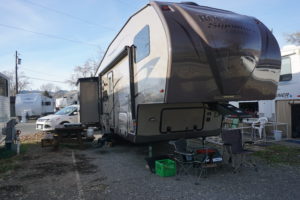 Unfortunately I don't have a lot of good things to say about this park.  Yes, the staff are friendly and for the most part the washrooms were kept quite clean, but there were many negatives.  First of all the sites are extremely small and our awning practically touched the unit next to us.  His sewer hookups were under our picnic table and not nice to have so close to our food so moved it out of the way.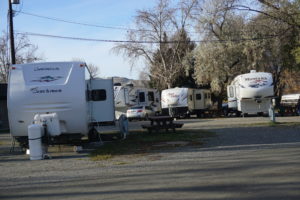 The sites are dirt and weeds with the weeds not even mowed down. Wifi was very poor and frustrating, cable was fine but we had a problem with the power outlet and the water has a strong carbon taste to it. We purchased a large bottle of water for drinking and cooking which was fine but we kept thinking it was our system when it wasn't. Overall, sorry if we can help it we won't be back. There aren't many choices in the Kamloops area for RV Parks so they can charge the lower mainland prices and get away with it.
A good feature is that it's next to the Wildlife Park which is nice and visitors to the RV Park receive a 1/2 price ticket for the second person if 2 people visit it.
Pacific Border RV Park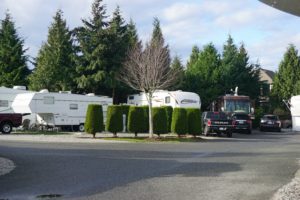 I love this well cared for park.It actually only cost us a few dollars more than the one in Kamloops and its without a doubt much much better.  Paved roads, well cared for sites (although they can be small), excellent facilities, friendly staff.  Indoor pool, lounge area, postal services, cable and wifi.  Since we planned on staying for over a month we signed up for wifi with shaw for a very reasonable amount since the wifi is weak and it's important to us.  It's less frustrating.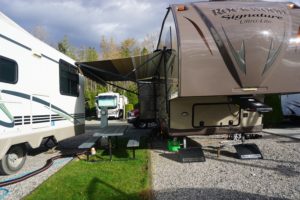 Yes the sites can be small but are very well cared for.  It's possible to obtain a monthly rate – call the office and speak with the staff – they can be very accommodating.  One huge benefit to us is that it's right at the border.  In spite of the low Canadian dollar I still like to shop of a few special groceries and the gas is still cheaper.
We stayed here a few years ago and when we arrived we found many of the same faces from that time are still here – the same staff and many of our fellow neighbours.  It's that popular.  Even though they were fairly booked up when I called for a reservation they did absolutely everything they could to accommodate us.  Very much appreciated.
Nearby Walking areas
A twenty minute drive from the park is an area called Crescent Beach where you will find Blackie Spit Park with an interesting trail suitable for anyone including wheel chairs.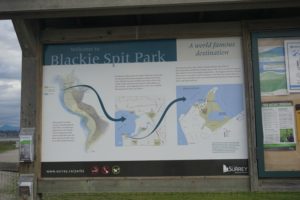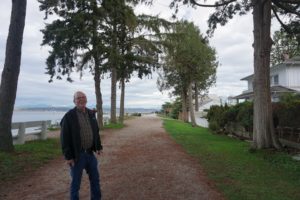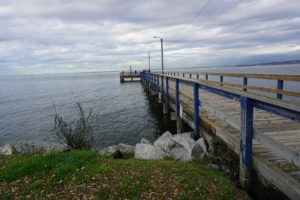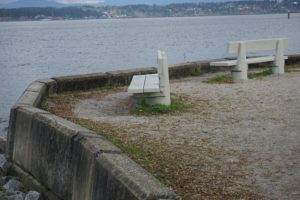 White Rock
The nearby city of White Rock has absolutely everything RVers need such as groceries, supplies, entertainment, restaurants, coffee shops and of course the beach.  Visitors have to spend an afternoon at the White Rock Beach enjoying a feast of fish and chips.  Although this was once an area of vacation cottages and quaint little eateries it's been modernised with new homes, condos, and large retail buildings and still worth visiting.
It's difficult to write RV Park reviews since everyone has their own opinion as to what's acceptable or not.  We all have our own budget and yes I find both of these parks expensive but unfortunately it seems to be the going rate and if you want to stay in either that is what has to be paid.
If you have any questions about either park please don't hesitate to contact me.
Happy travels,
Carol Ann