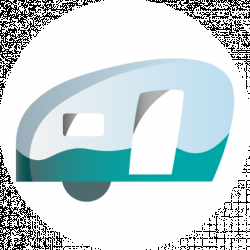 Latest posts by Roaming RV Team
(see all)
Winter RVing is here!
This is definitely not where we thought we would be at this time of the year. It's winter – something I promised myself we would avoid this year. Unfortunately things happen and can't be helped. Barry injured himself and needs to have his dressings changed every three days by a nurse so we have had to put our plans for traveling south on the back burner. It looks like we will be staying here this winter.
In the meantime we are at the Pacific Border RV Park near the Canada/US border and it's cold! Plus it snowed! Admittedly not a lot but there is snow on the ground and its cold enough that we need to plug our truck in and have a heat tape around our water line.
When we were in Kamloops I noted that many RVers who planned on staying there for the winter were preparing their RVs for the cold. This included putting skirting around their RVs and what I found interesting were the different types of skirting that was being used including canvas, tin and plywood.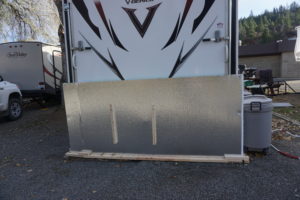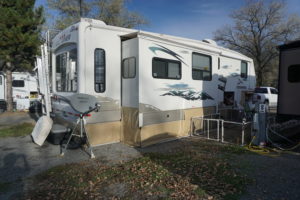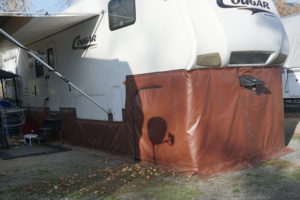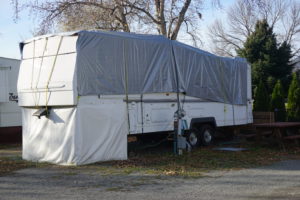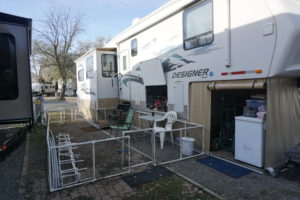 We had skirting on our previous fifth wheel but haven't bothered with one for the fifth wheel we have now. There are definitely benefits to putting a skirt around your RV though especially if a person parks in one place for an extended length of time.
The most important purpose to me is to help keep the underneath of the RV warmer which helps keep the floors warmer, decreases heating costs and makes wintering in your RV much more possible. An added benefit is gaining storage space. If you notice in one of the pictures above the owner has a small freezer underneath the front of their fifth wheel, something I would find very handy.
Deciding what type of skirting to use is a personal preference and I don't even pretend to have the answers. The only thing I can recommend is to do your research, ask other RVers about their chosen method of skirting is, learn about the pros and cons of each and make your own decision.
Attaching the skirting to your RV
There are various ways to attach the skirting including using a channel system where but skirt is slid into the channel that has been attached to your unit. Buttons and T-snaps or suction cups are used as well. Don't forget to check on how to attach or anchor the bottom of the skirting on the ground.
Where to buy RV Skirting
I can't make any recommendations personally. I would start with your RV dealer and ask other RVers where they purchased theirs. From what I can see there are many choices including do-it-yourself products or having someone make one professionally. If you are in the least bit handy, why not try it yourself and save quite a few dollars. By searching online for RV skirting you're bound to come up with some good choices. I did find some listed on Amazon that look interesting but there are other companies on the internet with more choices.
By the way another name for RV skirting is WindSkirting.
Happy travels,
Carol Ann