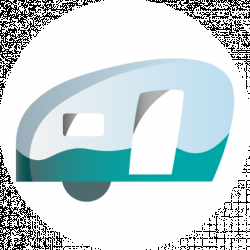 Latest posts by Roaming RV Team
(see all)
British Columbia is part of the route to Alaska
My favorite route to Alaska leads you through beautiful cities, appealing little towns, at times follows the prospectors gold rush trail, takes you through areas known for prehistoric dinosaurs, and allows you to appreciate the majestic rugged beauty that British Columbia is known for.
I have to say that one of the best guides and most popular one is the The MILEPOST 2018: Alaska Travel Planner
– when I was operating a Bed and Breakfast many years ago I advertised in it every year.  It is still one of the best sources of information on routes, accommodations, restaurants and everything in between.  Click on the photo of the The MILEPOST 2018: Alaska Travel Planner
below and get your own copy.  You won't be sorry.
Crossing into Canada from Washington State
There's so many picturesque routes through British Columbia it would be impossible to list them all here. Your direction and what you see along the way will depend on where you enter the province, either from the State of Washington or through BC's neighbour to the east Alberta.
For the sake of this article let's assume you cross the international boundary at one of the Washington and BC crossings. With 13 driveable entries available you definitely have your choice of which one to use when traveling my favorite route to Alaska.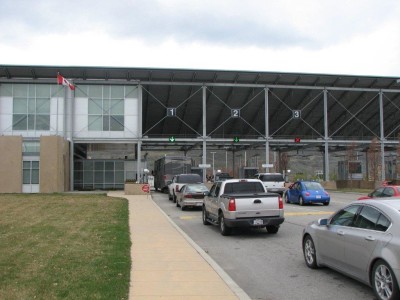 We're going to start our journey at the Oroville – Osoyoos border where highway 97 crosses into Canada. You are now into the heart of "wine country" and Canada's only desert with abundant orchards and well-designed vineyards along each side of the highway.




Osoyoos (O-sue-yuss) is popular with tourists and sits along Osoyoos Lake, well liked for swimming, water skiing and almost every type of water sport activities available. This place gets busy in the summer and is popular with both Canadians and Americans as a vacation destination. After crossing the border you'll drive a couple of miles and come to a major intersection with a traffic signal – the tourist information booth is straight ahead on the left. Take the time to stop at the impressive First Nations Cultural Centre here – it is spectacular.
Follow Highway 97 on your route to Alaska
Highway 97 is going to be our preferred route as we travel north through the Okanagan and I'll only highlight some of the major stops along the way but take your time and stop anywhere you find interesting.
Kelowna (Kel-own-a)
This major city is at the north end of Okanagan Lake and if you need anything at all you'll find it here. Known as the "Napa of the North" Kelowna's wineries and delectable wines are famous worldwide. Once again this is a tourist destination because of its hot summers and mild winters and for the golfer there's golf courses here for every level of experience.
Leaving Kelowna we continue north and beyond Vernon watch for signs leading you to Highway 97 north. Stay in the right hand lane and take the marked exit, which will lead you back on the right highway and take you towards Kamloops. Not too far from this junction will be the Historic Okeefe Ranch where you can take a blacksmith course or attend the Cowboy Dinner Show.
Kamloops
This area's countryside is covered in sagebrush, grasslands and home to many unique plants because of its natural environment. Don't be fooled though – every amenity you might need is here including all the big box stores, golf courses, recreational facilities, museums and even a busy farmers market every weekend. Before entering Kamloops there's the BC Wildlife Park on your left hand side with a campground right next door.
Cache Creek
This is a major junction but don't anticipate a big city because it isn't. This community meets up with Highway 1 from the south and we'll talk about that route later because it's the way we may go home. Highway 97 continues north following the same route that the prospectors took during the gold rush and you'll see signs of it along the way starting with the historic Hat Creek Ranch, a roadhouse where they could rest before continuing to the gold fields.
As we continue north towards our next major destination, Prince George we pass through the towns of 100 Mile House, Williams Lake and Quesnel. Williams Lake is known for it's log home building and Quesnel is where you can learn more about the gold rush town of Barkerville. The forest industry is a large part of the economy in this region. Outdoor enthusiasts will love this area and the scenery is awe-inspiring so have your camera handy.




Stop in Prince George on your route to Alaska
This is considered to be the capital of Northern British Columbia, even though it's actually situated right in the center of the province. It's the gateway for the highways leading east and west (highway 16) as well as heading north and south (highway 97). You'll know you're at the junction when you see Mr. PG on your left hand side. Started as a fur trading company town it developed into a major city supplying everyone for miles around with shopping, entertainment, and services and is home to the University of Northern BC.
Dawson Creek
Mile "0" of the Alaska Highway is right here and this is where you'll learn how the Alaskan Highway was built and it's impact on the whole north. The Alaska Highway House is across the street from the milepost and easy to find. Dawson Creek is an interesting place so do some exploring. They offer visitors a free map of the historic downtown area and its well worth going on the self-guided tour. For those interested in fossils and pre-historic exhibits you can take a side trip to Tumbler Ridge and visit the Dinosaur Discovery Gallery.
Alaskan Highway is part of the route to Alaska
Although this is now the Alaskan Highway we are actually still following highway 97 as we work our way further north and our next stop is Fort Nelson.
Fort Nelson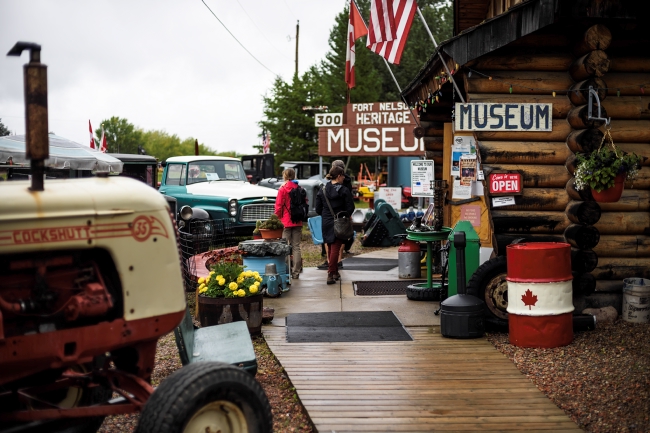 This is mile 300 of the Alaska Highway and a busy place during the summer when travellers are on their way to Alaska and Northern Canada. There's something here for everyone, whether its golfing, fishing, hiking, shopping, or arts and culture. This is the place to do it.
Our highway will now take us northwest towards the British Columbia and Yukon Territory border with plenty to see along the way. You'll be traveling through Muncho Lake Park and on to Liard River Corridor Park. Both are worth stopping and enjoying especially if you like hot springs. The Liard River Hot Springs are not easy to get to but might be worth attempting. There's camping, fishing, hiking, swimming, boating, and almost everything an outdoors enthusiastic should need or want in these parks.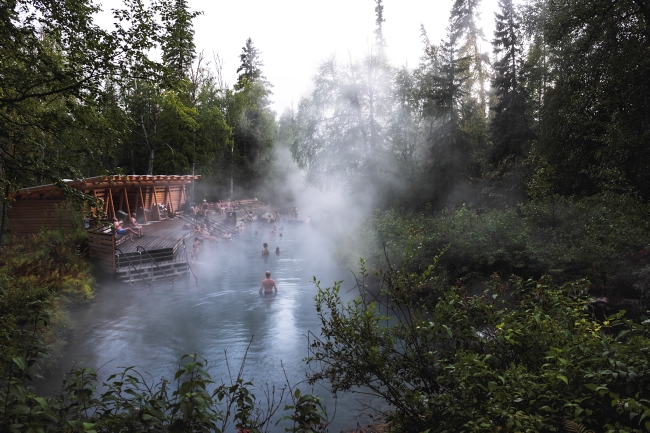 Watson Lake
You are now in the Yukon Territories, a part of Canada still but very different than the rest of the country. You'll follow highway 7 towards Alaska or highway 37south back into British Columbia, which is a very interesting route.
Alaska is the next stop
For those who are on their way to Alaska have a safe journey and enjoy your trip. For those who are on their way home why not take a different route back than the one you took on your way up here.
Southbound
Let's follow highway 37 historically named the Stewart-Cassiar Highway.
There are all kinds of stories about this highway and in the past it received poor reviews. However, don't avoid it because it is absolutely fabulous for wildlife viewing and jaw dropping scenery. Although there are a few narrow spots, there are plenty of pull-outs and rest areas. Before getting on the highway fill your fuel tank and know where the next service station is. Other than that have your camera ready and your eyes peeled – you will be talking about what you see for years to come. It's breathtaking.
Meziadin Lake Provincial Park and Meziadin Junction is where you can take a side trip to Hyder, Alaska and Stewart, BC only 40 miles away. The park is beautiful with plenty of camping spots and is known for good fishing.
Kitwanga
Leaving this little paradise we'll continue south to Kitwanga and back into a more populated area. At Kitwanga we turn left onto highway 16 east unless you would like to take advantage of being in this area and travel further west to visit Terrace and the coastal city of Prince Rupert, known for fabulous fishing.
Traveling east the first town we'll enter is Smithers, a beautiful place built with an alpine theme and in the winter when everything is covered in snow a person could think they were in the Alps.
Smithers
This is the perfect place to restock your supplies, do a little relaxing and exploring. The local visitor center has all the information you'll need to enjoy your stay here.
Leaving Smithers we continue east through a number of small towns and villages so take the time to explore and meet some of the locals. It's a beautiful area with many opportunities to camp and do a little fishing, exploring or even a game of golf. Our next big stop will be Prince George once again.
Prince George – Full Circle
We've come full circle on the route to Alaska and it's time to decide which direction we'll take when we leave Prince George. To the east are Jasper National Park and the Canadian Rocky Mountains. The park is absolutely stunning but you may find highway 16 east to be boring, not too much to see but there is wildlife.
If the choice is to travel south on highway 97 once again there are so many things to see that it may seem like new territory. Once you reach Cache Creek it's time for another decision and will depend on where you wish to return to in the United States.
Highway 1
For those who may want to be in Western Washington continue south from Cache Creek on Highway 1 through the Fraser Canyon. This is a narrow winding highway but the scenery is worth it and as you look down the narrow gorges to the river below you'll see how the rocks have been carved out by the rapid waters flowing over them. Think of the prospectors who traveled this rugged area before the highway was built and only horses or stagecoaches could get through.
Hope
This vibrant little community is a junction that leads into many directions and is the perfect resting spot before continuing towards the City of Vancouver two hours away or to the US border at one of the four crossing easily available from here.
It really doesn't matter which route you take through the Province of British Columbia while traveling the route to Alaska. The main thing is to take your time, enjoy what is offered to you and appreciate the beauty that will surround you.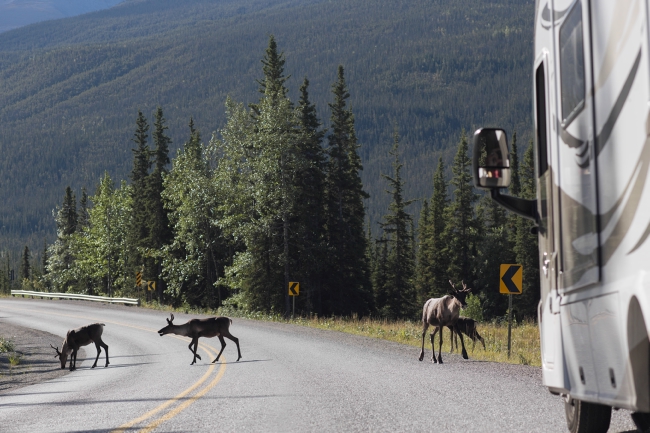 Resources
U.S. Border Services and Protection: http://www.cbp.gov/
Canada Border Services Agency — www.cbsa.gc.ca
Maps of BC
Hello BC / Camping Information
Cities Mentioned
Osoyoos http://www.destinationosoyoos.com
Kelowna: http://www.tourismkelowna.com
Kamloops: http://www.tourismkamloops.com/home
Prince George: http://tourismpg.com
Dawson Creek: http://www.tourismdawsoncreek.com
Fort Nelson: http://www.tourismnorthernrockies.ca/places_fortnelson.php
Smithers: http://www.tourismsmithers.com
Hope: http://www.hellobc.com/hope.aspx
Attractions Mentioned
First Nations Cultural Centre: Osoyoos First Nations Cultural Centre
Okeefe Ranch: http://okeeferanch.ca
BC Wildlife Park: http://www.bczoo.org/ourzoowildlife.htm
Hat Creek Ranch: http://hatcreekranch.ca
Dinosaur Discovery gallery: http://www.visittumblerridge.ca
Liard River Hot Springs: http://www.env.gov.bc.ca/bcparks/explore/parkpgs/liard_rv_corr/
Fraser Canyon: http://travelthecanyon.com