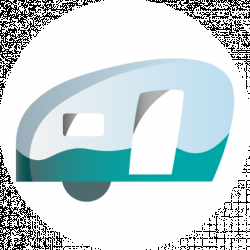 Latest posts by Roaming RV Team
(see all)
63
American RVers must know these things about Crossing the Canadian Border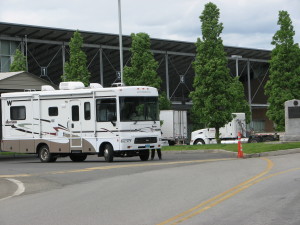 Have questions or concerns about traveling through Canada on the way to Alaska? You aren't alone. However, there's no need to be worried about the legalities of crossing the border between Canada and the United States. With a bit of pre-planning your border crossing can be hassle free.
Five things to be prepared for when entering Canada in your RV
1.  Canada and the United States are separate countries. This is important. Although Canada and the US have a lot of things that are similar it's important to remember they are separate countries with many differences that includes a different legal system, monies, and cultures so be prepared for this. Although there are many differences between the two countries Canadians are a friendly bunch and are very welcoming to their visitors. If potential visitors have a DWI or other conviction or charges against them do your research before getting to the border because you may not be allowed into the country. It's better to be prepared than be disappointed when trying to enter Canada.

2.  Passport for identification purposes.If you're a U.S. citizen, you must carry proof of citizenship such as a passport, birth certificate, a certificate of citizenship or naturalization, a U.S. Permanent Resident Card, or a Certificate of Indian Status along with photo identification.
3. Traveling with children and pets. If both custodial parents aren't traveling with the children you may require a letter from the missing parent giving permission for the child to leave the country.  As to pets, they're are documents and requirements that must be met which aren't difficult but these policies are governed by the Canadian Food Inspection Agency – there's a link at the bottom of this post.
4. Bringing food or alcohol across the border. Full-time RVers living in their RV sometimes forget what they actually are carrying with them. Know that certain foods are restricted from entering Canada and the laws change regularly depending on what is taking place in the agriculture industry. Citrus foods aren't allowed and dog food must be in it's original container. There's a limit as to how much alcohol and tobacco that can be brought into Canada without paying a duty. Make sure you declare what you have with you – there's no problem with bringing in extra, but you must declare them.
5.  Importing a gun and other weapons into Canada. No, Canadians don't carry guns as a rule and aren't used to guns being a part of their lives. That doesn't mean you can't bring guns into Canada but you must be aware of what types of guns are allowed. Once again do your research so you know what you can bring with you or what you should leave at home.  Be honest with the border patrol agents because if you aren't and they find out you have undeclared guns or weapons with you there could be serious consequences.
There's no need to be stressed about crossing the border. Be prepared and do your research in advance and you will be through the line quickly. Remember, don't be surprised if the border agents request entrance into your RV and will ask you to leave it while they do a search. They're allowed to do so and by being forthright you shouldn't encounter any problems.

Have your documents ready, put a smile on your face and head north to experience Canada, a beautiful country filled with spectacular scenery, delicious food, warm citizens and lots of attractions and events to enjoy. Border crossings don't have to be difficult.
Resources
Government of Canada: http://www.canada.ca/en/
US Customs and Border Protection: http://www.cbp.gov
Canadian Border Services: http://www.cbsa-asfc.gc.ca
Canadian Food Inspection Agency (traveling with pets) http://www.inspection.gc.ca/animals
Happy travels,
Carol Ann