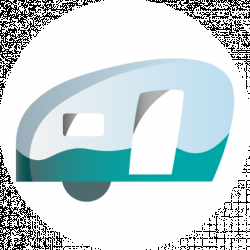 Latest posts by Roaming RV Team
(see all)
How good are Thousand Trails Memberships?
First of all I just want to clarify I am not a member – not because I don't think it's a good idea, but it doesn't make sense for me right at this moment. Also, I am not affiliated with the organization and don't receive anything if you decide to purchase. I have always been curious about Thousand Trails so have decided to do a bit of research and the following is what I have discovered. Depending on your circumstances membership could be very beneficial and cost saving.

So how does Thousand Trails work?
From what I can determine Thousand Trails is a network of campgrounds with 85+ locations across the United States and they sell memberships that will allow their members to stay at these year-round resorts for a pre-determined time, depending on your type of membership.
The network is broken down into five zones across the country – Southwest, Southeast, Northwest, Northeast and Midwest. Each zone has approximately 13 – 23 campgrounds that all operate year-round. (This is according to their website).
There are two different kinds of memberships
Zone Pass
Zone pass ($545.00) for one year camping (posted on their website) – this is an annual fee with no cost for enrolment for one zone. If you choose to purchase more zones the cost for each zone is $795. No matter how many zones you purchase the annual zone fee is $545 in total. EXCEPT UNTIL AUGUST 21, 2015 THE SECOND ZONE IS FREE. So if you are considering a Thousand Trails Membership it might be the time to think about buying.
With the zone pass you basically can stay for two weeks, leave the system for a week and then can get back into the reservation system. You don't pay for the first 30 days but there may be a fee of $3 each night after that goes towards the amenities.
Elite membership
There is no mention of the Elite membership on their website but I see these memberships on sale online and from what I can determine you must have zone pass first (discounted) and then upgrade to elite. Prices vary depending on how many years the contract is for that you purchase. However, Elite allows you to go from park to park without leaving the reservation system and you can spend up to three weeks in each park.
Selling / Buying memberships – Memberships can be sold but make sure you are aware of the contents of the contract made with the original owner because you will have to abide by it.
Partners
Encore RV Resorts – discounts up to 20% at any of their 80+ parks if you are a Thousand Trails member.
Resort Parks International: This membership is only available if you are a member of another membership group such as Thousand Trails – worth exploring.
If you have any experience with Thousand Trails and wish to add your insight or suggestions as to whether it's worthwhile I would love to hear from you.
Thanks everyone,
Carol Ann