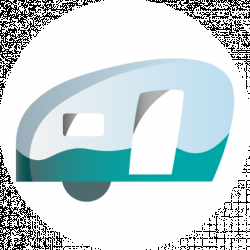 Latest posts by Roaming RV Team
(see all)
The Only Two Apps RVers Will Ever Need
Guest Blogger: Shia Jones
Recreational vehicles have come a long way since the 1960s, outgrowing the reputation of being a popular mode of transport for hippies and touring bands. These campervans are now called RVs and are a permanent fixture for American families who embark on summer-long road trips, fueling the nearly $5 million RV industry.
With so many families taking their vacation to the road, it's important that they are prepared with all the necessities, even with things such as the proper RV apps. Travel apps aren't usually on an RVer's packing list, although those that do have them on their phones can attest to their utility. Games may dominate the consumer's total app usage at 50 percent according to the company that launched online gaming hub Spin Genie, but the fact that six out of ten mobile users are downloading travel apps exhibits how much we're relying on our smartphones nowadays to guide us on our journeys.
For all the different ways that people travel the world, there are at least ten apps that would enhance your trip. Dozens of apps have been created to help RV holidaymakers, and here we've given you the two apps that will cover every single one of your needs.
Walmart Overnight Parking
Your target camping grounds can take days to get to, and finding suitable parking along the way can be a nuisance. Luckily, many Walmart stores allow RV campers to park their vehicles on their lots, with many of them offering overnight parking for free. Available on both Android and iOS devices, the app shows all the supermarket locations in the U.S. and Canada. There have been several incidences of abuse for these overnight parking privileges, so it's best to call ahead before you make your way to a specific branch.
AllStays Camps & RV
Ranking as the number one camping app is ALLstays in 59 consecutive months, this app is definitely a must-have. Camps & RV has extensive map filters that can help you locate campgrounds and RV parks, as well as related service facilities even without internet. You'll also find other useful information like weather and other overnight parking options, in case the closest Walmart has no parking available.
Thanks Shia – I actually hadn't considered these apps but will definitely be downloading them in the very near future.
Happy travels,
Carol Ann