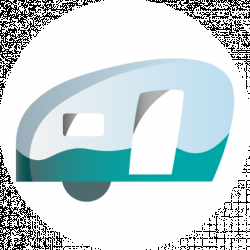 Latest posts by Roaming RV Team
(see all)
52
It's that time of year when campground owners, contractors and managers start to seek out workers for the next season, and RVers who may be searching for employment should start preparing themselves. Earning a living on the road does not need to be difficult with a little bit of preparation and open-mindedness to opportunities not previously considered.
Prior to applying for open positions I suggest that you do a bit of homework first, determining what types of jobs you may be interested in, what location you wish to be at, how much compensation you require and what dates you are available. Some positions offer a serviced site in exchange for a predetermined amount of hours of work and at times there may be additional payment for additional hours.
Be prepared with a resume for yourself and, if you have a spouse who also wishes to work, sell yourself as a team. By knowing in advance what type of work you are looking for and what you need in terms of payment, you will know what questions to ask when contacting a potential employer. Let them know if there are any special circumstances that may apply—if you have a pet, are disabled or even travelling solo. If you are honest about your experience, availability and requirements, there shouldn't be any nasty surprises for anyone. If you only wish to be in the area for a month then say so—it may still work out well for you. After committing yourself to a position don't leave early unless it is mutually agreeable—they won't give you a reference nor hire you in the future and this type of action makes it difficult for the workampers who follow behind you.
By knowing in advance what your requirements are then you can start looking for opportunities and jobs that will match up with employers.
Campgrounds and RV parks
If you are interested in working in a campground or RV park, start researching all of the available parks in your chosen area. Look for private and public campgrounds and contact each individually to see if there is any availability.
Most provincial campgrounds are contracted out and you may need to do a bit more digging to find out who the contractors are, but there are quite often positions open each season for camp hosts, managers, or grounds persons. It might be a nice way to spend the summer, mowing lawns and being out in the fresh air looking after the grounds.
Temporary employment agencies
Quite often there is office work, day labour or other work available through temp agencies. Most towns or cities have at least one agency available. By registering with an agency chain it may be possible to have your record available at every location.
Flea markets
All summer there are usually flea markets or craft sales where you can sell homemade items or other goods. Some buy in one area and sell in another. What is not well received in one area may also be exactly what someone is looking for down the road. Plus it gives you a purpose to your travels and a way of meeting a lot of really nice people.
Once you have been hired and dates have been set for your arrival, keep in touch with the employer and confirm when you are to start and what you agreed upon in terms of type of work and compensation. The types of jobs available are endless and with a little bit of imagination and an open mind it is very possible to help subsidize your expenses while travelling in your RV. Tell your friends and family what you are planning—quite often they have worthwhile suggestions or information that will help you find that perfect job.
Happy travels,
Carol Ann