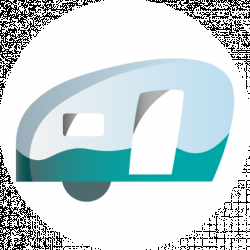 Latest posts by Roaming RV Team
(see all)
Living the RV Lifestyle – working on the road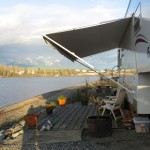 Reaching across the table my husband and I shook hands, both grinning with glee! "We did it!" I said. Yes we did. We just received a phone call from The Greater Vancouver Regional District (GVRD) offering us an eight month contract to Camp Host at Derby Reach Regional Park, near Fort Langley, British Columbia. Research, resumes, interviews, crossed fingers ~ all had worked. Success!
Many full-time RVers dream of a RV lifestyle that includes constant travel, without worrying about money, jobs, kids, or ever going back to a traditional house – they describe RV Lifestyle. We were no different. When faced with the reality that our budget did not lend itself to an idle life of meandering down the highway, we knew a means of subsidizing our income was necessary. What better way of earning an income and actually living the lifestyle by working in a campground?
"Living the Dream" is how Margot Bartsch of Holiday Trails Resorts at Rosedale, British Columbia, describes the RVers who visit and work in their parks. She says "They are the backbone of the Parks success and assist with the building of a strong relational community network. A good many of our seasonal people return each year, creating a relationship with the members and becoming an extended family". Mary Plowman, a Membership Consultant, and a fulltime RVer agrees. Mary and her husband Ray have returned to the Holiday Trails Resort, Camperland, for the past 18 years. They spend their winters wandering the southern states of California and Arizona in their motor home returning in April to live on-site. Driving her golf cart, through the park ensuring prospective members learn the benefits of membership camping, she is easily recognizable by the bright smile on her face. "Most of the hiring at Holiday Trails has been done through word of mouth" says Bartsch "but we do advertise in the RV Times. Finding good mangers have been an important part of our recruiting since we continue to expand our network and need reliable people".
Knowing what jobs are available and where to find them is the most difficult obstacle for many RVers. In western Canada most resort and park operators advertise in the RV Times, fast becoming the bible for RVers. Another source, Workamper News offers a Canadian section with postings from across the country (see website listing).
Pat Reimer, of iRVin's Park and Campground near Valemount, British Columbia has three couples under contract, sharing the duties required in servicing 120 sites, caring for eleven acres of grass and gardens, maintaining the water and septic systems, cleaning the facilities and registration duties. "All of our people saw our listing in the RV Times" said Reimer, whose season runs from May to September inclusive.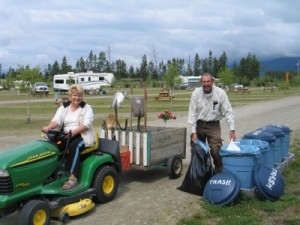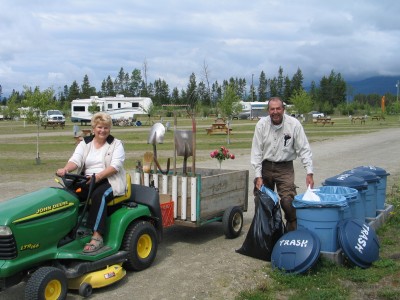 Recruiting usually starts in the fall or early winter for the following summer season. When applying, applicants should submit a letter, a resume and contact information as early as possible since most positions fill quickly. "The time to start thinking about the next season's opportunities is now" says Bartsch of Holiday Trails, implying that they are always interested in talking to prospective employees.
It's not always necessary to apply in person, and inquiring about a position may be made by email, phone or letter. A resume depicting reliability and skills is recommended and should include a picture of the applicant and his or her RV. It puts a face in the mind of the prospective employer and makes the next step easier.
When possible visit a park, talk to the current staff and don't hesitate to ask the manager about possible openings. A great deal of hiring is done by word of mouth and if it's a campground a person likes to visit, it may very well be a place they would like to work.
Employment opportunities are as diversified as the RVers themselves and the skills necessary can be transferred from previous employment quite easily. A retired baker may enjoy the camaraderie of cooking in the park café or possibly learning a new skill, such as pruning fruit trees. The possibilities are endless and most employers are receptive to matching interests and skills to the needs of the park.
Job titles mean different things to different people. Our position of Camp Hosts with the GVRD really means "keeper of the gate". We ensure the park gates are locked and unlocked appropriately and opened in the event of emergency. We are available four days a week to answer questions and assist campers as needed.
However, a Camp Host for iRVins Park and Campground, near Valemount, BC means doing maintenance, cleaning and guest services. Asking specific questions of the employer that relate to the duties expected is extremely important for both parties.
Benefits are usually negotiated but can include a serviced site to park an RV and wages for hours worked, depending upon the position. Each position requires different skills and ability and therefore benefits will vary. Ensure all of this information is clear prior to commitment by both the employer and the employee. Club Shuswap Golf and RV near Canoe, British Columbia offers free golfing!
When asked what advice he would give to prospective employees, Tony Barnard of Club Shuswap Golf and RV, quickly said "Follow your dreams. Figure out where you want to be, look around for campgrounds or resorts, make a connection and see if it will work for you." "Go for it" seems to be the motto from employers and current full-time RVers. "Life is too short to wonder whether you can live your dream ~ take a chance and do it!" Seldom have we heard regrets, except by people who hesitated too long and were not able to live their dream.
Three weeks after signing our contract, we are perched along the mighty Fraser River. The view from our living room is an ever changing scenery of little tug boats pulling huge barges of gravel and sand, commercial fishing boats placing their nets and even a paddle wheeler, all operating along the tide affected waters.
Grabbing the keys from the hook by the door we happily head out to lock the gate of the Regional Park, just one of our duties as Camp Hosts, which allows us to "Follow our Dream" of being full-time RVers and living the RV Lifestyle.
Negotiable benefits:
Serviced site
Wages
Laundry services
Wireless internet
Golf
Telephone
Possible Job Opportunities:
Management positions
Golf course duties
Membership Sales
Yard maintenance
Gardening
Handy-person – small repairs
Registration
Cleaning Facilities
Store clerk
Waitress/waiter
Cook
Recreation Director
Camp Host
Security
Website Sources for Job Postings
http://www.holidaytrailsresorts.com
http:www.pc.gc.ca Parks Canada
Happy travels,
Carol Ann