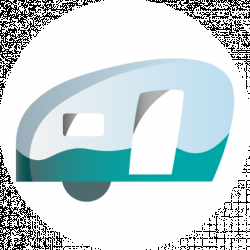 Latest posts by Roaming RV Team
(see all)
86
Different types of RV Rentals
RV rentals come in all shapes and sizes and it would be impossible not to find one that fits in with your traveling style. Determining the type of RV rental you choose will depend upon what your requirements and budget are. There are pros and cons for each option which must be considered.
Class A – these bus style motorhomes can be very luxurious and come equipped with most modern conveniences and almost everything you will need for daily living. The size of these beautiful motorhome rentals can range anywhere between 32' to 45' and come with a gasoline engine or a diesel pusher whereby the engine is in the rear. It will depend upon whether you plan on towing a vehicle behind you which engine you prefer.
Talk to the RV rental company and they can advise you as to what will suit your needs depending upon how many people there are and how much space you will need. A consideration must be made as to what type of drivers license is required whether the driver will need an air brake endorsement.
Many of the Class A's have slideouts that expand the sides of the motorhome to give you more living space. A motorhome is wonderful when traveling but if you aren't pulling a car it may be difficult to get around once your unit is parked.
Class B – these are usually vans that sleep 2 people and are extremely compact. They do not require a special driver's licence and are much easier to drive. Although they are very small they usually have all the amenities needed to be very comfortable while traveling. One of the benefits of the small size is the ease of parking and a large camping stall is not required. The cost of fuel will be less but there won't be as much room or services supplied.
Class C – These motorhomes are somewhat smaller than the class A but larger than the B and have a cabover sleeping compartment above the driver's seat. These motorhome rentals come fully equipped with sleeping accommodation for between 4 – 6 people; have a separate bathroom, fully equipped kitchen and seating room for lounging. They can come with slide-outs and are in many sizes. No special licence is usually required to drive them but you should know what you are doing before taking one of these units out onto the road.


5th wheel – these come in many sizes and are to be pulled by a truck when traveling. However, no one must be in the 5th wheel when it is being pulled so the truck must have enough seats for everyone to sit with a proper seat belt. Most RV rental companies use 5th wheels as temporary housing or long term rentals. They can range in size up to 40' and have most of the luxuries found in a home with slideouts and awnings for outdoor living.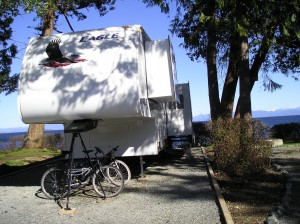 Towables – these are usually travel trailers, tent trailers or toy haulers and must be towed by another vehicle because they do not have an engine or driving mechanisms. They range in size and depending upon how many will need sleeping space will determine what type of RV you rent.
The travel trailer quite often is used for long term rentals and set up in one location. A good example of this is the availability of winter RV rentals in Florida where people from Canada or northern United States rent them to get away from the cold weather. They arrive at their destination and the trailer is all set up and ready to move into and when the vacation is over it then becomes the RV rental companies issue to remove it. The persons who rent one of these do not have to worry about having a vehicle that can tow it behind them. However, if you are renting a long term rental you do not have the luxury of moving around regularly from area to area.
As you can see above there is much to choose from when planning to rent an RV for your next vacation. RV rental prices vary depending upon what type of RV you decide to rent. No matter what type of RV you choose it is definitely one of the best ways of seeing the country when traveling.
My favorite RV rental company is RV Rentals from El Monte RV
and the quality of their units is excellent. I have done business with them for the past couple of years and have found the people at El Monte RV to be extremely helpful and knowledgeable about everything I have asked them.
Happy travels,
Carol Ann