Angel of the Winds Casino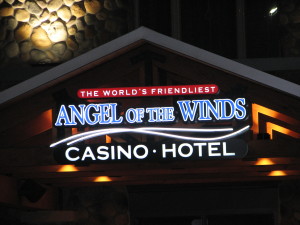 Last year we were fortunate to be able to stay at the Angel of the Winds Casino is Arlington, Washington.  We spent three days there trying our luck in the casino – no we didn't win our fortune but we didn't lose one either.  But what really stood out for us was the service, the facilities, the food and the staff! We had a fantastic time and have recommended anyone going through or past Arlington to take the time to stop there and relax for a night or two.  Since then I have spoken with a number of other Canadian RVers who stop there quite often on their way south or on their way home. It's a perfect place to regroup before heading across the border or after. Either way, it's a really fun place to stop.  Below are some comments from other RVers on the Angel of the Winds Casino Camping.
George Tyre comments: 
We have stayed there going down also because it is a good place to stop after the midmorning ferry ride and border crossing; we leave there around 9:00 am the next morning therefore avoiding the morning rush on I5 through Seattle and then the afternoon rush through Portland Oregon. We usually call it day just south of Portland around 4:00pm. Many island snowbirds chose to take the Black Ball ferry sailing between Port Angeles Washington and Victoria BC.
Although the sites are a bit tight – with services the cost is only $16 and you receive a coupon book for the casino and restaurant. The casino restaurant is a good place to have a meal after a day of traveling. Many Canadian snowbirds on their northward migration make Angel of Winds or Tulalip their final USA overnight stop because it is a short morning drive to the border. Northbound border traffic is usually light during the AM hours.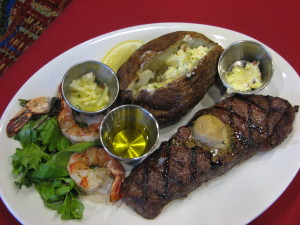 Casino Camping with a Micro Brewery
I just heard they have opened Washington's first tribally owned and operated Micro Brewery – the Angel's Tap House Brewery.  Now we have one more reason to stop there. Shown below is their public notice of this exciting event – and no I am NOT affiliated with them but really like what they are doing at the Angel of the Winds and recommend it for other RVers.
"Our Brewery is opening with 8 custom brewed beers on tap ranging from an IPA to a Blonde. We will have something that appeals to everyone," said Travis O'Neil, General Manager of Angel of the Winds Casino ∙ Hotel. "We have hired Master Brewer Frank Ellis who has over 15 years of brewing experience for the Ellis Island Brewery."
Frank Ellis the Brewmaster has a WBA in Brewing Technology from the Siebel institute in Chicago and The Doemen's Academy in Munich Germany. Frank started out in the family business at age 14 and grew to lead Ellis Island Brewery in Las Vegas. As Executive Director of Brewery Operations he was recognized as the #1 Large Brew Pub in Nevada from New Brewers Magazine as well as #1 Brewery in Nevada Mountain West Region from the National Brewer's Association.
Angel's Tap House Brewery will be over 1,200 square feet and will feature 6 kettles that will produce 100 gallons of craft beer at a time. Eight taps will feature the meticulously hand crafted brews. Angel's Tap House along with the Brew will be offering Baked and Smoked goods to complete the guest experience.
Angel's Tap House Brewery will offer their beer to go with Growlers filled on site. The Tap House and Brewery will be open 7 days a week 365 days a year.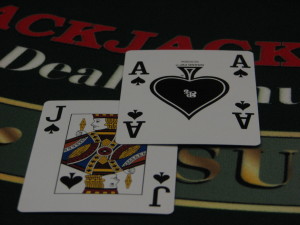 How to find the Angel of the Winds near Arlington, Washington & Facts about the Facility
It's located just three minutes East of I-5 Exit 210 in Arlington, WA.
The casino is open 24 hours a day and features over 1,100 slot machines, 14 table games and a live Keno room.
The Casino contains three restaurants including Katie's Kitchen, where quality meets value;
The Watershed Restaurant & Lounge, featuring the daily buffet and a diverse menu, the new Angel's Tap House and Brewery, and a lounge with live entertainment five nights a week.
The casino is over 112,000 square feet, provides over 1,100 parking spaces. Angel of the Winds features a five story hotel that includes 125 guest rooms.
Really I can't say enough about this place – highly recommend it to all our friends.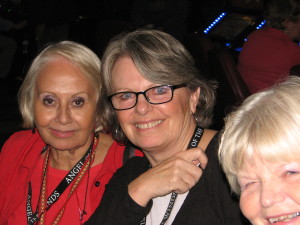 Happy travels,
Carol Ann