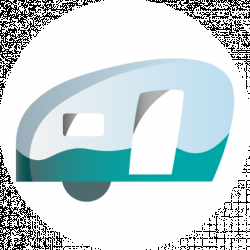 Latest posts by Roaming RV Team
(see all)
70
What does boondocking mean to me?
The first thing I actually think of when someone mentions boondocking is "free camping". It must be my Scottish ancestry coming out in me and I'm perfectly okay with that.
Then I think of being out in the desert, or in the wilderness alongside a river or creek. It means having no services whatsoever unless the RV a person is staying in has a generator or solar panels.
Even though I think of free camping when boondocking is mentioned that's really not what is has to be about.
Boondocking can also be "dry camping" where RVers need a place to stay for the night safely before heading out the next morning and not having to pay a huge campground fee just to have a safe place to park for a night.
Benefits to Boondocking
A benefit of boondocking is being in an area all by yourselves without any noisy neighbors, noisy generators, loud party goers, or small cramped campsites.
It's pretty nice if you find a quiet spot along a river or creek where you can sit in your chair and watch the water flow past and maybe even throw in a line to catch dinner.
Having a group of your friends or family along to to enjoy a weekend would be good as well.
It's pretty nice to be able to stay wherever you like (as long as it's allowed), without having to make reservations, and being able to enjoy a beautiful unobstructed view.
Personally I like the thought of it and we have done a bit of this type of camping and love it with plans to do much more in the future.
Some of the best camping or RVing experiences we've had were when we found a quiet spot to spend the night or a few days in the wilderness where we could enjoy the quiet and be able to explore to our hearts content before carrying on our journey.
What if you are traveling and just need a place to spend the night that's safe, quiet and doesn't have to cost you a great deal of money?
That can sometimes be difficult since more and more locations such as WallMart are forbidding RVers to park overnight in their lots.
Drawbacks to Boondocking
It can get lonely if you are the only people in an area and it might get very quiet real quick. Almost too quiet? Not everyone is comfortable parking by themselves and they worry about safety.
New Experience – but typical for RVers who love to share
First off I'm going to go way off track here.
Quite a few years ago I operated a Bed and Breakfast in Northern British Columbia. This was something very new to me but I was intrigued about the whole process.
I joined a group of people who were also interested in operating B & B's and we shared information and helped each other become successful.
Before I knew it I was in business and had visitors stay with us from all over the world. By the time each person departed after staying a night or a few days I felt that I had made new friends and learned so much from all of them.
It was a bit scary for me at first, letting strangers into our home and having to provide breakfast (I'm not the best cook). The first people who stayed were absolutely awesome and helped me get over the jitters.
The reason I wanted to mention my B & B was because it was extremely foreign to me but I look back on that time as one of the best experiences I've had.
There's a new group for those people who are interested in boondocking without being out in the wilderness and not have to worry about their safety.
The hosts are mostly RVers themselves who offer a space on their property for other RVers to park overnight or for a very short stay while enroute to their destination.
People have traveled right across Canada and the United States staying mostly with these hosts along the way and absolutely loved it.
What better way to meet people and have the benefit of a local host to share information with you and have a safe comfortable place to park your RV for an overnight stay.
When I think of Boondockers Welcome – Be My Guest RV Parking it reminds me of my B & B days – having travellers stay with us and become friends.
I have stayed in touch with many of them over the years even though I don't operate a B & B any longer. I think a lot of the members of Boondockers Welcome – Be My Guest RV Parking do the same.
It's not a vacation destination!
Don't be confused with overnight parking and looking for a place to enjoy your vacation.
These parking spots are for overnight or very short stays while traveling.
It's so nice to know that at the end of a day of driving there's a safe place to park and not worry about someone knocking on the door in the middle of the night telling you it's time to move along.
Why haven't you joined the group?
Every single day someone who visits my website click on the link to Boondockers Welcome – Be My Guest RV Parking but only a portion have signed up.
Those who do join all tell me how happy they are that they did but I am wondering what the reasons are why others hesitate?
Does it make you uncomfortable staying with strangers? Are you interested but are worried about imposing or don't like to try anything new?
When I remember my B & B days I also remember many of my guests had never stayed at a B & B before but 100% of them were so pleased by the experience they all went on to stay at other B & Bs during their vacations or business trips.


Happy travels,
Carol Ann