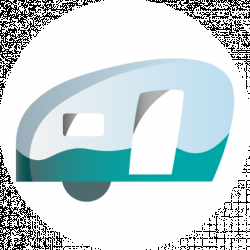 Latest posts by Roaming RV Team
(see all)
29
Have you ever turned on a tap in a campground or RV park and the water that flowed out was a rusty color or smelled really bad?  I have – quite often as a matter a fact. 
I am freakishly paranoid about the water we use when we're RVing and without fail, we use a filtration system.  We use a CLEAR2O® carbon filter that we hook up right at the tap – between the tap and our water hose. 
It works – but it's not perfect.
This carbon filter works well on chemical's, such as chlorine but… and this is a big but — sometimes it gets clogged up and doesn't work because of a lot of sediment like sand or rust that sometimes comes out of the RV Parks water system.
If we've been in parks with a lot of sediment, then our inline filter doesn't last very long.
The crud kills the filter quickly – which is extremely frustrating. 
So… when I heard that CLEAR2O® has a solution for handling all the large stuff that clogs our filter I was quite happy. 
It's called a "DirtGUARD Sediment Prefilter" – which attaches to the park's water system (a tap) and then hooked up to the carbon filter.  So, if there's any "stuff" in the water it gets stopped before it even hits the carbon filter. 
You'll have safe water and you won't get any of that nasty stuff into your system and your filter is going to last longer.
It's a win – win solution.
I'm not aware of any other company who has this product yet, but I have been told it will work on most inline filter systems – not just CLEAR2O®.  That's good news so you won't have to go out and buy a new system. 
It's easy to use – hooks up to a standard water hose and can be backwashed for getting rid of any loose sediment.  You can also scrub it out easily to get rid of any buildup. 
I've been assured it will be out this spring (2020) which is good news for the summer camping season.  So, if you're like us – looking for a solution to deal with RV Park's dirty water getting into your filter and possibly entering your RV's water system watch for it. 
The DirtGUARD Sediment Prefilter, which includes a filter, wrench and hose, is $39.99. It'll be available in the Spring  of 2020 on the CLEAR2O® website, Amazon, and other online retailers.
Note:  It's a fact that I'm really happy to have the water that comes into our system filtered  with the CLEAR2O® but I don't like the taste for my coffee.  Sorry – but that's the truth.  We carry water in a jug that I know is clean just for the coffee.  For everything else – it's perfect.
Full Disclosure:  CLEAR2O®   sent me an inline carbon filter to tryout and provide a review – which I appreciated, but we were already using their system and absolutely love it.
We never hook up our motorhome to anyone's water without the filter.  
I'm really looking forward to trying the new DirtGUARD Sediment Prefilter.