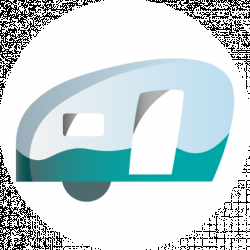 Latest posts by Roaming RV Team
(see all)
84
Why doesn't your partner want to full-time RV?
Why is it that some couples can't agree to what they want to do?  Full-time RV or not?   One wants to sell everything and buy an RV and the other say a big NO!
How to get around this big obstacle? Some couples don't agree – ever.  That's a fact.
I'm definitely not an expert but I think that if they can't even compromise and meet somewhere in the middle they may have underlying problems that are not related to whether they buy an RV or not. So we'll just move past those people.
There's always the option of RVing solo and believe me there are lots of solo RVers who are out on the road having a great time.



Deciding to full-time RV can be scary.
I would be lying if I said anything different. It's a huge step to sell your house, all the furnishing and maybe your toys and mementoes collected over many years. For some of us (I am including myself in this group) its easy because we have been dreaming of this for so many years we have no problem with any of it. For others I know it causes apprehension and tension and that's understandable as well.
Solutions to full-time RVing Tension
Trial run – do a test trip for a couple of months.  Lock up your house or home for a couple of months (maybe have a house sitter) and plan a trip.  That way there is always your home to go back to if full-time RVing doesn't work for you, because I have to be honest it doesn't work for everyone.   However, if one person is against the RV lifestyle they may just possibly find every reason not to make it work.  Did I really say that?  It's easy to give up before you really get accustomed to your new life.
Don't sell your home and personal items. If you don't need the money from the house sale to purchase the RV then it might be possible to rent it out, lock it up or have a house sitter take care of it while you are traveling. It may be necessary to purchase a smaller or more inexpensive RV which is fine – just as long as you travel. It's not what you travel in that's important. It's the travel experience – the people you meet and the things you see and do that are important.
Part-time RVing.  Maybe compromise by traveling six months out of the year or take short excursions.
Solo RVing – It may be necessary for one of the partners to travel alone and the other joins them periodically.  I do know of a couple of couples who are doing this and it works well for them. I'm not sure it's what I would want but if it works for them I say go for it.
Storage.  Put all your belongings that are important to you in storage. It may cost a few dollars (we are paying around $120 CAD per month) but worth it until everyone is happy with the decision of downsizing to an RV.
Compromise
Sometimes and most often it's about compromising. If it's really important to one spouse I would sincerely hope the other will try and make it work. That goes also for the other person as well – in other words, if it's important for one spouse to be more stable and in their home environment at regular intervals then try and accommodate them.
Compromising may mean downsizing from a house to a condo or apartment that they can return to periodically and it's easy to close the lock the door when it's time to hit the road. Maybe you dream of a big fancy motorhome and you need the funds from the house sale to pay for it but your spouse isn't happy with putting all of your money into a motorhome. Would you be able to compromise and buy a smaller unit or a truck and fifth wheel?  Look at all of your options.

Happy full-time RVers
If you are able to compromise or both of you have the same dreams of full-time RVing then it's just a matter of deciding how you are going to go about it.  Sell the house, buy an RV, store your belongings, sell everything, or decide how to make it work?  It's a personal choice and if you can agree on how to go about it then you may have two very happy full-time RVers.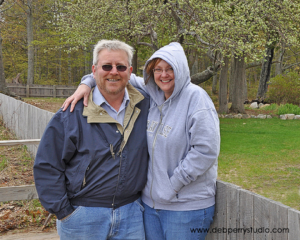 How are you going to make it work?
Everyone makes their own plans and figures out how to make it work – how did you do it? Or what are your plans to full-time because I would love to hear about them and will appreciate your sharing. Happy travels everyone,
Carol Ann