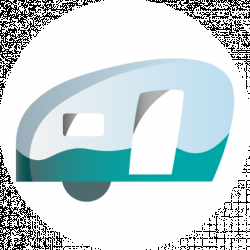 Latest posts by Roaming RV Team
(see all)
74
No Doubt about it – my RV kitchen cupboards are a disaster!
I would be embarrassed if anyone came to see us and opened any of our cupboards -my RV kitchen is overloaded with things I "think I must have." I am all about good intentions.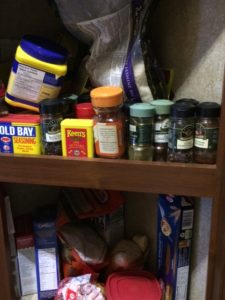 When we were loading the essentials into the fifth wheel I kept repeating a mantra:
Keep the weight down – don't overload the fifth wheel – do you really need that?
No matter how many times I repeated it somehow things ended up in here that shouldn't have. My bread maker, popcorn maker, a set of heavy kitchen plates, bowls, cups, glasses and of course wine glasses. That didn't even count my pots and pans, boxes of canning, canned goods from our house kitchen (lots), big boxes of cereal, all my spices, every t-towel and dishcloth. You might be able to relate to it unless you're one of those people who have organised their kitchen with all kinds of gadgets and tricks for loading your kitchen smartly. I wish that was me.
I was trying to keep our expenses down so brought my inexpensive kitchen dishes (heavy) to use. After getting told (a few times) they were too heavy I boxed them all up and donated them to Value Village. After a couple of weeks of using paper plates, arguing about whether we should buy something like correlle (I wanted) to expensive lighter dishes, in frustration I went down Canadian Tire and bought a set of dishes we could finally agree on and brought them home. Do you want a laugh? They were exactly the same weight as the ones I got rid of.
What kitchen appliances are really necessary?
Yes I kept the popcorn maker – which is really stupid, since I have only made popcorn three times in the past 8 months. However, the one kitchen appliance I will never go without is my Power Pressure cooker/canner. I bought it about 2 years ago and absolutely love it. However, I made the mistake and bought it on the Shopping Channel for about 3 times the amount they are selling on Amazon which still makes me mad but I thought at the time I was getting a good deal.
I really dislike cooking
Those who know me know I actually dislike cooking. I usually wait until 4:00 in the afternoon and start looking in the fridge for something to cook for dinner. That is exactly why I love the Power Pressure Cooker – I can take a roast out of the freezer, thaw it out and make a pot roast for dinner that is delicious and mouth watering tender – easy! The pressure cooker not only cooks under pressure which hugely shortens the cooking time, it can also be used as a slow cooker, rice cooker, steamer, and something else I think is important it's a canner.
When going out for a day of sight seeing or running errands it's a treat to come home to a fully cooked meal that's been simmering all day when I use the slow cooker settings. All we have to do is dish up and eat. My kind of cooking.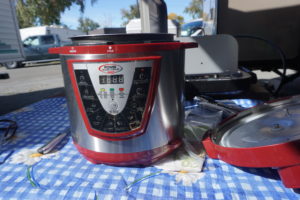 Even though I dislike cooking – strange as it seems I love to can food. We went fishing last summer on the west coast of BC and brought home a large amount of salmon. I used the Power Pressure Cooker/canner to can about 2 dozen jars of salmon and it worked perfectly. Absolutely love it. I have to be honest and admit it took me a bit to learn how it works but that's because I didn't read the instructions completely before I started. But now that I have started using it regularly it's easy to operate.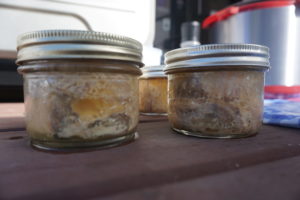 I wish I could say my RV kitchen cupboards are more organised and everything is in good order but I can't. However, the longer we live in our fifth wheel the more I learn about ways of saving space and weight. If you are considering purchasing a Power Pressure Cooker check out the prices on Amazon first. They seem to have the best prices and all of their reviews have been really good. I wouldn't do without mine.


Do you have a favourite RV kitchen appliance or gadget you use to either save space, get organised or use in your RV? I would love hear from you since I still need to clean up my cupboards – they're still a mess.
Safe travels,
Carol Ann