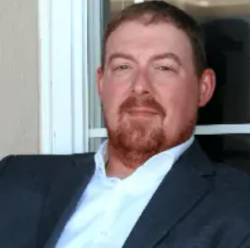 Latest posts by Justin Caldwell
(see all)
74
Finding the right RV for you can be tedious. There are a lot of decisions to make, like class, manufacturer, model, and floorplan. With all of the options out there, you're bound to go to dozens of RV shows and dealers and walk through hundreds of different floor plans.
I've been where you are. I've spent countless hours researching nearly every model out there. I asked a lot of questions and deliberated for more than 6 months before pulling the trigger on the perfect RV.
This comprehensive resource should give you a better idea of ​​what's available so you can choose the right model for you. It helps first to identify the size or class of RV that best suits your needs and then choose a manufacturer that falls into that category.
How to Use the Guide
All manufacturers are categorized by class and then listed in alphabetical order. Within each manufacturer, popular current models for that class are also listed. Many manufacturers make more than one type of RV, so they are listed in both places, but the models may be different according to the type or class of RV.
Class A Manufacturers
These large RVs are the most luxurious. Their profile is similar to a large bus, like a Greyhound coach. They have slide outs, plenty of amenities, and comfortable suspension to make the ride better.
If you're looking for a lot of space and ample storage in a drivable RV, this is the perfect pick. It's popular among families and full-timers, but many other people choose it simply for the experience of home on the road.
American Coach
This brand is owned by the REV Group and is known for the Freightliner Custom Chassis as well as superior construction. They're upscale motorhomes that offer interior upgrades like electronic systems, premium flooring and fabrics, and beautiful finishes. American Coach offers luxurious living and an excellent driving experience.
Coachman
Fuel type: Diesel or gas
Models: Encore (G), Mirada (G), Pursuit (G), Sportscoach (D)
Coachman boasts more than 50 years of operation, and it's likely you've seen them on the road. It started when three brothers began making caps for trucks. Today, they've sold more than half a million RVs and they're owned by Forest River. This brand doesn't offer as many premium upgrades as others, but it's a more affordable solution for some people.
Entegra Coach
Enters advertises the quietest riding and best handling Class A on the road. They're owned by Thor Industries Brands and they're completely hand built. These luxurious rides also have two-year limited warranties and three years of roadside assistance.
Fleetwood RV
Fleetwood RV has been around for longer than almost any other RV company. They have been committed to building long-lasting products for 65 years, and many of their older models are still on the road, because people believe in them. Also owned by the REV Group, they have a huge market share and come with a three-year structural warranty.
Forest River RVs
Forest River makes many different floor plans and models, and they're one of the most comprehensive RV manufacturers, making RVs that work for everyone. They appeal to beginners and full-timers as well as those who need something affordable or want something more luxurious. Their brand owner group has over 110,000 brand and affiliate owners.
Holiday Rambler
Once again, REV Group brings us a quality rig, and if you're looking for full-time living, the Holiday Rambler is one of the best options. Full-time living was top of mind when designing these RVs with luxurious features, more spacious floor plans, and a smooth ride. Everything is very comfortable, no matter how long you decide to park.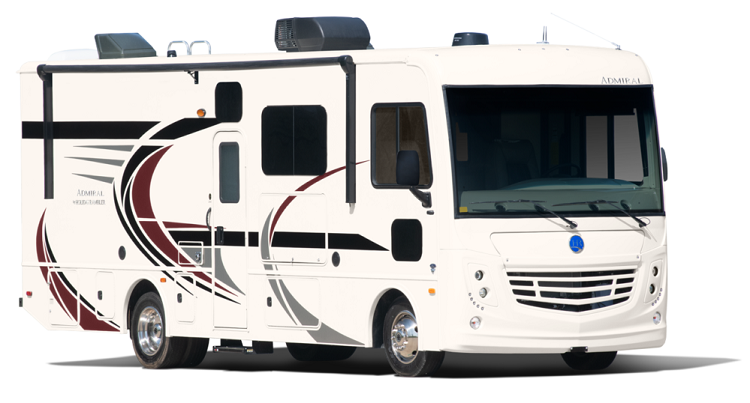 Jayco
Jayco is one of the most trusted RV brands on the market. They make Class A models that are extremely comfortable and floor plans with plenty of slide outs. Jayco started out manufacturing pop up campers, but they've evolved to offer just about everything. They're owned by Thor Industries and are great full-time living solutions for weekend travelers.
Read also: Jayco vs Winnebago Brand Comparison.
Monaco Coach
This brand doesn't make a lot, but what they do, they make really well. They've been manufacturing motorhomes for more than 50 years and they're known for longevity and luxury. They're owned by REV Group and they offer comfortable and stylish motorhomes with handcrafted elements that make them wonderful to drive.
Newmar Corporation
Fuel type: Diesel or gas
Luxury models: Essex (D), King Aire (D), London Aire (D), Mountain Aire (D), New Aire (D)
Models: Bay Star (G), Bay Star Sport (G), Canyon Star (G), Dutch Star (D), Kountry Star (D), Ventana (D)
This brand has been around for more than 50 years but they have been making Class A motorhomes since the 1980s. They started with just the Mountain Aire and Dutch Star models, which are still favorites of many RVers.
Newmar revolutionized the Class A motorhome with slide outs and they're known for their Comfort Drive steering system. It adjusts to curves and navigates the road with ease. This system is standard in all diesel and luxury models. The brand is owned by Winnebago Industries.
NeXus RV
Fuel type: Diesel or gas
Models: Bently (D), Diamond Series (D), Envoke (D), Maybach (G)
Despite how the name makes it sound, these RVs are pretty affordable, thanks to a factory-direct sales approach. You won't find these models on the dealer's lot because they're custom built for each purchaser. You choose the floor plan you want, and then customize your upgrades as you can afford them.
Thor Motorcoach
Fuel type: Diesel or gas
Models: ACE (G), Aria (D), Axis RUV (G), Challenger (G), Hurricane (G), Miramar (G), Tuscany (D), Vegas RUV (G), Venetian (D), Windsport (G)
Thor Industries started out in 1980 with their first Airstream, but they have since grown to acquire some of the most well-known names in the market. They own most of the world's largest RV brands. The Thor Motorcoach name makes very luxurious motorhomes that are well-built and very comfortable.
Tiffin Motorhomes
Fuel type: Diesel or gas
Models: Allegro (D), Allegro Breeze (D), Allegro Bus (D), Allegro Red (D), Open Road Allegro (G), Phaeton (D), Zephyr (D)
Tiffin Motorhomes are the premium standard that everyone else wishes they could live up to. These luxurious motorhomes offer some of the best features and most upgraded trim levels. The price their quality and their dedication to excellent customer service. It's a family business that started out as a lumber yard and general store in the 1940s.
Winnegabo
Fuel type: Diesel or gas
Models: Adventurer (G), Forza (D), Horizon (D), Intent (G), SunStar (G), Vista (G)
Even people who don't know anything about RVs know about Winnebago. Nicknamed Winnie, this brand makes nearly every type of RV there is. Their Class A models outnumber all other brands, so it's one of the best options when it comes to variety. They started out in the 1950s but are still innovating today.
Class B Manufacturers
The outdoorsy type tends to gravitate toward Class B RVs because they're the pioneers of the #vanlife movement. They're awesome options for those who want to be closer to nature, including skiers, rock climbers, and other adventurers. There are plenty of top brands here that make both Class B and Class B+ models.
Advanced VR
Fuel type: Diesel or gas
Models: Ocean, Ocean One, Shorty
Motorhomes from Advanced RV are custom built on Mercedes-Benz chassis. They're state-of-the-art vehicles that allow purchasers to design their own perfect rig from the engine to the interior.
If you want one of these, you'll spend three days at the factory customizing your entire vehicle with a team of knowledgeable designers. You can choose options like four-wheel drive and solar panels.
Airstream
Fuel type: Diesel
Models: Atlas, Interstate Grand Tour EXE, Interstate Lounge EXT, Interstate Nineteen, Tommy Bahama Interstate
Airstream is iconic and most well-known for its travel trailers, but they do make a mean Class B motorhome built on the Mercedes-Benz 3500 Sprinter chassis. This company has been around for almost 100 years and they have extremely high quality standards that surpass nearly every other brand on the market.
Read Also: Best Airstream Alternatives.
American Coach
Fuel type: Diesel
Models: Patriot, Patriot Cruiser
The American Coach brand also makes a small line of Class B motorhomes with only two models to choose from. They're still luxurious, but they're practical, too. You can choose from several floor plans and they're all built on the Mercedes-Benz chassis. These make it easy to zip in and out of parks and campgrounds everywhere.
Chinook RV
Fuel type: Diesel
Models: Countryside, Summit
Small but mighty, Chinook RV makes only two models that call the sportscars of motorhomes. They closed in 2005 but were bought by a private party shortly thereafter and continued to make Class B RVs for those who loved them.
Coach House
Fuel type: Diesel or gas
Models: Arriva (D), Platinum (G), Platinum II (D), Platinum III (G)
Coach House allows you to choose the engine power and the chassis of your Class B or Class B+ motorhome. They offer the Ford Transit chassis, the Ford E-450 Super Duty chassis, or the Mercedes Sprinter 3500 chassis.
RV Coachmen
Fuel type: Diesel or gas
Models: Beyond (G), Galleria (D), Nova (G)
Coachmen is another name in the group of RV manufacturers most well recognized. They've been on the road since 1964 and they offer several different chassis and engine options including the 210RS with a Ford V-10, an F-450 Ford, a 320BH Chevrolet, or a 4500 Chevrolet. You can also custom order many different combinations of slide out configurations for a more functional space.
Fleetwood
Fuel type: Gas
Model: Irok
You can explore in comfort with features like rooftop solar panels, a wet bath, wifi, satellite options, and an AGM deep cycle battery. All Fleetwood Iroks come with a 36-month/36,000-mile warranty that covers everything from bumper to bumper. It's one of the most extraordinary warranties you'll find of any RV.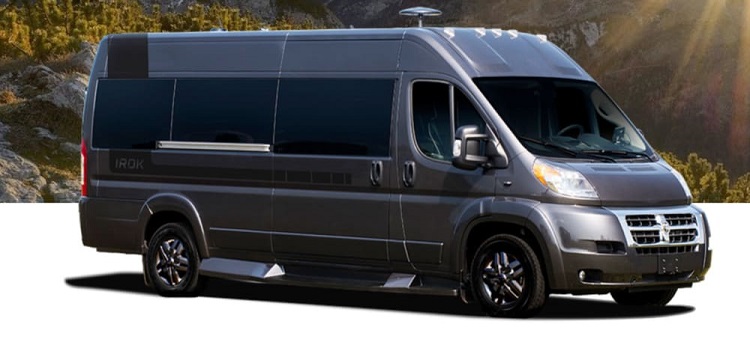 Leisure Travel Vans
Fuel type: Diesel
Models: Libero, Serenity, Unity, Wonder
You may have never heard of them, but Leisure Travel Vans has been manufacturing Class B and Class B+ RVs for more than 50 years. They're built on either a heavy-duty 3500 Mercedes Sprinter chassis or a Ford Transit 350 HD cab chassis. This is the perfect hybrid Class B/Class C motorhome for those who want style and comfort upgrades.
Midwest Automotive Design
Fuel type: Diesel
Models: Daycruiser, Passage, Promaster Legend, Weekender
This manufacturer is owned by the REV Group and they're most well-known for their Sprinter vans. All models are built on the Mercedes-Benz Sprinter chassis and they offer a comfortable ride and living space.
NeXus RV
Fuel type: Gas
Models: Viper
This model is built on Viper's Ford E Series chassis. It has a V10 engine and is a Class B+ RV that looks more like Class C. It combines the look of a larger RV with comfortable features of a Class B. It's designed to fit smaller spaces so you still have the amenities you need in a package.
Phoenix USA
Fuel type: Diesel or gas
Models: Phoenix Cruiser (G), Phoenix TRX (D), Phoenix TRX (G)
These quality Class B+ motorhomes offer a variety of options from gas and diesel to large and small. They have a factory-direct sales model which gives you a better price while still allowing you to customize the features you need.
Pleasure-Way Industries
Fuel type: Diesel or gas
Models: Ascent TS (D), Lexor FL (G), Lexor TS (G), Ontour 2.0 (G), Ontour 2.2 (G), Plateau FL (D), Plateau TS (D), Tofino (G)
These rigs are hand-crafted in Canada of tubular steel and fiberglass coverings. You can get amenities like a microwave, sink, shower, or a heated sofa installed as well.
Regency RV
Fuel type: Diesel or gas
Models: National Traveler (G), Ultra Brougham (D), Xalta (D)
You can get these diesel coaches on a Mercedes-Benz chassis and gasoline coaches on a Ram chassis with a V6 engine. These are top of the line Class B RVs and Regency has been doing it for more than 25 years.
Thor Motorcoach
Fuel type: Gas
Models: Sequence, Tellaro
Thor Motorcoach is at it again with quality Class B vans on a RAM Promaster 3500 XT window van chassis. They're built with going off-grid in mind and they're small, but powerful rigs made to go anywhere.
Winnebago Industries
Fuel type: Diesel or gas
Models: Bolt (D), Era (D), Revel (D), Solis (G), Travato (G)
There's a Winnebago Class B model for everyone. They have spacious floor plans, plenty of flex space on the inside, and pop-top solar panels. They can sleep up to 3 people with amenities that will keep you off the grid, charged, and ready to go.
Class C Manufacturers
Class C fits the space between Class A and Class B. These motorhomes are larger and more spacious than Class B, but smaller and more affordable than Class A. They have slide outs, comfortable rides, and plenty of sleeping space.
Dynamax
Fuel type: Diesel or gas
Models: DX3 (D), Dynaquest (D), Force HD (D), Insta 3 (D), Insta 4 (G), Insta 5 (G)
The great thing about Dynamax is that you can have a Class A-type ride in a Class C package. They make small Class Cs, Super C Freightliners on a semi-truck chassis, and everything in between. They pack some serious Class A luxury into their Class C models so you can go anywhere.
Entegra Coach
Fuel type: Diesel or gas
Models: Accolade (D), Accolade XL (D), Esteem (G), Odyssey (G), Qwest (D)
Entegra offers luxury upgrades in a reliable package. By purchasing an Entegra, you become a part of their community of owners, bringing you together with other like-minded people who love their Entegra coach and traveling on the open road.
Forest River RV
Fuel type: Gas
Models: Forester, Solera, Sunseeker
Forest River makes great RVs at affordable prices. If you want quality and durability, then these are a great option for you. They've won awards for their Sunseeker model, and there are dozens of floor plans from which to choose.
Gulf Stream Coach
Fuel type: Gas
Models: BT Cruiser, Conquest
While the BT Cruiser is small, sleek, and stylish, the Conquest is a large Class C with 17 different floor plans. All of these configurations make it an excellent choice for couples, families, and travelers of all kinds. They also have reasonable price tags.
Jayco
Fuel type: Diesel or gas
Models: Greyhawk (G), Melbourne (D), Melbourne Prestige (D), Redhawk (G), Seneca (D)
Jayco makes some pretty great Class C motorhomes, so you can count on quality and versatility with these models. You can choose from a gas or diesel engine on Ford, Chevy, Mercedes, or Freightliner chassis. You'll sleep in comfort on queen and king sized beds, too.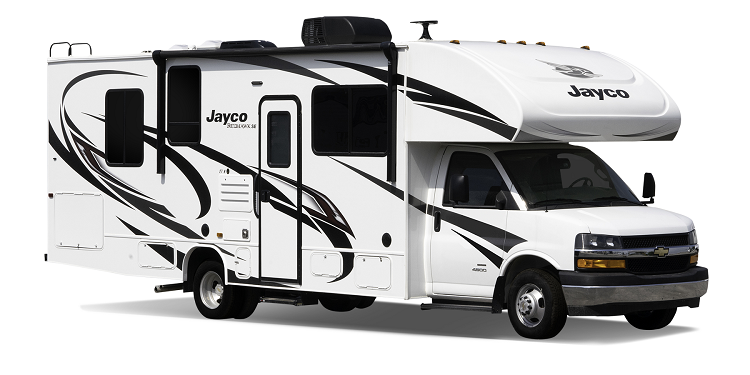 Lazy Daze
Fuel type: Gas
Models: 24′, 27′, 31′
These RVs are built to order in whatever size you want. They're one of the smallest RV manufacturers on the market, but they're reliable. They are also one of the few options that don't feature slide outs, but they're also one of your least expensive Class C options.
NeXus RV
Fuel type: Diesel or gas
Models: Ghost (D), Phantom (G), Triumph (G), Triumph SC (D), Wraith (D)
With NeXus, you can pick from one of their standard designs or build your own. They come with plenty of comfortable sleeping options and spacious kitchens. The factory-direct sales approach gives you more affordable custom units.
Newmar Corporation
Fuel type: Diesel
Models: Super Star, Supreme Air
Both of Newmar's Class C models are Super C models, which means they're built on the Freightliner chassis. They have a strong lineup of Class A options, but their Class Cs are definitely worth a look. They have powerful engines and luxurious bodies.
Phoenix USA
Fuel type: Gas
Models: Cruiser
This model features a slide out queen bed and a rear kitchen. The additional twin bed can sleep a child or a guest and it's built on the E-450 chassis so you'll have plenty of power to handle steep inclines and go anywhere.
Renegade RV
Fuel type: Diesel
Models: Ikon, Verona, Verona LE, XL
These Super C motorhomes can haul 20,000 pounds, so you can pull a trailer or a passenger vehicle behind you without any problems. This is the best Class C option for bringing your toys along with you.
Thor Motorcoach
Fuel type: Diesel or gas
Models: Chateau (G), Compass RUV (G), Four Winds (G), Gemini RUV (G), Magnitude (D), Omni (D), Quantum (G)
Thor is one of the largest RV manufacturers on the market, and they're very well-respected. They have plenty of engines, chassis, models, and floor plans from which you can choose. They also offer RUV options with all of the comforts of home.
Tiffin Motorhomes
Fuel type: Diesel
Models: Wayfarer
Tiffin builds some of the most luxurious and classy RVs you can find. They have a Class C option built on the Mercedes-Benz Sprinter chassis, making it a comfortable option for smaller campsites and zipping around town in style.
Winnebago Industries
Fuel type: Diesel or gas
Models: Fuse (D), Minnie Winnie (G), Navion (D), Outlook (G), Porto (D), Spirit (G), View (D), Vita (D)
This large family of RVs also offers a wide range of options when it comes to Class C motorhomes. You can get an RV on any budget and with plenty of slide options and floor plans. Plus, this brand is well-known, well-loved, and reliable.
Fifth-wheel Manufacturers
Fifth-wheels are some of the most practical trailers on the road. They're large enough for full-time families and come in hundreds, if not thousands of configurations. While you'll need a separate tow vehicle for these, you'll find that they're perfect for those needing a ton of space or a toy hauler option to bring along your toys.
Coachmen
Models: Brookstone, Chaparral, Chaparral Lite, Chaparral X-Lite
The Chaparral model is Coachmen's flagship and it's one of the most recognizable fifth-wheels on the road. They've been making it for more than 10 years. These mid-profile fifth-wheels are roomy and have all the residential features you need to feel at home.
CrossRoads RV
Models: Cameo, Cruiser, Cruiser Aire, Redwood, Steering Wheel
This company has only been around for about 15 years, but they make a variety of floor plans, so chances are good you'll find what you need. They have a Build My RV features that allow you to select the exact floor plan and features you need.
RV cruiser
While Cruiser RV only makes one fifth-wheel, it's a toy hauler, so it gives you plenty of space and amenities, plus the ability to bring your toys along. There are 4 floor plans to choose from, so you still have a few options.
DRV Luxury Suites
Models: Elite Suites, Mobile Suites
These fifth-wheels offer plenty of luxury, It's even in the name. They feature quartz countertops, custom flooring, hardwood cabinets, and plenty of other details that you won't find in other models. They overlook nothing. The custom engineered 15" triple-box tube frame measures 101 inches across, so this is one of the most rigid and reliable RVs around.
Dutchmen RV
Models: Astoria, Atlas, Yukon
Depending on which model you choose, these fifth-wheels can sleep up to 10 comfortably, so they're perfect for families and full-time living. The one-touch auto leveling makes it easy to set up and take down, so it's a great option for newbies as well. Dutchman offers one of the industry's best warranties, too.
Forest River RV
Models: Arctic Wolf, Cardinal, Cedar Creek, Cherokee, Flagstaff, Hemisphere, Heritage Glen, Impression, Riverstone, Rockwood, Saber, Sandpiper, Sierra, Wildcat, Wildcat Maxx
Fifth-wheels (and travel trailers) are where Forest River really shines. As you can see, they have dozens of models with hundreds of floor plans. From bunk houses and mid-bunks to large kitchen and living room combinations, you'll find everything you need. Forest River has won plenty of awards for their fifth wheels, and there's something for everyone here at affordable prices.
Grand Design RV
Models: Momentum, Reflection, Solitude
Grand Design does a fantastic job combining luxury and value in something that's easy to tow. They have toy haulers and traditional fifth-wheels and plenty of floor plans. They are sturdy and durable with beautiful design choices on the interior.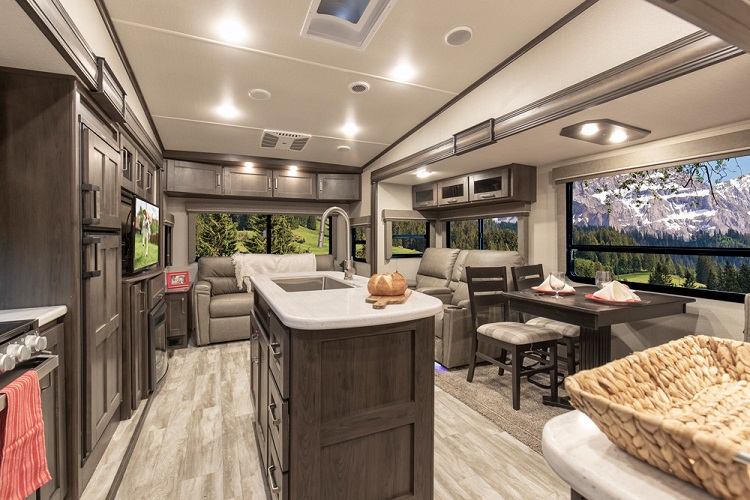 Gulf Stream Coach
Gulf Stream only makes a fifth-wheel, but they do a good job of combining a spacious interior with excellent maneuverability. They're solar prepped and have designer interiors.
Heartland RV
Models: Big Country, Big Horn, Elkridge, Landmark, Milestone, Pioneer
Heartland has a patented tight turning radius design that sets it apart from other manufacturers. These models are easy to maneuver, even with a short bed truck. They also focus on innovation and engineering, making their floor plans some of the smartest and most efficient.
Highland Ridge RV
Models: Light, Mesa Ridge, Open Range, Silverstar
This company has lite, luxury, and full-profile models. These roomy fifth-wheels have options like stainless steel appliances, upgraded heating systems, and arched ceilings. They're high-quality and affordable.
Jayco
Models: Eagle, North Point, Pinnacle, Seismic, Talon
Jayco makes traditional fifth-wheels and travel trailers at reasonable price points. They offer comfort, space, and variety. Jayco focuses on sustainability so you can save energy and eliminate waste on the road.
Keystone RV Company
Models: Alpine, Avalanche, Cougar, Cougar Half-Ton, Hideout, Laredo, Montana, Montana High Country, Springdale, Sprinter Campfire, Sprinter Limited
Keystone is one of the most popular manufacturers around. They have a ton of fifth-wheel models with plenty of different floor plans and full-profile models like the Avalanche, Alpine, and Montana give you plenty of luxury and space. They combine function and livability, too. Mid-line options are more affordable and offer great value with the amenities you need.
KZ
Models: Durango, Durango Gold, Durango Half-Ton, Sportsmen
KZ offers great options for full-time living with a chef's kitchen, residential furniture, washer and dryer prep, walk-in closets, residential shower, king-sized beds, and multiple slide outs. It's nearly impossible to miss home in something this comfortable.
New Horizons RV
New Horizons makes it a point to build custom RVs specifically designed for full-time living. They frequently get high ratings thanks to excellent quality and craftsmanship. They feature real wood cabinets and other plush textiles.
Palomino RV
These fifth-wheels are rugged but easy to tow. They're perfect for those who crave adventure. There are several floor plans and many of them you can even tow with a ½-ton pickup. Upgrade to the Columbus for more residential features and style.
Prime Time Manufacturing
Models: Crusader, Crusader Lite, Sanibel
This company is owned by Forest River, who also owns Coachmen, Dynamax, East to West RVs, Palomino, and Shasta. Prime Time hasn't been around as long as the others, but they're still dedicated to quality and craftsmanship. They've earned awards for putting quality above anything else and they conduct a 65-point inspection on every rig.
Shasta RV
Shasta has been around since 1941, when they began by designing mobile military housing. They've been around for longer than nearly everybody else. Their fifth-wheel is designed with luxurious interiors and high-end features so you'll get an excellent experience. You can even play some of them with a ½-ton pickup.
Сtarcraft
This model is another ½-ton towable with luxurious features like solid surface countertops, a fireplace, theater seating, and stainless steel appliances. There's even pull-out dishes and a bed for your pet.
Vanleigh RV
Models: Beacon, Pinecrest, Vilano
Most have never heard of Valeigh before, and they haven't been around for long, but they're made by the Tiffin family, so they really know their stuff. They work hard to meet the needs of fifth-wheel travelers everywhere.
Winnebago
Models: Micro Minnie, Minnie Plus, Voyage
You can always count on Winnebago to have some options. They're well-known and affordable, but they also offer comfort and quality you can trust. The Micro Minnie is a great option if you're looking for a small fifth-wheel that will still sleep up to 5.
Travel Trailer Manufacturers
Travel trailers are extremely towable, come in a variety of sizes, and have plenty of features and amenities for everyone. Add you can even pull with an SUV. You'll find teardrop designs, larger trailers with slide outs, and everything in between. Floor plans are too numerous to count, and prices vary widely among manufacturers and styles.
Аirstream
Models: Bambi, Basecamp, Caravel, Classic, Flying Cloud, Globetrotter, International Serenity, Nest
Aluminum, bullet-shaped travel trailers are what Airstream is most known for. The design hasn't changed in decades, but they're still some of the most beloved and well-built travel trailers you can buy. They come in a variety of sizes, so there's something for everyone, but they're not cheap.
Braxton Creek
Models: Bushwacker Plus, Bushwacker Teardrop, BX, LX
Braxton Creek's travel trailers come with a two-year bumper to bumper warranty and they're easy to do business with. They have professional but personal customer support and they build high quality RVs with integrity.
Coachmen
Models: Apex, Catalina, Clipper, Freedom Express, Spirit, Northern Spirit
Coachmen have won awards for their travel trailers. They have small, maneuverable models and large, luxurious ones. There's something here for everyone, so you can be sure you'll love what you choose.
Chinook RV
Models: Dream, RPM, Trail Wagon
Chinook RV recently acquired Riverside Travel Trailer. They now integrate all models under the Chinook name. Two of these travel trailers are also toy haulers, and they focus less on amenities, so you're getting an affordable, in the nonsense trailer.
Crossroads RV
Models: Cruiser Aire, Hampton, Sunset Trail, Steering Wheel, Zinger
Crossroads does a great job of marrying comfort and quality with value and service. They have a lot of floor plans and many of them come with residential features like wood accessories and stainless steel appliances.
RV cruiser
Models: Embrace, Fun Finder, MPG, Radiance, Shadow Cruiser
Cruiser designs their travel trailers to minimize weight without sacrificing amenities. These affordable travel trailers are towable by ½-ton pickups and feature great designs so you get the best of both worlds.
Dutchmen
Models: Aspen, Astoria, Coleman, Kodiak
Dutchmen excels at offering classic floor plans that fit nearly every camping style. They have large windows, upgraded furniture, solid touch countertops, and large holding tanks. Some models are also very lightweight and can be pulled with SUVs or minivans.
Forest River
Models: Alpha Wolf, Aurora, Cedar Creek, Cherokee, E-Pro, Evo, Flagstaff, Geo Pro, Gray Wolf, Heritage Glen, Ibex, Impression, Independence Trail, No Boundaries, Ozark, Rockwood, Roo, R-Pod, Salem , Sandpiper, Shamrock, Sierra, Sonoma, Surveyor, Vibe, Wildcat, Wildwood, Wolf Pup
Just like with fifth-wheels, Forest River offers plenty of travel trailer options. You can purchase a lot of RV for a little money. You'll find everything from small to large and simple to luxurious. There's something here to fit every need.
Grand Design RV
Models: Imagine, Reflection, Transcend
Grand Design continually improves their travel trailers based on customer feedback. They feature open floor plans with functional designs. Everything is easily towable and you can count on the reliability they provide.
Gulf Stream
Models: Ameri-lite, Cabin Cruiser, Capri, Conquest, Envision, Geo, Gold Edition, Gulf Breeze, Innsbruck, Kingsport, Matrix, Northern Express, Streamlite, Trailmaster, Vintage Cruiser, Vista Cruiser
Gulf Stream is the proud holder of the 7 Quality Circle Awards for innovation, quality, and value. It's a family owned company that offers plenty of travel trailer models and floor plans to fit every need.
Heartland
Models: Mallard, North Trail, Pioneer, Prowler, Sundance, Trail Runner, Wilderness
Heartland has some of the most popular travel trailer models on the road. Just like the fifth-wheels, they have patented tight turn radius technology, abundant storage, and universal docking centers. These floor plans are just as innovative and functional as their fifth-wheel big brothers.
Highland Ridge RV
Models: Light, Mesa Ridge, Mesa Ridge Lite, Open Range, Open Range Ultra Lite, Silverstar, Silverstar Limited, Silverstar Lite
Most of these models are light enough to tow with an SUV, so they're a great option for those who don't have a lot of experience or people who don't travel a lot. They even have a few full-profile options, giving you a roomy floor plan that doesn't weigh a ton.
Jayco
Models: Eagle, Hummingbird, Jay Feather, Jay Flight, White Hawk
Jayco offers spacious living and ultimate comfort with spacious bedrooms and fully-equipped kitchens. They range in size from 1500 pounds to almost 12,000, so everyone will find something that works for them here.
KZ
Models: Connect, Escape, Sportsmen
KZ does a great job of taking the work out of camping so you can enjoy your adventure. They have ultra light options and destination-style trailers that feel like home. Premium trim levels and quality builds will make everyone feel comfortable.
Keystone RV Company
Models: Bullet, Cougar, Hideout, Laredo, Outback, Passport, Premier, Retreat, Residence, Springdal, Sprinter
Keystone offers worry-free customer service to make everyone feel at ease in one of their innovative travel trailers. You can use Key Connect to find the perfect rig, get a private tour, talk to an expert, or connect to a local dealer, all without leaving the house.
Pitch Campers
Models: 1475,1575, 1685, 1985, 1995, 2075, 2185, 2285, 2295, 2375, 2445, 2465
Release is more famous for their truck campers, but they also make a few travel trailers. They range in size from 14-25 feet and can sleep up to 8 people. They are equipped with LanceLock, which is an interlocking aluminum frame that provides additional stability to the entire rig.
nuCamp RV
This new kid on the block is stirring up talk with gorgeous teardrop models. If you need a 1-2 person camping adventure with all of the essentials, you'll find it here. You can even tow it with a small car.
Oliver RV
If you love the look of fiberglass trailers, you'll love the Legacy. It features a vintage design with crafted molded fiberglass interior. You'll enjoy tank and battery monitoring systems, molded toilets and vanities, an awning, and all the retro vibes.
Palomino RV
Models: Columbus, Palomini, Puma, Real-Lite Mini, Revolve, Solaire
Palomino's goal is to offer the best value you'll find in the RV space. They have a full line of options that even include some Best of Show awards.
Prime Time Manufacturing
Models: Avenger, Lacrosse, Tracer
Prime Time hasn't been making RVs all that long – just a little over a decade – but they are a great and affordable option for first-timers and experienced RVers alike. They offer dozens of functional floor plans in each model, so there's something here for everyone at an affordable price.
Starcraft
Models: Autumn Ridge, Super Lite
Starcraft offers two lightweight travel trailers that are always easy to tow and ready to go. The underbelly is heated and enclosed, so you can camp longer and in more inclement weather. They have a power tongue jack, built-in speakers, power awning, LED lighting, and PVC roof membrane for increased functionality and durability.
Travel Lite RV
Models: Evoke, F Lite, Falcom, Peak 9
As the name suggests, these travel trailers are extra lightweight, so you can tow them with your SUV. The feature quality safety enhancements and modern designs.
RV Venture
Models: Sonic, Sporttrek, Stratus
These are the same people who make KZ RVs, and they've won awards for their lightweight travel trailers. They're fully equipped to go off the grid, off-road, and anywhere you want to go, especially if you're steering clear of over populated RV parks and campgrounds.
Winnebago
Models: Hike, Micro Minnie, Minnie, Minnie Drop, Minnie Plus, Voyage
Once again, Winnebago is worth a mention for their offerings in this category. They have quality customer service and RVs that you can trust. You'll see more of these on the road than almost any other RV manufacturer around.
Truck Camper Manufacturers
Truck campers sit on the bed of your truck and they're an excellent choice for 1-2 people who prefer boondocking to the traditional campsite. They slide on and off the bed so you can drop the camper at your destination and still cruise around in your passenger vehicle.
Adventurer Manufacturing
Models: Adventurer, Eagle Cap, Scout, Overlander
This company has 50 years of experience in making truck campers. It started in Canada, but the brand still continues its commitment to customer satisfaction in the United States. Their models are stylish and functional.
Pitch Camper
Models: 650, 825, 850, 855s, 865, 975, 995, 1062, 1172
Lance Camper is one of the oldest and most popular options when it comes to truck campers. You'll still see many of their original 1965 line on the road today. That's how well they're made. They make durable truck campers and safe, eco-friendly products.
Northern Lite
Models: 8-11EX LE, 8-11EX SE, 8-11EX SP, 10-2EX LE, 9-6 LE, 10-2EXCD LE, 9-6 SE, 9-6 SP
Northern Lite uses a two-piece fiberglass system that will keep you warm when it's cold and cool when it's hot. Plus, with fewer joints, there are fewer weaknesses in the structure. They produce quality RVs with high-end interiors.
nuCamp RV
Models: Cirrus 720, Cirrus 820, Cirrus 920
The Cirrus models have a sleek design and come standard with a solar kit, spacious sleeping areas, and wireless backup camera. They stand apart from the others in terms of luxury when it comes to truck campers.
Palomino RV
Models: Backpack, Real-Lite, Rogue
Palomino does a great job of putting all of the features you might find in a travel trailer into the bed of a truck. They make hard and soft-sided truck campers that will fit a wide variety of trucks, so you can hit the road with everything you need.
Rugged Mountain RV
Models: Granite 9RL, Granite 11RL, Polar 860, Polar 990
If you plan to go exploring or off roading, Rugged Mountain probably has a truck camper for you. They are built to go off the beaten path and there are standard packages for the minimalist and residential packages for those who need more comfort.
Travel Lite RV
Models: Extended Stay, Rayzr, Super Lite
These lightweight truck campers are great for smaller pickups. They have several models that don't extend over the cab at all. They fit everything you need into the bed of the truck, making them easier to carry, maneuver, and maintain.
Pop up Camper Manufacturers
Pop up campers are harder to find these days than they used to be, but there are still a few reliable options if this is the kind of camper you're looking for. These manufacturers offer lightweight and affordable solutions for 1-2 people who love the outdoors.
Kamparoo
Models: Cargo/Utility, Trans-Continental, Vacationer
If you're hitting the road for a weekend of hunting, fishing, or outdoor recreation, these rugged pop ups are an excellent choice. They feature galvanized steel framing for extra durability while traveling. Plus, they're lightweight and affordable, so you can also tow your toys.
Simple Camping Solutions
Models: Venturepod
Simple Camping Solutions offers a unique way to camp. Their Venturepod models are custom built and available for rental, so if you're an occasional camper and you don't want to spend a lot on a camper of your own, this is a great way to travel.
SylvanSport
Models: Go
SylvanSport offers a single pop up camper, but it's stylish and versatile. They also have a Go Easy kayak trailer for those who need to bring along their boating gear. And with the Dine The Max camp kitchen, you'll be ready for anything.
FAQ
If you're looking for a new or used RV, there are certainly plenty of options. Every manufacturer has their own strengths, so it can be difficult to choose. Here are some frequently asked questions that may help.
Question: What do the Letters Mean on RV Models?
Answer: If you can decode the model number, you can get a pretty good idea of ​​​​​​​​the floor plan without walking inside. Each RV manufacturer has its own secret code, but they're not too difficult to figure out. For example, if the model number ends in MB, it's most likely a mid-bunk floor plan. FL means front living room, RK means rear kitchen, and BH stands for bunkhouse.
In some cases, the numbers even match how long the trailer is, only the 33BH is a 33-foot bunkhouse model. Once you get the hang of reading these model numbers, you'll know immediately whether the RV is worth a look for you or not.
Question:

How Long Can You Finance a Motorhome?
Answer: If you're in the market for an RV but you can not pay cash, you may be looking at taking OUT A loan. Most dealers offer financing, as long as your credit is good, but there are a variety of terms. Some will only do 4-5 years while others may extend to 15-20 for more expensive models.
Question:

What is the Best Month to Buy an RV?
Answer: Sales decrease significantly in the fall, because most people don't want to buy an RV heading into the winter months. October and November will offer some good discounts, and December and January may be even better.
Things pick back up in the spring as campers get ready for vacation season, so while February may still be a good month to buy, March and April won't give you much negotiation power.
Final Thoughts
RVs are fun ways to bring your home with you on the road. They offer great floor plans and amenities that will keep you comfortable while you travel. The brand you choose will depend on what you're looking for, but there are several brands that offer excellent quality like Winnebago, Keystone, Jayco, and KZ.
If you're buying a used RV, you may or may not be getting a warranty along with it, but you can purchase extended warranties from third parties. Make sure you're getting the floor plan and features you need at a price you can afford, no matter which brand you choose.