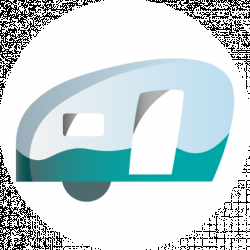 Latest posts by Roaming RV Team
(see all)
"We pledge to cordially greet and welcome you to the United States."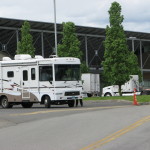 That first sentence of the Pledge to Travelers by U.S. Customs and Border Protection is followed by five more pledges to visitors—and that includes Canadian RVers who travel south into the United States.
Recently I was listening as Michael and Katherine Hykaway of Okanagan Falls had their motorhome and documents checked by a friendly U.S. Customs officer at Oroville, Washington. It was very evident they were being treated with courtesy. I could hear the laughs by everyone as they talked.
"We're on our way to Omak for a few days," said Michael. "It's time to get a break from the garden."
His wife Katherine let me know their potatoes were already up though it was only the middle of May. They didn't want to stop and talk too long because they had plans to keep. The inspection of their motorhome at the border appeared to be effortless, and because they travel regularly between the two countries they knew in advance what was expected of them.
Why do the border people check your RV?
It's the priority of the U.S. Customs and Border Protection to prevent terrorists and terrorist weapons from entering their country, as well as stop those who are attempting to enter the country illegally. If you have proper documentation it's just a matter of showing your identification, having your RV inspected and contents examined and if all is okay you will be quickly on your way.

Things to consider when traveling to the U.S.
Passports: Visitors traveling to the U.S. are required to be in possession of passports that are valid for six months beyond the period of their intended stay in the U.S.—except for Canadians. Canadian citizens' passports are not required to be valid for six months past their intended date of departure. Their passports must only be valid up until the date of their intended departure.
Children without their parents: Minors may be able to travel to another country without either one of their parents. They may, however, require a notarized written consent letter from both parents.
Food and agricultural products
Citrus fruits are not allowed.

Fresh Fruits that are obviously out of season and therefore not grown in Canada or the U.S. may be prohibited.

Peppers, tomatoes, green onions, chives, garlic chives and leeks are prohibited.

Potatoes from Vancouver Island, areas of Alberta and the Canadian Maritime provinces are prohibited.

Vegetables from other countries may be prohibited.

Lamb and goat is prohibited from Canada, including fresh, frozen, raw, cooked, canned, sausage, curry, home-made sauces containing lamb or goat, sheep casings, etc.
When returning to Canada
U.S. fresh fruits except citrus may return if they are in season and clearly marked with U.S. brand labels.

Canadian fruits must be labelled.

Frozen or cooked vegetables are allowed.

Fresh potatoes from other locations in Canada are allowed only if commercially packaged or peeled.

Corn on the cob is allowed only if grown in British Columbia or the United States.

Vegetables from other countries may be restricted or prohibited.

Beef or bison is allowed but limited to 50 pounds per importation.

Pork and poultry are limited to 50 pounds per importation.

Hunter-harvested wild game is allowed with a valid hunting permit and is subject to USDA and Fish and Wildlife restrictions.

Pet foods containing lamb, goat or unidentified animal products are prohibited unless the label indicates it was manufactured in the U.S.
It is wise to report all fruits, vegetables, plants, plant products, live animals, meats and animal products regardless of whether you believe they are allowed or not. Failure to declare may result in a penalty of $300 or more. Stocking up the refrigerator or cupboards before leaving Canada might not be a good idea since there are so many restrictions.

The Hykaways aren't the only Canadian RVers who cross the international border between Canada and the United States and for those who know what is required of them it doesn't have to be a difficult experience. Border officers are following their country's policies and we have found them to be extremely helpful and courteous.
Happy travels,
PS:  This article was first published in my RV Living column at RVWest