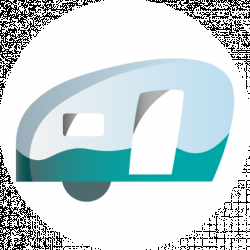 Latest posts by Roaming RV Team
(see all)
Bugs, Flies and Picnics don't mix!
The weather is beautiful and it's finally possible to get outdoors to eat all my meals.
But I have one problem:
I don't like sharing my meals with the bugs and flies!
There is absolutely nothing better than having my first morning cup of coffee sitting quietly in a chair outside our RV listening to the birds singing and the rustle of a gentle breeze through the leaves in a nearby tree.  Most especially if no one else is out and about – it feels like I have the morning to myself. It's such a wonderful feeling.
So when it's time for lunch or dinner the first thing I suggest is that we eat our meal at a picnic table or sitting on a lawn chair outside. Why stay cooped up in the RV if you don't have to?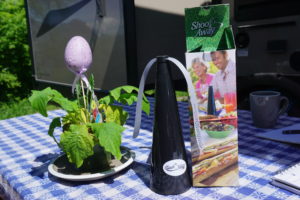 But it's not always pleasant eating outdoors.  Those pesky bugs and flies always seem to get in the way – landing on our food or buzzing around the table.  I get frustrated enough sometimes I grab my plate and quickly retreat inside the RV.  What a waste of a beautiful day.
When I remembered I had a sample of a product that had been sent to me a couple of years ago I thought I should at least try it.  To be fair I received it in the winter of 2015 and put it away until the summer and somehow it got buried under a lot of other stuff I hardly ever looked at. I forgot all about it until now.
For some reason yesterday – which was the first day I could actually sit outside at the picnic table in a very long while, I thought about that product I had been sent.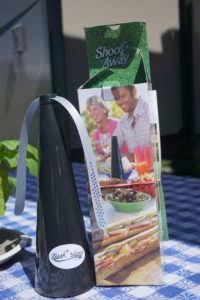 It's a ShooAway – a chemical free battery operated little gadget that stands on the table with soft flexible blades that rotate over your food.  I am not sure if it's the moving blades or the reflections from the blades glittery dots.  It really doesn't matter – because it worked.
How to operate the ShooAway
I always seem to expect something will be difficult to operate and when I took the ShooAway out of the box I quickly took the top off, looked at it with frustration and after a few attempts put it back together.  Why I did that I don't know – because all I had to do was flip the switch to on at the bottom and it turned on.  I didn't need a doctorate to operate it like I thought I needed. Surprise. Surprise. Plus I put my hand against the blade when it was in motion it immediately stopped and didn't hurt my hand.  No worries around children.
Review of ShooAway
Positive Points
I have to say I like it because it works.  I did check the reviews on Amazon, which is my favorite place to shop online and agree with some of their reviews – it's probably a good idea to have 2 on the table to work efficiently.  But if you are sitting alone with a small amount of food on the table then one will work just fine.
It's easy to operate – just switch it on. It takes AA batteries to operate – something most of us keep on hand all the time anyway.  Two AA batteries come with it to get you started.
Negative Points
They aren't cheap – but you have to remember if something costs more than $5 I think it's expensive.  However, you can save a bit by purchasing a package of two or more.  The one comment I really paid attention to on Amazon was a concern about how long the batteries would last.  I can't tell you that answer because it really will depend on how long it's operated.

I'm really glad I had this nifty little item in our storage tank because I will be using it a lot.  With it's soft stop blades and chemical free method of controlling flies it's safe and easy to use.  I actually think I will be ordering a couple more of the ShooAway Products.  I enjoyed my lunch outside much more than usual because I wasn't constantly waving my hands around trying to swot the flies buzzing over my food.  I think it's a good product and worth purchasing.
Safe travels,
Carol Ann