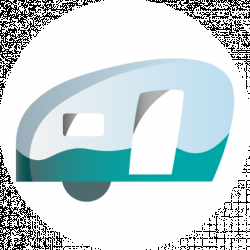 Latest posts by Roaming RV Team
(see all)
45
Dinosaurs do not roam the earth anymore but…
Step back into a time over 75 million years ago when 49 different types of dinosaurs roamed what is now the biggest and most remarkable area of Badlands in Canada. These dinosaurs foraged for food in this once lush coastal plain adjacent to the Bearpaw Sea. Although the sea is long gone and the dinosaurs no longer exist their remains can still be found through out the Dinosaur Provincial Park in Southeastern Alberta.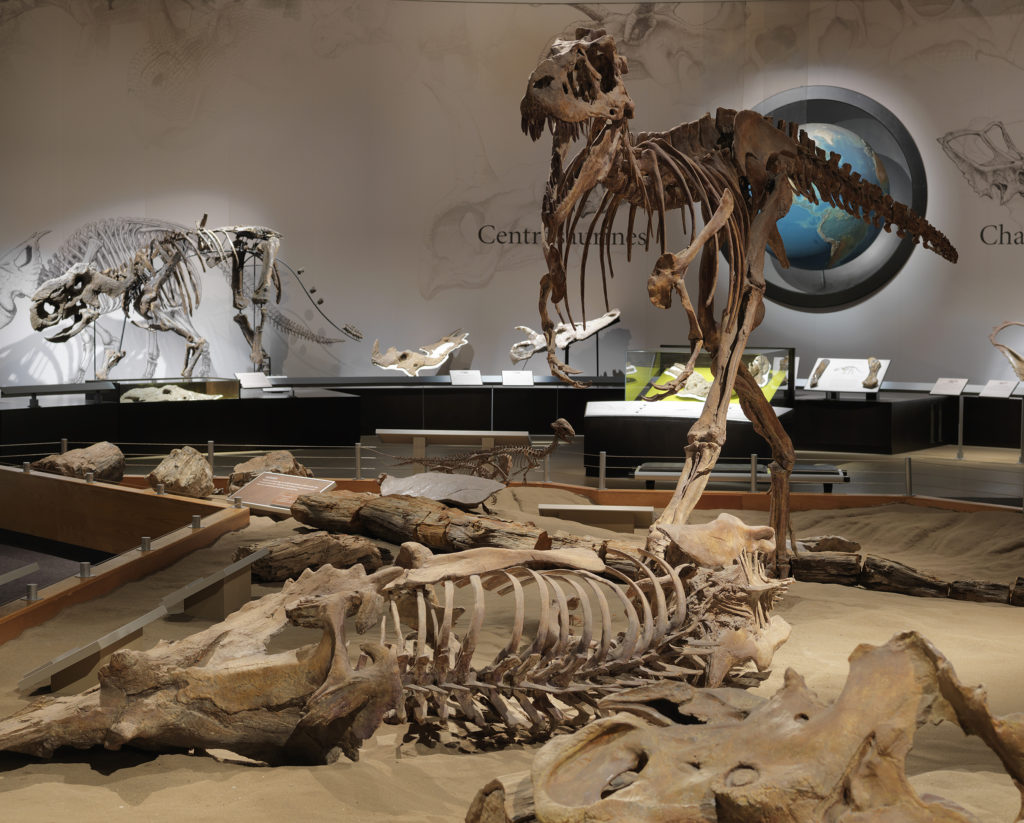 This is one of the largest sources of remains found in the world and the remarkable abundance and diversity of dinosaur and other vertebrate fossils found here is why the United Nations Educational, Scientific and Cultural Organization (U.N.E.S.C.O.) declared it a World Heritage Site.
The perfect way to start your visit of the Dinosaur Provincial Park is to take a two-hour bus tour giving you a really good idea of what's there and what is available for you to see later either on your own or with a guide. By attending some of the tours or having a guide you may even get into the restricted areas of the Natural Preserve. It's recommended that you book in advance because of the tours popularity.
No, you can't go digging or collecting bones by yourself but you can explore the trails leading you through the grasslands, below the soaring cottonwood trees and to the top of the ridges so you can appreciate the impressive views.
If you have ever wondered what it would be like to go on a dig and know how to identify the remains of mammals, fish and even dinosaurs then sign up for a family fossil safari and discover the secrets of fossil finding during this hands-on tour.
Bird watchers will think they are in heaven with 165+ different species of birds in the park including the ferruginous hawk and golden eagle. Not into birds? Then maybe some of the mammals living here will interest you. With a keen eye you may see coyotes, bobcats, mule deer, red fox and pronghorn antelope just to name a few.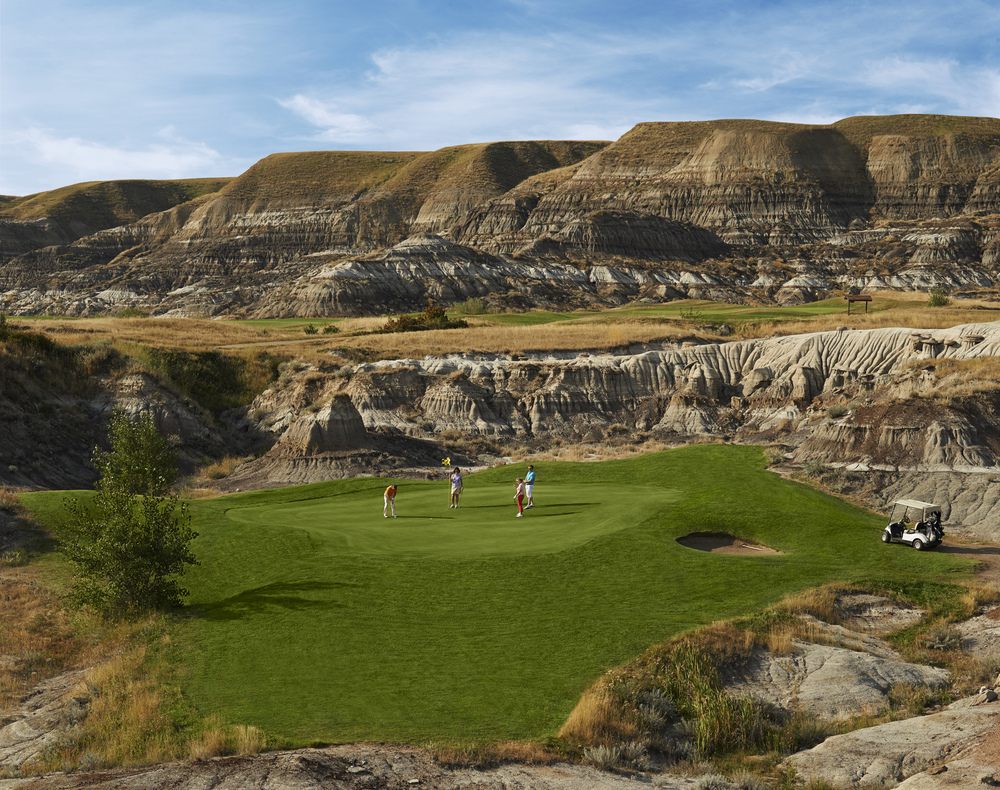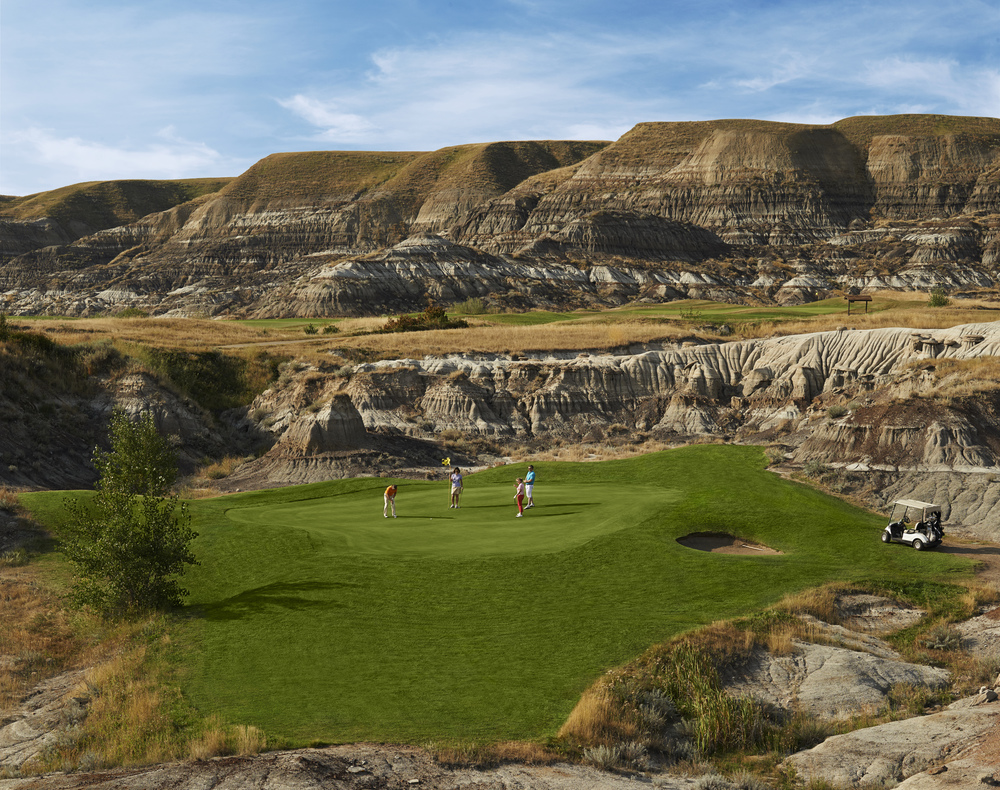 Dinosaur Provincial Park is 30 miles north east of Brooks, Alberta and 147 miles southeast of Calgary, in the Red River Valley. Don't confuse this Park with Drumheller, another famous area known for dinosaurs.
RV Parking / camping
The campground at Dinosaur Provincial Park is open year round but some of the services aren't available during the off-season. There are 94 sites with 15/30-amp service and 30 un-serviced sites with 39 feet being the maximum length any of the sites have room for. Reservations in advance are highly recommended and they don't have any overflow spaces. However, there is Kinbrook Island Provincial Park, where you'll find one of the countries largest man-made lakes and Tillebrook Provincial Park nearby with camping facilities as well.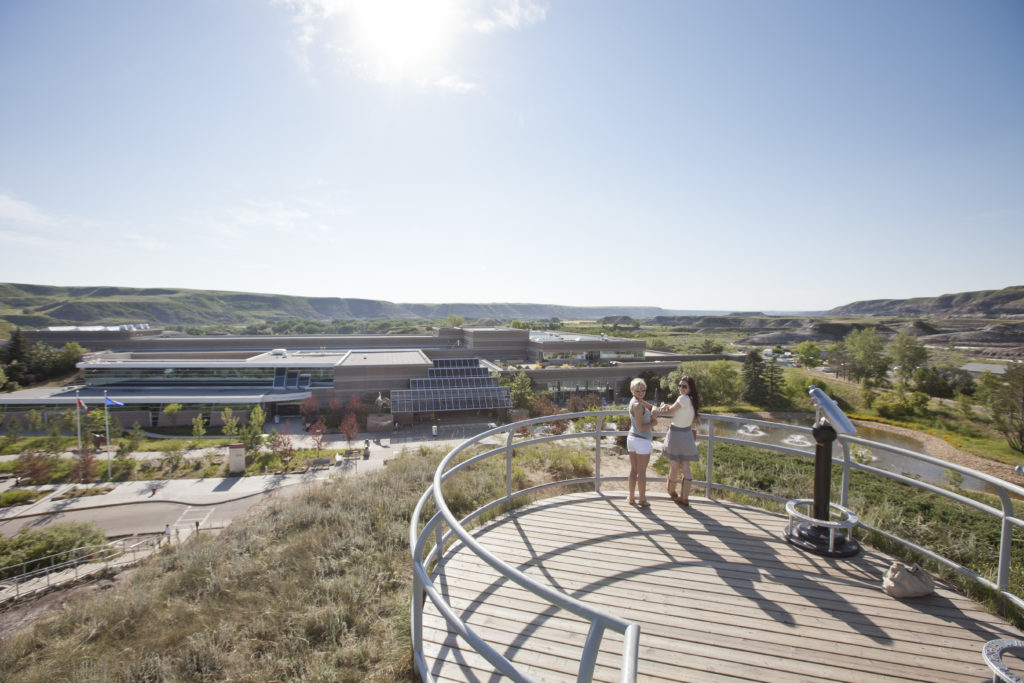 Brooks
The town closest to Dinosaur Provincial Park is Brooks with a population of 13,000+ and is extremely popular with outdoor enthusiasts. The fishing near here is amazing with plenty of pike, sturgeon and of course trout you can catch for your dinner.
The Brooks Historic Museum is informative and a wonderful resource for learning more about the times in between the days of the dinosaurs and the oil boom. The exhibit on local prairie history takes you on a "Walk Through The Ages" where you will learn about the early ranchers, how the war years affected the town, the North-West Mounted Police and what happened when the Canadian Pacific Railroad was built. There's a fully serviced campground right beside the museum, making it possible to really take the time to explore. A lot happened here, more than you would think.
You'll find everything you need including restaurants, grocery stores, hardware stores and the Tourist Information Centre will guide you in the direction of anything else you might want.
Drumheller
The town of Drumheller is known worldwide for dinosaurs and it's true but there's even more here than that. If the words coulees and badlands are new to you then this is the place you need to be to learn and explore freely. The local interpretive trails, canyons and spectacular scenery will truly amaze you and encourage you to want to know more about this historic region.
Visit the Atlas Coal Mine National Historic Site where you will learn about the big boom when the coalmines brought the local economy to a very high level, encouraging all kinds of people to arrive, including miners, gamblers, brawlers, entrepreneurs and those who lived in the local brothel. They all came here creating a very lively place to be during the early 1900's.
Royal Tyrrell Museum
Plan your trip to include a side trip to the Royal Tyrrell Museum of Palaeontology, 62 miles from the park near Drumheller in the day-use-only Midland Provincial Park. There's nowhere else on the planet that has this large of a collection of cretaceous fossils and includes dozens of reconstructed skeletons. This is a perfect example of when you should plan ahead of time. The Museum has suggested itineraries to follow for families and adults and by contacting them directly they will happily assist everyone is setting up their own personal self-guided or guided tour.
A big plus is the parking at the Museum is free of charge with spaces for cars, RVs, buses and even your bike if that's how you arrive. Courtesy shuttles are available for those with limited mobility and the exhibits and indoor programs are all wheelchair and stroller accessible. Please don't bring your pets unless they are service dogs with the appropriate documentation.
Learning about Dinosaurs
Take your time and make this region a destination where you will stop and stay awhile and enjoy the Dinosaur Provincial Park, the town of Brooks, Drumheller and of course the Royal Tyrrell Museum. You'll need a minimum of 3 days to see everything there is to see and even then you will probably not see it all. Make sure you make reservations and advance bookings for any tours or events you're interested in so you aren't disappointed.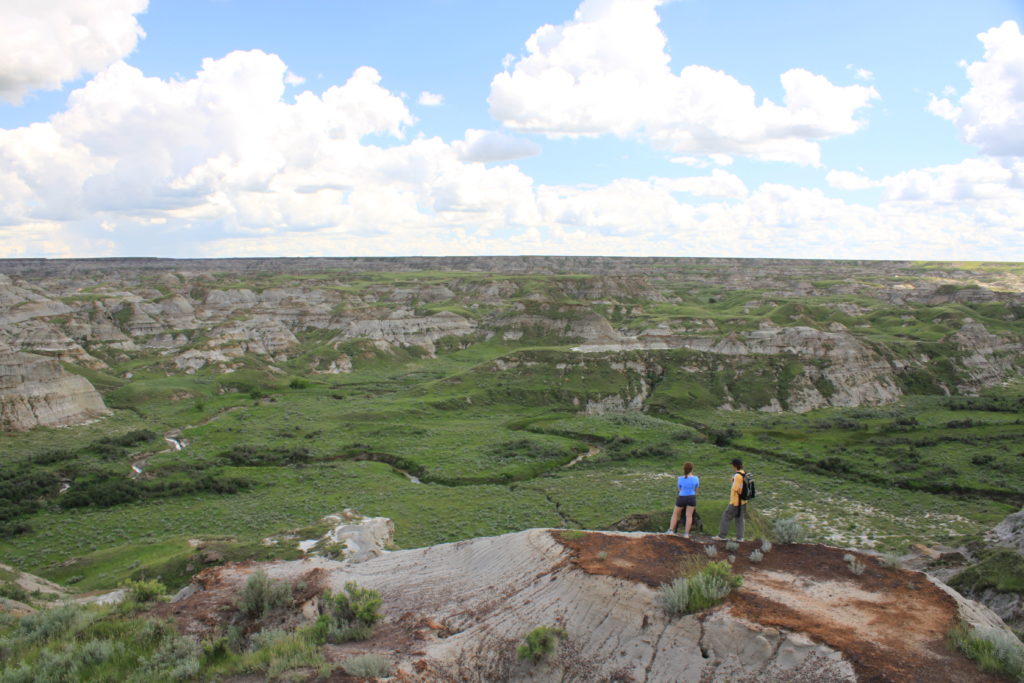 No, dinosaurs are not live and well in Dinosaur Provincial Park but what they have left behind will amaze and astound you and keep you talking about them for years to come.

What to bring:
Sturdy walking shoes or hiking boots (flip-flops are not permitted on hikes)
A wide-brimmed sun hat – it gets very hot here
A waterproof windbreaker – this can be a windy area
A water bottle
Sunglasses
Camera
Resources
Camping: http://www.albertaparks.ca/dinosaur/information-facilities/camping.aspx
Royal Tyrrell Museum: http://www.tyrrellmuseum.com
Brooks: http://www.brooks-ab.worldweb.com
Drumheller Travel Guide: Drumheller Travel Guide
Safe travels,
Carol Ann