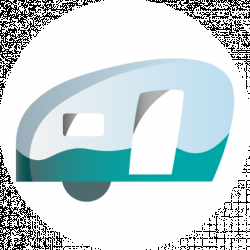 Latest posts by Roaming RV Team
(see all)
83
Full-time RVing
Guest blogger Darla Preston shares some great information on full-time RVing

Carol Ann's tips for RV Living Full Time
The decision to make the jump from a casual vacationing RVer to someone who lives the lifestyle full time is not an easy one. You have to weigh the pros and cons, arrange a myriad of logistics, and say goodbye to the security of having friends and/or family who you can see on a routine basis.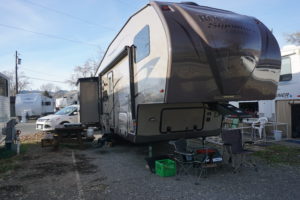 That being said, there are countless brave RVers who have made the switch and swear they could never go back to a stationary life. If the nomadic, wandering path is the one that glows brightest to you, you don't have to write it off just because you're a little apprehensive. As with any major life change, it's perfectly normal and expected to be a bit hesitant before you take the plunge, and if you're on the fence, here are a few tips to help you decide if you're ready for life as a full-time RVer:
Read and Connect With Experienced Full-Time RVers
Spend time on forums, blogs, and social media platforms focused on full-time RVing (here is a list of some blogs to get you started). There are countless personal accounts and anecdotes of those who are either currently living the full-time life or have in the past. With these, you will get real-world advice, as well as priceless guidance on the good, the bad, and the ugly. You can post and ask questions, and get feedback on the specific details you need to address. This is a great way to start the discussion and get answers to important questions on important details, such as how to pick-up mail.
Get Creative With Plans for Privacy
It's a running theme you'll run into while conversing with full-timers: in order to dive into this lifestyle, you'll have to be okay with reducing the amount of privacy and alone time you currently have. If you're travelling with a significant other, or even your whole family, you may feel that you're not getting enough breathing room. Alone time is a healthy thing to ask for even when you're not living together in a small space 24/7, so it's important to figure out a few ways to do this before you take the leap. Here are a few ideas you can think about:
RV awnings can work great as separate spaces. Suppliers make actual RV awning room additions that connect to your awning and give you a closeable outdoor room. If you need alone time, simply let your travel partner(s) know not to bug you for X amount of time, and you can kick back with a good book and shut out the world. More information on Awnings here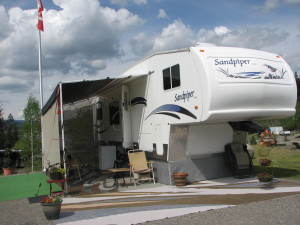 Take walks by yourself. It's okay to say that you need to clear your head, so don't be afraid to take a stroll by yourself. Many RV parks have relaxing trails on-site.
Utilize RV park amenities. There are plenty of RV parks that offer clubhouses with lounging spaces, so you can go sit and relax in a quiet air-conditioned space if you need a break.
While these are workable solutions, if you're someone who needs daily space and quiet to stay sane, this lifestyle may not be what makes you happiest. It's important to think about all of the ways you can cater to your needs before making a huge life change.
Try Before You Commit
Transitioning to life on the road can be a liberating, beautiful experience, but it can also be jarring if you're not sure what to expect. It's a good idea to take an extended RV trip, such as a couple of months if you can manage to schedule that in, before you decide to full-time, especially if you've only gone on short stints before. A lengthy trip will give you insight on how to budget, what trade-offs you have to make, how well you do with minimized belongings, what luxuries you can and can't get by without, and how well you get along with another person in a small space.
Think About Whether or Not Your Budget and Work-Life Allow for This Lifestyle
If you're lucky enough to have a job that allows you to work from the road, you can probably make the transition easily enough, speaking from a financial position. If you're going off of savings or retirement income, it's important to ensure you manage your money in way that doesn't leave you dried out. While some RVers find this lifestyle saves them money in the long run, there are still some important things to consider, such as:
RVs eat up way more gas than a traditional vehicle. In your trial extended trip, jot down how much gas you're using per week; can you budget for this expense easily?
Can you afford to stay regularly at RV parks? Can you afford to pay for full hook-ups?
Do you have the resources that will allow you to stay in a hotel in the event your RV needs to be left at the mechanic? Do you have funds for unexpected mechanical issues?
How much should you set aside monthly for the basics (internet, food, gas, cell-phone coverage, insurance, etc.)
Do you have medical expenses?
Are you going to be paying for a storage unit to store all of your belongings?
Remember that you can often find jobs that can accommodate your RV lifestyle, such as campground hosts, park management, etc.
Each and every budget will of course vary depending on each person's unique needs and circumstance, but these points should help give you an idea of what to consider.
Take Time to Think About How Important Stability Is for You
An important question to ask yourself is do you thrive on security, familiarity, and stability, or are you happiest when each and every day comes as a surprise? Full-time RVing is possible with both personality types, but if you're someone who gets extreme anxiety when things don't go exactly as planned, the occasional, carefully-orchestrated trip may be better suited for you.
Consider if the RV Lifestyle Works In Harmony With Your Future Plans
You may be in a position right now in life where the wind in your hair and new sights before your eyes is exactly what you crave, but is this what you're going to want in one or two years?
Take some time to truly ruminate on this, especially if you are going with a partner, and talk about where you see yourself being in the near future. If the image in both of your heads is being in your RV still sailing down the road, then that's a good indicator that you're on the right track.
If you are going to want to start a family or go back to school soon, it can be a hassle transitioning back into the "real world." It's not impossible at all, but these are simply things that you should be thinking long and hard about before reducing all of your belongings and jumping into a brand new lifestyle.
Good Luck!
This is some basic food for thought for those of you who are considering a full-time lifestyle but have some reservations. Hopefully this generates some positive discussion that can lead to an educated and well-thought-out decision. It's a big choice to make, and it very well can lead to one of the biggest adventures of your life. Here's to making happy memories in your RV, no matter if you're an occasional traveler or a full-time RVing 24/7 wanderer!
Great info! Thanks Darla!
Safe travels,
Carol Ann