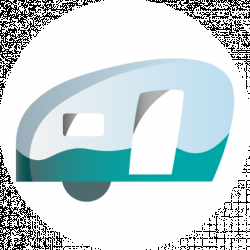 Latest posts by Roaming RV Team
(see all)
79
Winter Camping in BC
When I say winter camping I don't mean pitching a tent in a snow bank. What I am talking about is living in your RV in colder climates or finding a climate that is moderate rather than freezing cold.
Just because you're full time RVers doesn't mean you are retired and you may be living in your RV while working in one location or traveling for your job or business. Or for some reason or another you prefer to stay in Canada and not travel out of the country during the colder months. That may mean you won't be following the sun like a lot of snowbirds do each winter. That's okay because there are plenty of other options available.
Western Canada, specifically British Columbia is becoming very popular with RVers looking for a warmer climate to spend the winter in. Residents of Saskatchewan, Alberta and Northern BC are heading south towards the Okanagan, Lower Mainland and Vancouver Island where most of the RV Parks and campgrounds are open year-round.
Some of the campgrounds we have stayed at during the winter months are:
Fort Camping
Fort Langley, BC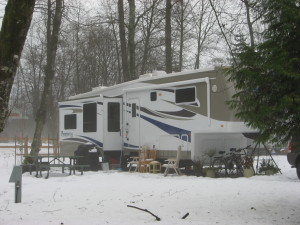 This is an awesome park on Brae Island Regional Park right in the heart of historic Fort Langley and within walking distance of grocery stores, restaurants, coffee shops, pubs, museums and a hardware store. It's only 45 minutes to downtown Vancouver if you want to hit the big city.
If you're into dragon boating, kayaking or other paddling activities the park is situated right on the Fraser River (actually an offshoot) and year-round paddling is possible. When we lived there I was dragon boating and we paddled 12 months of the year. There's a small post office in town for receiving your mail.
Interesting Read: How to Find the Best Full-Time RV Mail Services.
Surrey, BC
This park is minutes from the US border and right off the freeway for easy access.  This park has been around for a long time and we've stayed here a number of times and have been comfortable each time.  There's 27 acres with trees in between each unit.  Some are a little tight for lots of slides but it's not impossible to find a good site. The pool is open in the summer and they have storage for anyone who wants to leave their unit here while they jaunt off elsewhere without their RV.  I believe you can receive your mail here but double check before hand.
Pacific Border RV Park 
Surrey, BC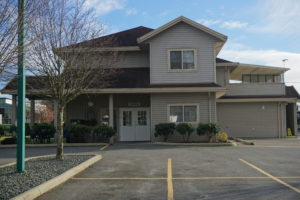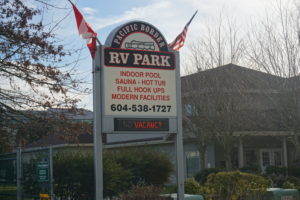 The boundary of this park backs on to the international border. It's 119 sites are extremely well taken care of and they have all the amenities you need including an indoor pool.  It's a perfect location for crossing the border and accessing anywhere else on the lower mainland. Very helpful staff and you can get your mail here. They have pull through sites, 30 amp or 50 amp service and will help you park if you want their help.
North/West Vancouver
I spent two winters here quite a few years ago and loved it.  The sites are tight because the park was built many years ago but it's well taken care of in spite of the fact that it's a bit awkward if you have too many slides.  I loved the fact I could walk everywhere from here or catch a bus and be right downtown Vancouver within 15 minutes.  This park is right below the Lions Gate Bridge but you would never know it – it's super quiet.They don't advertise monthly rates but if this is where you would like to stay it's worth going there in person and speaking with them.
Vancouver Island RV Parks
Living Forest Oceanside Campground and RV Park
Nanaimo
We stayed here for a couple of months during the winter and really liked it.  Our site looked over the ocean which does expose you to the elements but the scenery was beautiful  There are 300 sites to choose from whether it's in the trees, along the river or ocean – they are all large and comfortable. This park is situated on the south end of the city with easy access to the main highway, shopping and everything else you might need.

The above are just a few of the ones we have stayed in over the years and there are many more since many RV parks are realising that more and more RVers are seeking year-round RV Parks to stay in.  Here's a link to Winter Camping with Tourism BC but don't stop there because many stay in the Okanagan – Oliver, Osoyoos, Penticton, Victoria, the lower mainland and every where in between.
I would love to hear where you are winter camping so we can share the information with everyone else.
Thanks – stay warm!
Happy travels,
Carol Ann