I learned something recently about Good Sam Roadside Assistance
A few weeks ago I was speaking with another Canadian RVer whose RV had broken down when they were parked at a very remote campground. Their experience turned out to be a good one – which really impressed me since I know that AAA while good has certain limitations.  I asked her to send me a letter describing their experience so I could share it with you.
This is what she wrote about Good Sam Roadside Assistance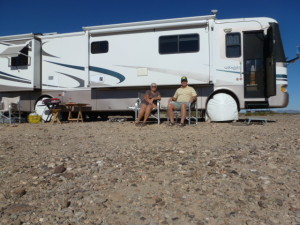 We had been BCAA members for 25 years, then while at a RV Show in Quartzsite we found out that Good Sam was available to Canadians. You could use it on both sides of the border, and the price was considerably less.
With Good Sam's it is the person that is covered not the vehicle. So we immediately joined and it was only $80.00 US dollars for a year, for our 40 foot motor home and a car, one membership that covered either my husband or I.
That was in January and we really figured that like our BCAA membership it would go unused since we never had any breakdowns.
However,  in July while camping at a remote lake up in the hills near Tappen B.C. (in Canada) the motor home which is a diesel pusher, would not build up air. I called the number on the back of my Good Sams card, which was answered in Georgia, and you can imagine how hard it was to explain where we were.
It got really difficult when she asked "where exactly are you,?" "what is the closest cross street" and I had to try to explain, how many miles outside of Salmon Arm, B.C I was and that it was quite far off the main road.
The fishing is good at this lake but the cell service is lousy, so of course my call got dropped. I was totally frustrated, so never bothered calling back.
A fella at a neighboring site offered to take me in to Salmon Arm, and on the way down we were met by Ben's Towing out of Salmon Arm, it was too small to tow my motor home but he came up with some supplies for a fix for it. I was shocked.
The lady at Good Sams had enough info that she was able to send out assistance. Pretty awesome. Thanks to a very helpful neighbor and a persistent Good Sam Operator. Now back to fishing.
Nita T
**FREE coverage for your spouse & dependent children. Good Sam Roadside Assistance. Learn More!
I don't know about you but I found their experience pretty awesome. It also told me that Good Sam has employees who go beyond the normal level of customer service that other companies do.
Now for another good thing.  The thing I really like about their service is the Get NO LIMIT towing to the nearest service center with Good Sam Roadside Assistance. Learn More!
Happy travels,
Carol Ann